'Saukele' - the traditional toortsog headdress with long strip
Art & Culture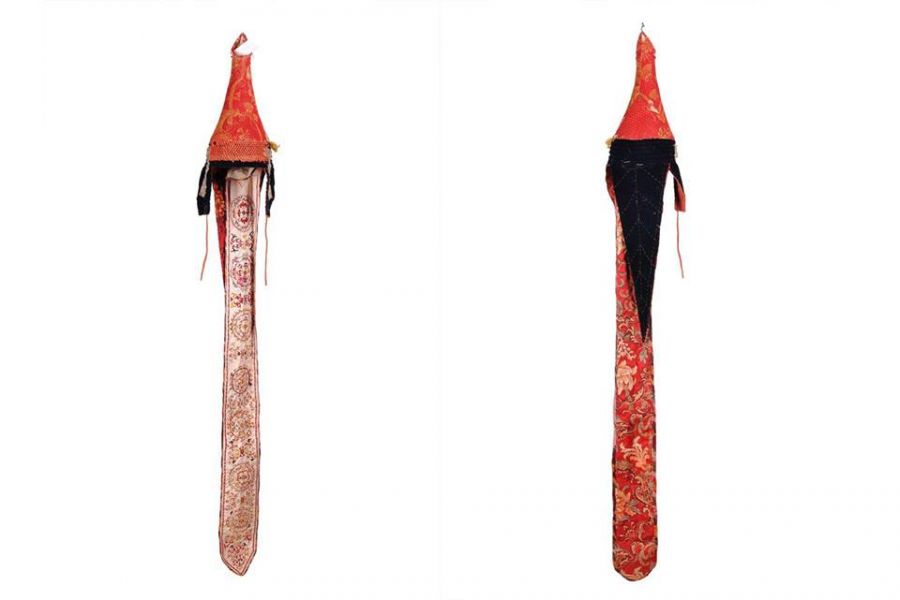 Bayan-Ulgii /MONTSAME/. One of the valuable artifacts currently being kept at the Local Studies Museum of Bayan-Ulgii aimag is the 'saukele' headdress, which is a traditional toortsog with a long strip. Saukele headdress is traditionally worn by women marrying into families. The headdress is specifically worn by married women until they give birth.

The exhibit was donated to the museum collection by a citizen of Bulgan soum, Bayan-Ulgii aimag in 1960. With materials such as cotton, felt, fine velvet, and coral, it was made in the early 20th century.
With a high crown, the headdress was made with a red patterned cotton material for its exterior, and a diagonal-patterned cotton material for the interior of the headdress.
Aside from black velvet for its part covering the forehead, it has red bands that are 22.5 cm in length with velvet ear flaps on each side as well as a triangular-shaped flap at the back that is 58 cm long.
Under the flap lies a long strip of red patterned cloth that is 154 cm in length and 15.5 cm in width. A traditional kazakh pattern is also intricately sewn with various colored threads in the 'tyshkhan iz' (mouse track) stitch.
Furthermore, as coral beads are strung together over the velvet piece covering the forehead, the exhibit is considered as a unique, "one and only" exhibit by professionals.