I.V.Sechenov: Russian explorers plan to continue explorations in Khalkhgol
Khalkh Gol-80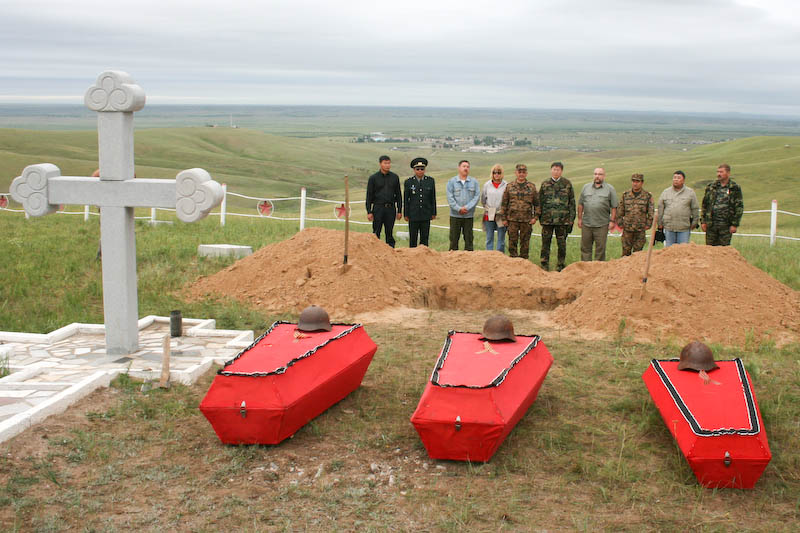 Igor Vyacheslavovich Sechenov is a historian who has been searching for the Soviet soldiers who lost their lives during the Khalkhin Gol Battle in 1939. We met during his regular visit to Ulaanbaatar in connection with the exploration work.

- As far as I know, you have been conducting excavations in Khalkhgol for several years. How did you come up with the idea of doing such kind of work?
- I have been in Khakhgol 11 times between 2008 and 2016. During this time, we have made a tremendous work. First of all, I would like to thank the local frontier guards, the Ministry of Defense and the National Emergency Management Agency. We have lifted and buried remains of a total of 54 people, exhumed and reburied the bodies of tank men. Moreover, 23 soldiers were found in Khalkhgol which we are planning to bury in Sumber soum this June with guards of honor and military orchestra.
- Why did you decide to do excavations in Khalkhin Gol Battle field?
- The thing is that I have carried out my compulsory military service in Mongolia in 1986-1988. That is the first reason. Secondly, two of my distant relatives who fought in the Khalkhin Gol Battle were considered missing in action. They were from Kyakhtinsky District of Buryat-Mongol Autonomous Republic. We have found one of them and could not find the other one. Before our arrival at Khalkhin Gol Battle field no one was engaged in explorations. There were a number of exploration teams in central regions of Russia, but none in Mongolia. That's how I came up with the idea.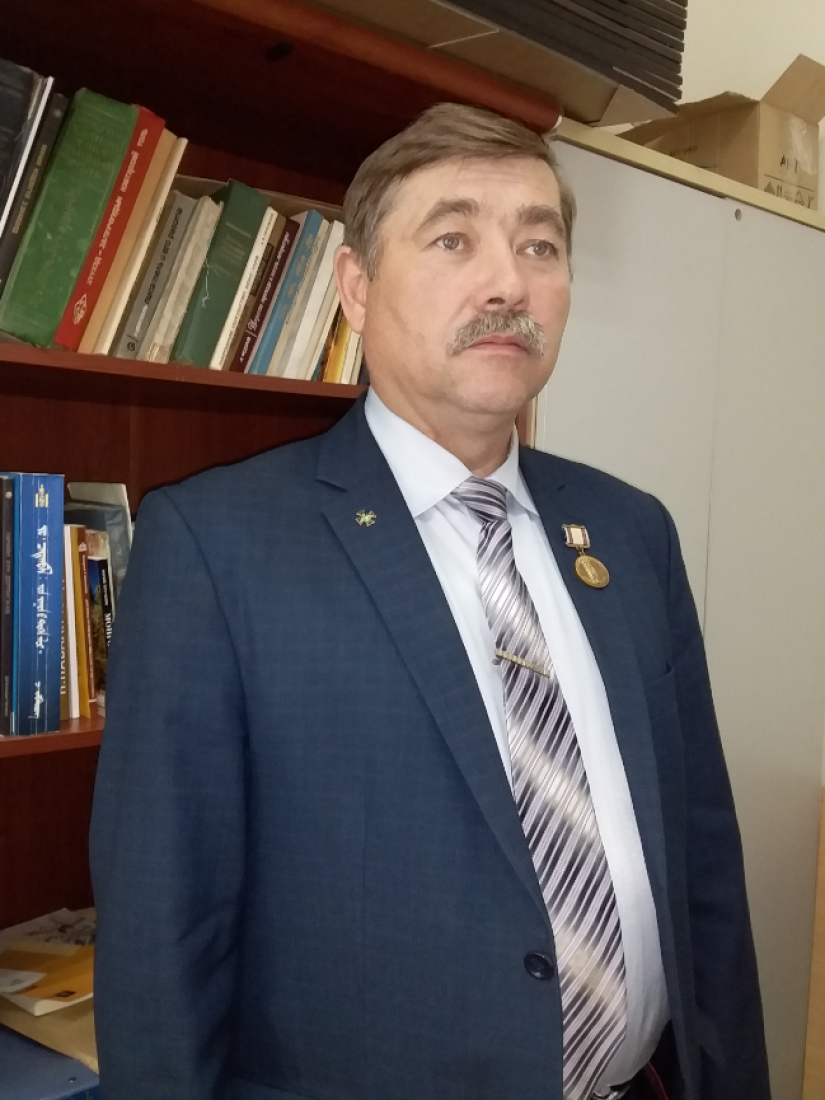 - Exploration works require quite a bit of money. As far as I heard, you find the financing yourself?
- This is a very sensitive subject for me. However, more serious problem was with the search in the archives. Before going to Khalkhin Gol, I worked in military archive for two years. First of all, we had to understand where and specifically whom to look for. After processing a large amount of information, I was lucky to meet with Yuri Mikhailovich Svoyski, researcher and specialist in Khalkhin Gol Battle. Together we collected a large data and decided to conduct the exploration. In 2008, I arrived to Mongolia for the first time with the delegation of the Republic of Buryatia as an expert who knows the combat areas well. Since 2009, I started working independently.
Financing is a complicated issue. Law of the Russian Federation does not allow fundraising or grants. We used to be assisted until the Federal Law No.44 was passed. We have been working with the support of individuals and charity.
I have a great respect for the company 'Nordeks' for providing financial support. Unfortunately, the company closed down. The Irkutsk City Duma member Oleg Gievsky also helped us a lot, financing two of our expeditions.
- Has Mongolia provided any assistance?
- Of course. We did not need financial support from Mongolia. Mongolian side provided a lot of institutional support for us. As we arrived in Khalkhgol, they provided us with housing and transport, which saved us a lot of money. Thus, we are very grateful to the frontier guards of Mongolia and to the National Emergency Management Agency for their support. During our stay we lived on the territory of the military unit for free.

- Did you conduct excavations only during summer?
- No. We worked during winter as well, trying to find lost aircraft under the ice of Lake Buir, but unfortunately did not find it. In 2017-2018 the search was interrupted, but I hope that we will continue it.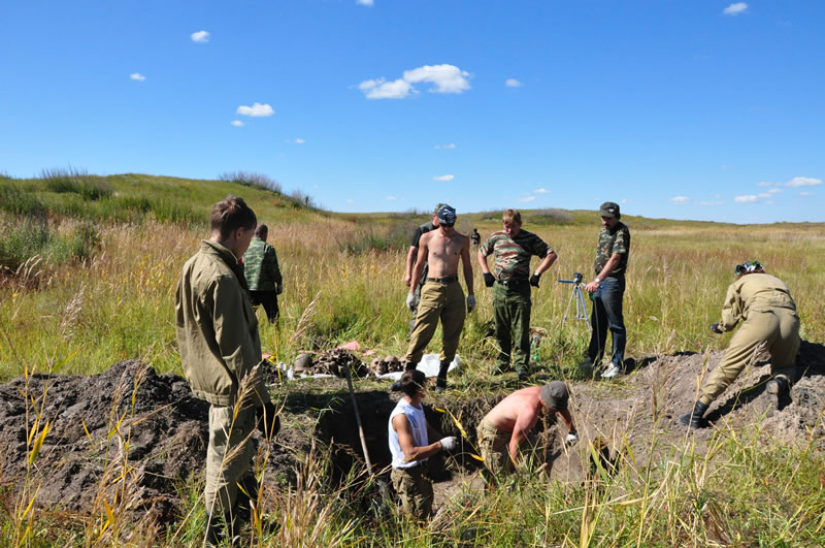 - Remains of how many soldiers did you find during the period since 2008?
- As I said, we have found remains of 54 soldiers and a pilot from Irkutsk, two tank men and 23 more not buried yet. All in all, it is 80 soldiers.
- I assume that the process of recognition and identification is probably a very complicated work?
- It is a very challenging issue. The soldiers who served at Khalkhin Gol did not have name plates. Therefore, it was possible to identify them only by their signed belongings such as pots, flasks and belts with their names on it. We really have such a deplorable situation with the identification. There was a case when we lifted the body of a soldier, we found a wallet with a member ticket of the Society for Assistance to Defense, Aviation and Chemical Construction in it. The printing was preserved, but what was written with ink was erased. I gave the ticket to the laboratory, but we could not identify to whom it belonged. We even tried to identify by the ticket number, but failed. It was sort of a real document, but unreadable. Tank crews and pilots, however, are a different story. They can be identified by serial numbers of fighting vehicles.
-Where exactly in Khalkhgol did you do excavations?
- West bank of Khalkh River, at the Remizov's height and Zelenaya height. We went to the south of Mongolia, to the places of aircraft crashes. There we found a number of airplanes and pilot graves. It was a common practice, when a soldier was burned in an airplane or a tank, they were buried directly in the vehicle as it was impossible to remove the body.
- You have worked in the archives, so you probably know the approximate number of Russian soldiers lost at the Khalkhin Gol Battle?
- Of course, I do. According to the 2006 report of the Ministry of Defense of the Russian Federation, about 2020 soldiers were considered missing, but it is not the exact number. There were names of the soldiers in capture and some were mentioned twice.
- Have you contacted children and grandchildren of the soldiers you found?
- Yes. The first person we identified was Captain V.I.Yuretsky, pilot of the Destruction Battalion No.70, who died on June 22, 1939. We have made inquiries, but found no relatives. His wife lived in Sochi and disappeared during the war, they had no children. We found him in 2009, identified and buried him in 2010. The Russian Embassy in Mongolia erected a monument to him in 2011. And only in 2016, his niece found me, from whom we learned that Yuretsky was born in 1907 in Irkutsk.
- Can you tell us more about the 23 soldiers to be buried this year?
- Funerals of 23 soviet soldiers will be held on June 25. Their remains were found in Sumber soum of Dornod aimag during the explorations between 2015 and 2016.
- Do you plan to continue the explorations?
- Russian search team is planning to conduct the further search. We hope that this year the anniversary will open new perspectives, more substantial assistance from the Russian side. Mongolian side provides all possible assistance, as I mentioned before.
Yu. Delgermaa