Ceremony organized to ring the bell for 'Invescore Bond' offer commencement
Economy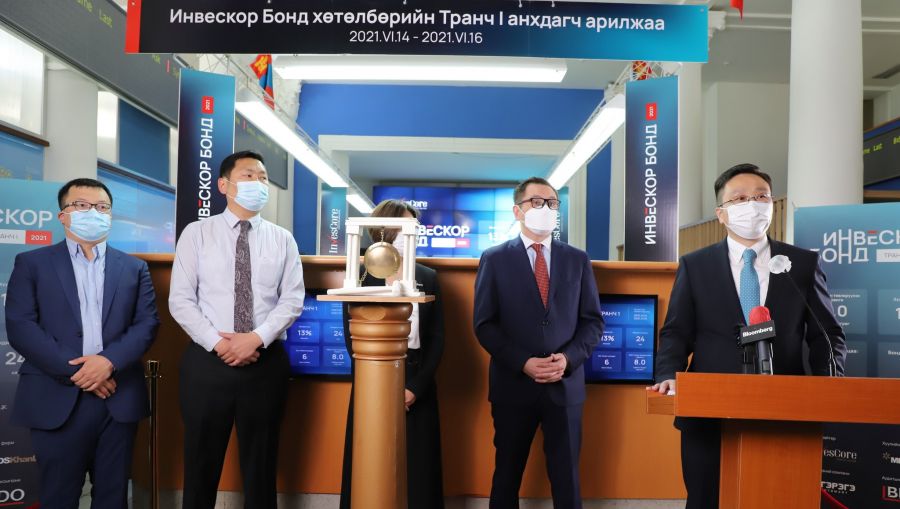 Ulaanbaatar /MONTSAME/. The 'Invescore NBFI' JSC, included in Mongolian Stock Exchange Top-20 index, is issuing the 'Invescore Bond', which is highest amount of debt instrument offered in the history of private sector, and the ringing the bell ceremony for Tranche 1 organized at the Mongolian Stock Exchange on June 14.

Deputy Head of the Financial Regulatory Commission Tserenbadral, CEO of Mongolian Stock Exchange Kh.Altai, CEO of 'Invescore NBFI' JSC D.Baysgalan, and CEO of 'Invescore Capital UTsK' LLC G.Uyangakhishig participated in the opening ceremony of the subscription of the 'Invescore Bond' and rung the bell to open the 6,491st trading of the Mongolian Stock Exchange.
Under this 'Invescore Bond' program, a total of 200,000 securities worth MNT 20.0 billion will be offered to the public at MNT 100,000 face value, 12-14% annual interest rate, 2-year maturity and coupon payment will be paid in every 6 months, and 5% interest income tax will be deducted.
In the first tranche, total of MNT 8.0 billion will be offered to the public with annual coupon of 13% and orders will be taking in period between June 14, 2021 and June 16, 2021 from 10 AM to 4 PM in accordance with fixed price method which stated on Primary market trading rule of the Mongolian Stock Exchange.
The InvesCore Financial Institution was founded in 2016 and has since been operating in the micro-financing market, introducing advanced technology and providing innovative and swift service. As of today, the institution has 16 branches in Ulaanbaatar, 1 branch in Erdenet city, Mongolia and subsidiaries in Japan and Kyrgyz Republic.