Environment Minister meets French Ambassador
Politics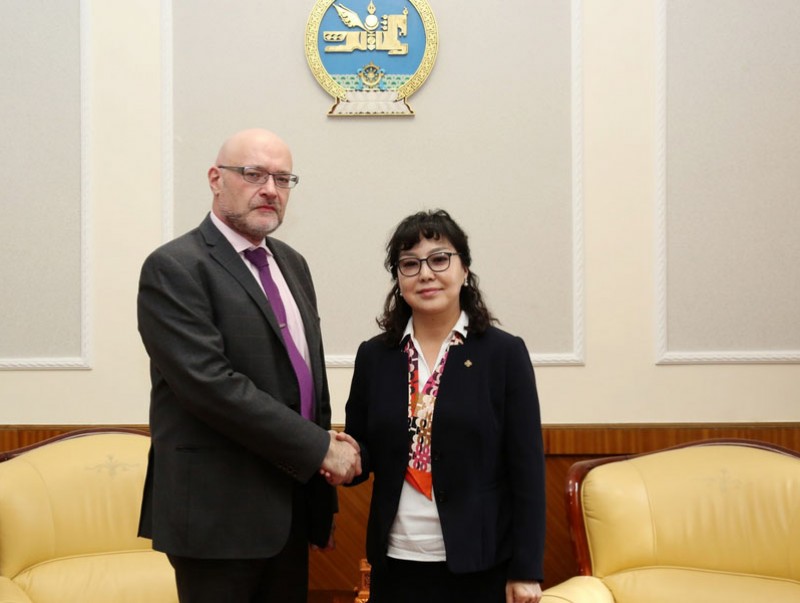 Ulaanbaatar/MONTSAME/. Minister of Environment and Tourism D.Sarangerel received Ambassador of the French Republic to Mongolia Philippe Merlin on October 21.

At the meeting, they exchanged information on the progress of projects and programs being implemented in Mongolia by France and determined further cooperation fields.
Ambassador Philippe Merlin said, "France is implementing numerous projects and programs in the environment sector of Mongolia. For instance, projects are being implemented in the fields of insulation of ger area households, waste recycling plants, reintroduction of takhi horses, combating the climate change and energy issues through the governmental and non-governmental organizations of France. We are satisfied with effective advancement of works within the bilateral cooperation. "
During the meeting, the Ambassador clarified from Minister D.Sarangerel about specific works related to the Paris Agreement, reflected in the action plan of the Mongolian government, and the Government plans for reducing air pollution by up to 80 percent.
The Minister said, "The Mongolian government has made significant reforms in the energy and environment sectors in connection with the Paris Agreement and has set goals to reduce greenhouse gas emissions. We are also doing promotional works for people to use environmentally friendly and green technologies. Mongolia has reduced air pollution by 50 percent within less than two years, and now put a goal to make this success to 80 percent. The most effective way to get rid of air pollution is to provide citizens with housing. This is our long-term goal. Currently, the optimal way in the shortest period is to fully introduce refined coal in use. We had one refined fuel plant before, but now we have two plants, which is expected to be a big help to reduce pollution. In addition, the capacity of the thermal power plants has been increased and the nighttime electricity tariff has been zeroed for citizens. Furthermore, we are working to zero the nighttime electricity tariff in the aimag centers and soums with population of over 10 thousand."
J. Bolor-Erdene