2019 results and 2020 directions for UNFPA programme in Mongolia reviewed
Society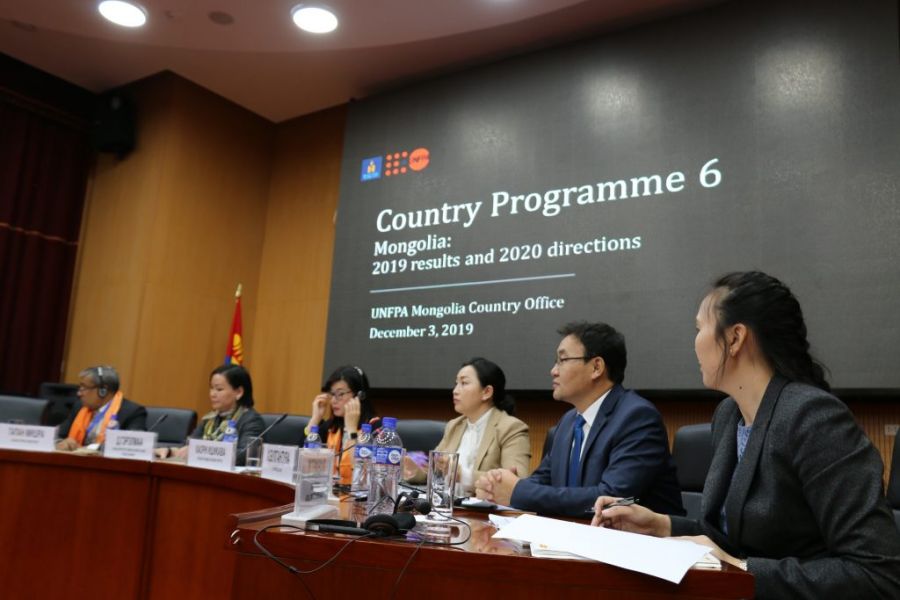 Ulaanbaatar /MONTSAME/. A meeting on a report on the sixth country programme implementation by the Government of Mongolia and UNFPA and its 2019 results and 2020 directions was held on December 4 at the Ministry of Foreign Affairs.

Representatives from implementing organizations of the country program, including Ministry of Labor and Social Protection, Ministry of Health, Ministry of Education, Culture and Science, other government agencies, private sectors, United Nations Resident Coordinator Office in Mongolia, United Nations Development Fund, United Nations Population Fund, World Health Organization and International Organization for Migration in Mongolia took part in the meeting to discuss the results of this year's works, direction for next year and notes to take into consideration in the future,
Opening the event, Director of Department of Multilateral Cooperation of the Ministry of Foreign Affairs of Mongolia D.Gerelmaa, United Nations Resident Coordinator in Mongolia Tapan Mishra and Head of Office for UNFPA Mongolia Country Office Kaori Ishikawa delivered remarks, emphasizing that projects being carried out in the scope of the sixth country programme by the UNFPA in Mongolia, with focus on youth development, sexual and reproductive health and rights for youth, are bringing great impetus to successful realization of goals set out in Mongolia's Sustainable Development Concept and State Policy on Population Development.
The Participating delegates highlighted that elimination of public negative attitude, growth of women involvement in decision making processes and youth capacity building should be given importance within the framework of targets to ensure gender equality, promote quality Sexual and Reproductive Health services and advance stronger protection systems to address violence against women and girls with enhances multi-sectoral response, including in humanitarian settings.
The UNFPA Mongolia Country Office pledged to reflect the insights and proposals put forward at the meeting in the country programme and continue its commitment to seek best practices, introducing new initiatives.
The Country Programme 6 in Mongolia, covers the period from 2017 to 2021, was approved with financing of USD 15.1 million and is aimed to help Mongolia achieve the Sustainable Development Goals, and it is closely coordinated with other UN agencies within the UN Development Assistance Framework (UNDAF).