R.Battogtokh receives Order of the Rising Sun
Society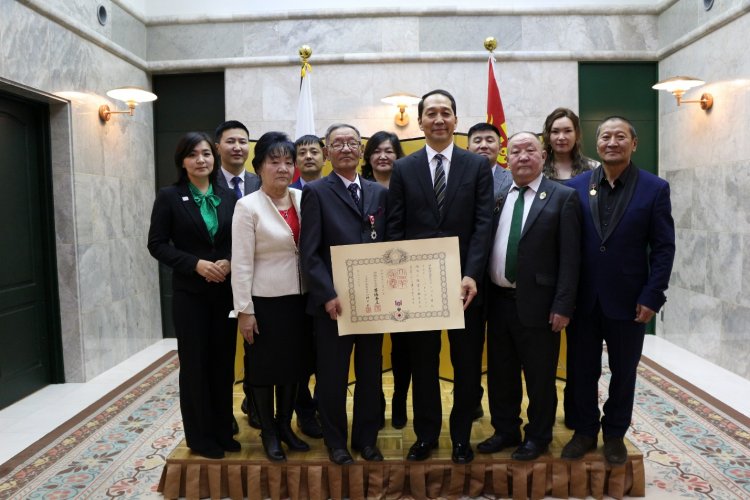 Ulaanbaatar /MONTSAME/ On December 3, Shinichiro Hayashi, chargé d'affaires ad interim at the Embassy of Japan in Mongolia, presented Mongolian national R.Battogtokh with the Order of the Rising Sun, Gold Rays with Rosette, in recognition of his valuable contribution to deepening relations between Mongolia and Japan.
Mr. R.Battogtokh has served as translator/interpreter for the Gobi Cashmere Factory Construction project implemented with Japan's first official development assistance for Mongolia in 1977 and later taught Japanese at the National University of Mongolia and Ikh Mongol University for years, making contributions to promoting the language in Mongolia.

He translated 'Rise and fall of the Mongol Empire', 'History of Mongolia' and other books from Japanese to Mongolian, and developed numerous dictionaries, Japanese Grammar textbooks, handbooks, and other research papers.
In his congratulatory remarks, Mr. Shinichiro Hayashi said, "Right after completing a Japanese language course at the National University of Mongolia Mr. Battogtokh started his career as a translator/ interpreter for the factory project and translated the materials in a way easy to comprehend for every Mongolian employee and introduced new terms even though he has been coming across sector-specific jargon that were not taught at the university day after day. The new terms he developed are being used to this day, in particular, for projects of KOSEN"

The laureate himself talked briefly about his career and life and expressed his deepest gratitude to the Government of Japan and the Japanese Embassy for highly appreciating his works.