Role of Mongolia in ensuring security of Northeast Asia and the Korean unification
Politics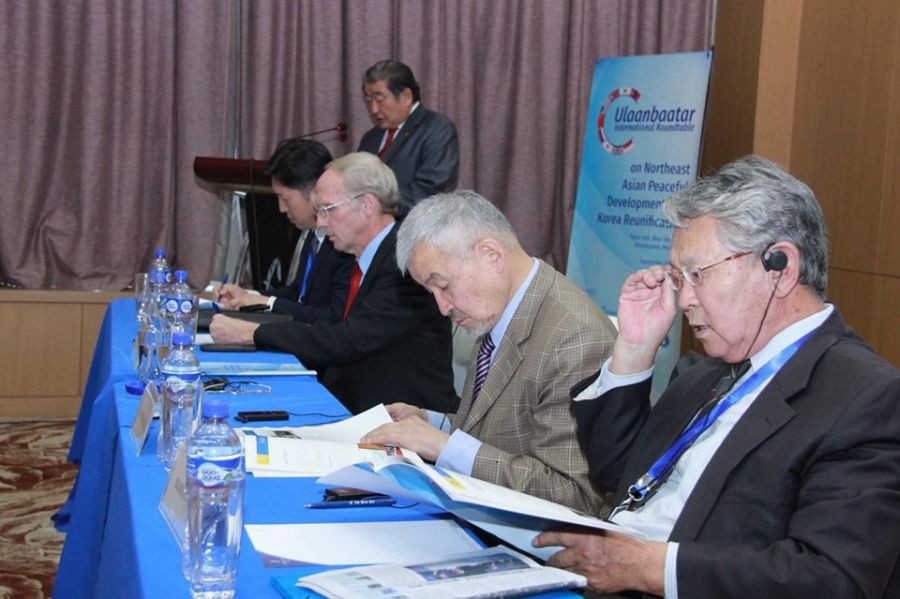 The globalization process is intensifying and the interdependence between countries is getting strong. It is natural that Mongolia is getting involved to this process. In particular, the Northeast Asia region has become one of the world's hotspots. Therefore, the prevention of nuclear war in Northeast Asia region has become an utmost concern to us.

"UB International Roundtable" meeting that has turned out to be an impactful source and mechanism that seek solutions to peace and security in the Northeast Asian region was jointly organized by Blue Banner NGO led by Mongolian first President P.Ochirbat, Global Peace Foundation, "Action for Korea United", and Mongolian Fourm For Korean Unifia NGO.
The following three issues were issues were discussed at the Roundtable meeting: Possible role of Mongolia in promoting peace and stability in Northeast Asia, role of both Koreas reunifying the Korean Nation, and practical measures to promote peace, stability and reunifying the Korean Peninsula. All these issues are closely interrelated since peace in Northeast Asia will not be established without denuclearizing Korean Peninsula, while regional security issues will always be a sensitive subject in the absence reunified Korea.
These three issues are often discussed politically, but there is still no solution since the parties concerned have different approaches and views on this issue. For this reason, exploring possible solutions, informing the public, addressing these issues and influencing the governments, particularly the members of the former Six-Party Talks was the main purpose of this UB International Roundtable meeting. The importance of the meeting has increased as the situation in the Northeast Asia is changing rapidly and high-level meeting and talks are being planned or taking place.
Mongolia's participation and advantages
Participants of this roundtable meeting discussed and exchanged views on the important role of Mongolia which recently became the venue of meeting of organizations and governments of Northeast Asian countries and third-parties that take partthe search for ways to denuclearize the Korean Peninsulaas well as promote peaceful unification of the two Koreas.
Can Donald Trump and Kim Jong-un solve the issue on denuclearization of the Korean Peninsula? Are there any other new approaches and innovative solutions? Koreans' own initiation is important for peaceful unification of North and South Koreas, but what can be the role of other neighbors in this process? Experts also talked about issues such as strategic trends in Northeast Asia, factors affecting regional security, ways to establish peace in the region, the process of denuclearization in Korean Peninsula, the future of North and South Korea's relations, and the role of Mongolia.
In particular, Mongolia strives to work closely with other regional neighboring countries. On the other hand, there is no choice for Mongolia but to export produced agricultural raw materials and other mineral resources to other countries only through China.
To develop Mongolia, it is important that the Northeast Asian region be more stable. That is why it is imperative for Mongolia to take on a specific role in using certain comparative advantages in strengthening mutual trust and cooperation among regional countries. Therefore, in order to be more transparent and open to other interested parties, the roundtable meeting was organized, in Ulaanbaatar for the second time.
First of all, in order to strengthen its security, Mongolia has declared its territory a nuclear-weapon-free zone early in 1990s. This status was recognized by the permanent members of the United Nations Security Council which includes the USA, Russia, China, Great Britain and France. Mongolia, as a country which ensures its security by the United Nations through political and diplomatic means. Moreover, as a country that has successfullyshifted from one political party dictatorship to democracy and multiparty system by peaceful way, Mongolia expressed their readiness to share its experience in making simultaneouseconomy and political reforms that may contribute to the process of denuclearization of the Korean Peninsula and ultimate reunification of the two Koreas. It is essential for Mongolia to participate actively at all levels of Northeast Asian cooperation as a nuclear-weapon-free country.
Mongolia has established a strategic partnership with the Russian Federation and the People's Republic of China which are participating countries of "Six-Party Talks" and has also established a strategic partnership with the USA and Japan. Specifically, having a high level of political trust with the countries in the same region – some of the world's top players - will undoubtedly strengthen mutual trust in North-East Asia and support the denuclearization of the Korean Peninsula.
On the other hand, as the only country with no territorial and political conflict with other countries in Northeast Asia, Mongolia does not have any hidden agenda regarding the Korean Peninsula.
At the same time, our country maintains friendly relations with the Democratic People's Republic of Korea for more than 70 years. It has also established diplomatic relations with the Republic of Korea in 1990. On the occasion of 30th anniversary of establishment of diplomatic relations between our country and the Republic of Korea, the sides are expected next year to elevate their relations to "strategic partnership" level. Mongolia is one of the few countries that works closely with both North and South Koreas.
Intek Seo, Co-Chairman of Action for Korea United has pointed out during the round-table that abbreviation of Ulaanbaatar – UB - can stand for Unifying Bridge.