Zuunmod TPP to be Presented at Cabinet Session
Economy
Ulaanbaatar, September 19, 2023 /MONTSAME/. The Prime Minister of Mongolia Oyun-Erdene Luvsannamsrai got acquainted with the progress of the construction of a specialized sports school with 640 seats in Zuunmod, Tuv aimag.
The construction of the sports school building commenced in 2019 with MNT 5.5 billion investment from the state budget, but it stopped due to lack of funds. The director of the construction company LCB Ya. Dashdorj informed that MNT 2.9 billion is required for the commissioning of the school building, and said, "Since it is a specialized sports school, it was planned to have a swimming pool and a sports hall, but the drawing of the pool was left out. Also, the floor of the sport hall should be boarded according to relevant standards. Therefore, additional drawings and budgets were made."
Then, the Prime Minister reviewed the progress of the construction of the 30-megawatt thermal power plant in Zuunmod, Tuv aimag, under the Project to Construct Thermal Power Plants in 10 aimags, which is being implemented with a soft loan from the Republic of Korea. This work started on August 29, 2022, and currently 26 percent of it has been completed, said Deputy Minister of Energy M. Bayarmagnai. The station is designed to have 10.1 km long line with nine distribution centers, and 17 buildings and facilities.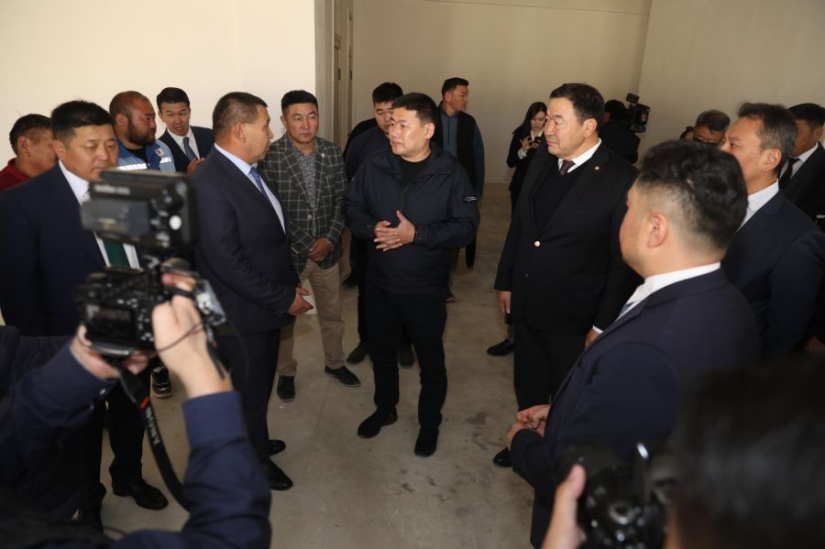 Upon commissioning of the new thermal power plant, 118 enterprises, 70 budget organizations, and 421 public and private flats in Zuunmod will be supplied with heating and hot water. In addition, the new technological furnace has a high efficiency ratio of 85-90 percent to completely burn even the lowest calorific coal, thus the coal consumption will be reduced by over 40 percent and ash emission by 25 percent.
Eventually, the Prime Minister instructed relevant officials to give a detailed presentation on the "Zuunmod" TPP at the Cabinet session this Wednesday, since this project is the slowest among the TPPs underway in 10 aimags.