Bringing the arts to you! ACM Membership Campaign 2022-2023
Art & Culture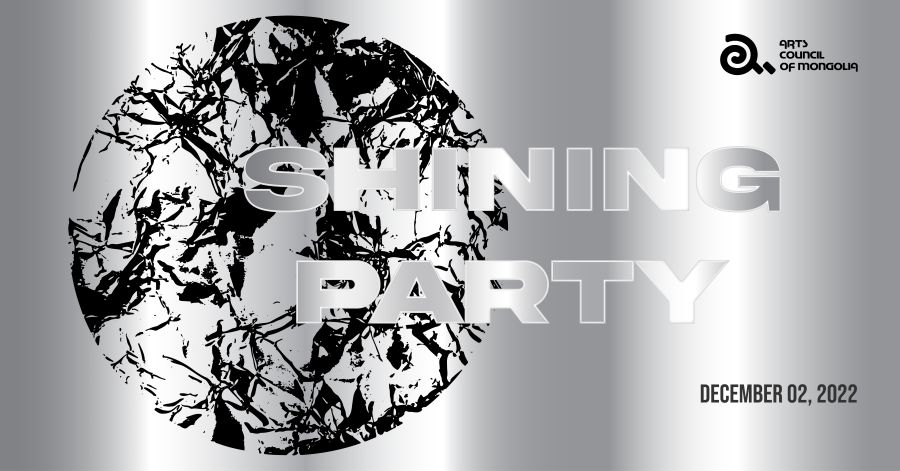 In 2002, business, civic, and arts leaders of Mongolia formed the Arts Council of Mongolia (ACM), a non-governmental organization with the mission to promote the sustainable development of Mongolian arts and culture as well as the preservation of various cultural heritages. ACM is one of the first NGOs of its kind in the country. Its activities include supporting Mongolian art institutions and individual artists through programs for promoting international exchanges, raising public interest and awareness about Mongolian arts and culture, building the capacity of artists and administrators at Mongolian art institutions, and initiating art education and cultural heritage programs through advocating a close collaboration between private and public sectors. ACM mainly covers three program areas: Arts, Cultural Heritage, and Development.

ACM's Development Program aims to ensure the sustainable development of ACM and Mongolian arts and culture by increasing earned revenues through the building of creative partnerships. This program is a very special program that includes "Bringing the arts to you!" ACM Membership.
The 'Bringing the Arts to You!' ACM's Membership campaign plays an important role in promoting the organization's activities to the public and increases public participation in supporting local talents.
ACM is welcoming you to join our membership. By becoming an ACM member, you will contribute to the development of the arts and culture, feel the pleasure of artistic excellence and satisfy your needs for aesthetics and art education. By becoming an ACM new member, you will receive special invitations to all ACM's art and culture events such as concerts, exhibitions, screenings, and festivals, and broaden your network with diverse groups of intellectuals, and patrons of the arts.
ACM provides the following art events for the members every month, 2023. In March "Bringing the arts to you!" ACM membership party, In April "Red Ger Day" activities, In May "Ulaanbaatar International Media Art Festival, In September Ulaanbaatar International Film Festival", In November "Feel the Wind" music festival, and in December ACM's New Year Party.
If you become a member of ACM before the 30th of November, you will be invited to our "SHINING NIGHT" New Year's party and many more exciting arts and culture events throughout the year 2023.
Also, ACM has partnered with State Opera and Ballet Theatre, State philharmonic, World Wine, Lhamour, and Prime Green Cashmere brands. ACM would like to inform you about the membership benefits for members who receive a 3-5% discount card for purchasing World Wine, Lhamour brand, and Prime Green Cashmere products and 10% discount for purchasing tickets at State Opera and Ballet Theatre and State Philharmonic.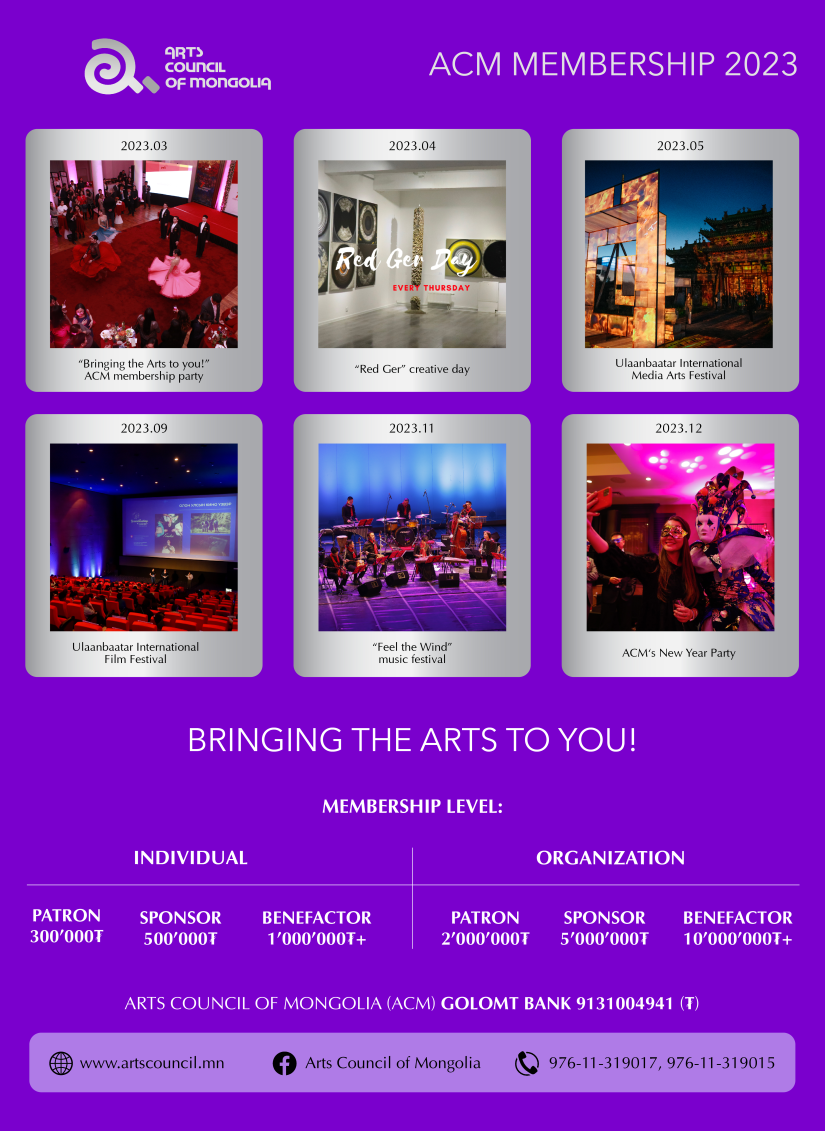 Please join us and become ACM Member!
How to become a member?
Please choose your membership level, then transfer your membership fee to the following account:
Bank information:
Account name: Arts Council of Mongolia
Bank name: Golomt Bank of Mongolia
Account number: 9131004941 (MNT)
Description: Member's name, phone number
If you have questions or need any assistance, please contact us at the following address:
Arts Council of Mongolia
Delta center-402, Tourist Street
Chingeltei district, Ulaanbaatar, Mongolia
Email: education@artscouncil.mn
Email: assistant@artscouncil.mn
Tel: 976-11-319017, 976-11-319015
Website: www.artscouncil.mn
Facebook page: https://www.facebook.com/artscouncilofmongolia/