Wonders of Khovd aimag
Art & Culture
Ulaanbaatar/MONTSAME/. We would like to introduce the historical and cultural monuments and attractive sites referred as the 'Wonders of Khovd aimag'.
Senkher Cave
There is an intriguing cave in the North Blue River valley located 25 km northwest of the center of Mankhan soum, Khovd aimag, which is an evidence that ancient Stone Age people inhabited in the territory of Mongolia. Scientists have concluded that there are traces of the early inhabitants who lived in the Khoid Tsenkheriin Agui (in English: Northern Blue Mount's Cave) 40,000 years ago. It is easy to find the cave; there is a sidewalk that paves the road to the mouth of the cave. Khoid Tsenkheriin Agui, located at the height of 1571 meters above sea level, is famous for its Paleolithic cave paintings featuring drawings and polychrome rock paintings of wild mammals and human hands.
Khar Us Nuur (Khar Us Lake)
Khar Us Lake, one of Mongolia's largest freshwater lakes, has an area of ​​1,153 square kilometers and extends on 72 kilometers long and 26 kilometers wide, with an island in the middle. The lake was taken under the State Protection in 1997. The area is home to 54 species of mammals, 268 species of birds, 455 species of grasses, 4 species of fish, 6 species of reptiles, and 131 species of insects.
Birds such as swans, brown geese, various gulls, ducks, Northern Lapwing, and endangered pelicans spend summer here. It is very little deep, with the average depth between 2 and 4.4 meters.
Alongside its freshwater lakes, the beauty of nature boasts its wetlands, Gobi steppes, land, and snow-capped mountains of the Altai. Tourists, who came here, praise the Khar Us Lake as a 'paradise on earth'.
Munkh Khairkhan Mountain
Munkh Khairkhan Mountain and its surrounding area stretch for 200 km across the territory of Bulgan soum of Bayan-Ulgii aimag and Munkh Khairkhan soum of Khovd aimag. Considered as the second highest peak in Mongolia with snowfields and glaciers, the highest peak of the mountain rises to an elevation of 4,362 meters. Snowy peak and glaciers cover an area of about 200 square kilometers.
Uriankhai people, an ethnic group of Mongolia, live near the Munkh Khairkhan Mountain. Around the mountain, a various types of tours are suitable to be organized such as historical and cultural nature tours, research tours, mountain sports tours, water sports tours, regular boat and hiking tours, and sport hunting tours.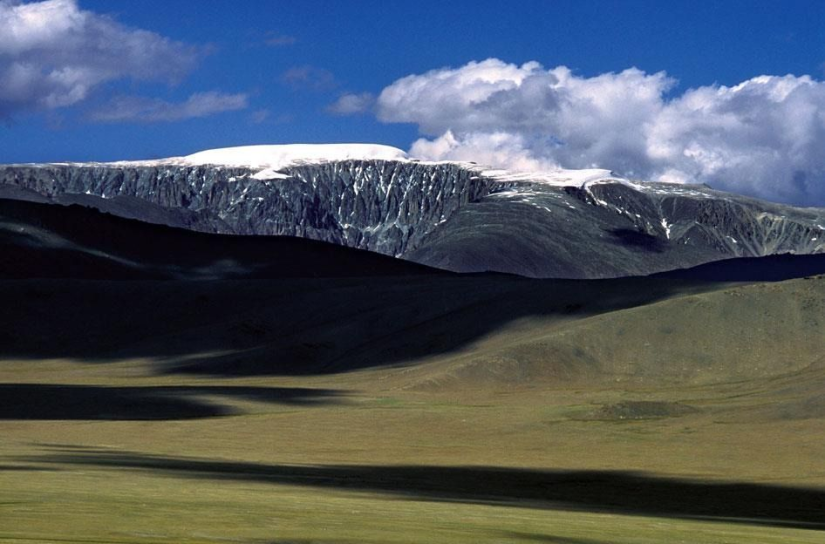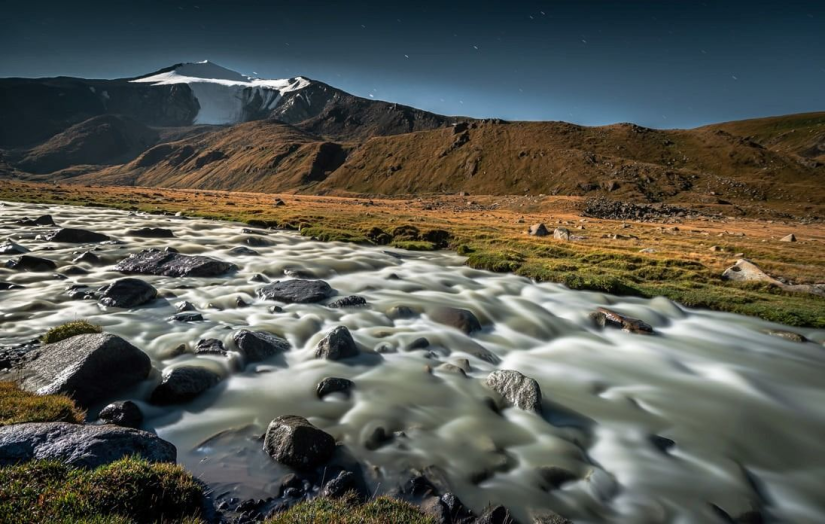 Bayanzurkh deer stone monuments
It is the largest stone monument in western Mongolia, located over 50 km west of Must soum, Khovd aimag. There are about 30 large and small deer stone monuments, 'khirigsuur' (stone burial mound) and burials. The stone monuments usually have images featuring pentagons, whinyard and other weapons.
In addition, the stone monuments depict the lifestyle of early inhabitants, and animals such as deer, leopards and wolves.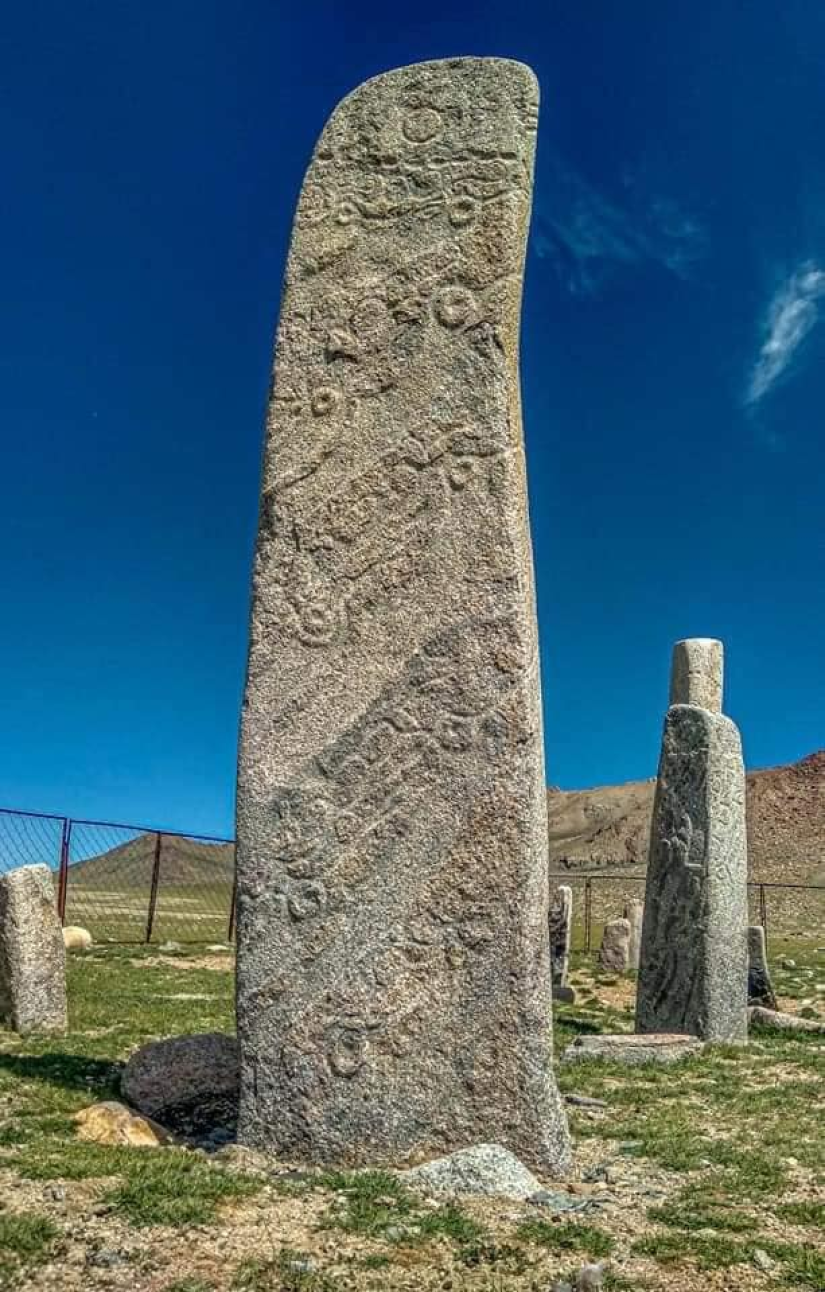 State Worshipped Mountain Altan Khukhii
Altan Khukhii mountain is a mountain range that extends on 90,735 hectares of area of the territory of Ulgii and Umnugobi soums, Uvs aimag, and Myangad soum, Khovd aimag. The mountain was taken under special protection as a natural reserve land in accordance with the parliamentary resolution No.6 in 2010. The mountain range is located at the height of 2,500-3,000m above sea levels, with the highest peak, Undur Khukhiin Uul, elevated at 3,350m.
Various types of edible plants such as mushrooms and onions alongside rare species of plants grow near the mountain. It is so wonderful that even in the scorching heat of summer one can always see snow-capped mountains in the distance.
5 species of reptiles, 127 species of birds, 42 species of mammals inhabit the nearby area of the mountain range. There are also snow leopards, wolves, lynx, wild steppe cat, wild sheep and wild goats in this mountain. Altan Khukhii is a respected mountain for many years by the Mongolians and people who live around the mountain worship it, love the animals and plants, never throw litter and dig the land.
'Kharuul Ovoo'
'Kharuul Ovoo' (Guard Ovoo) is the majestic stone structure located 15 km southeast of Bulgan soum, Khovd aimag. The structure was built by overlapping flat stones. The height of the Ovoo is about 10 meters and the diameter of the basement is about 7 meters.
As the stone structure was built with a purpose of preventing potential attacks and giving a signal with fire, smoke, sound and other devices.