AmCham Mongolia's Monthly Meeting encourages rapid restructuring of state-owned enterprises
Economy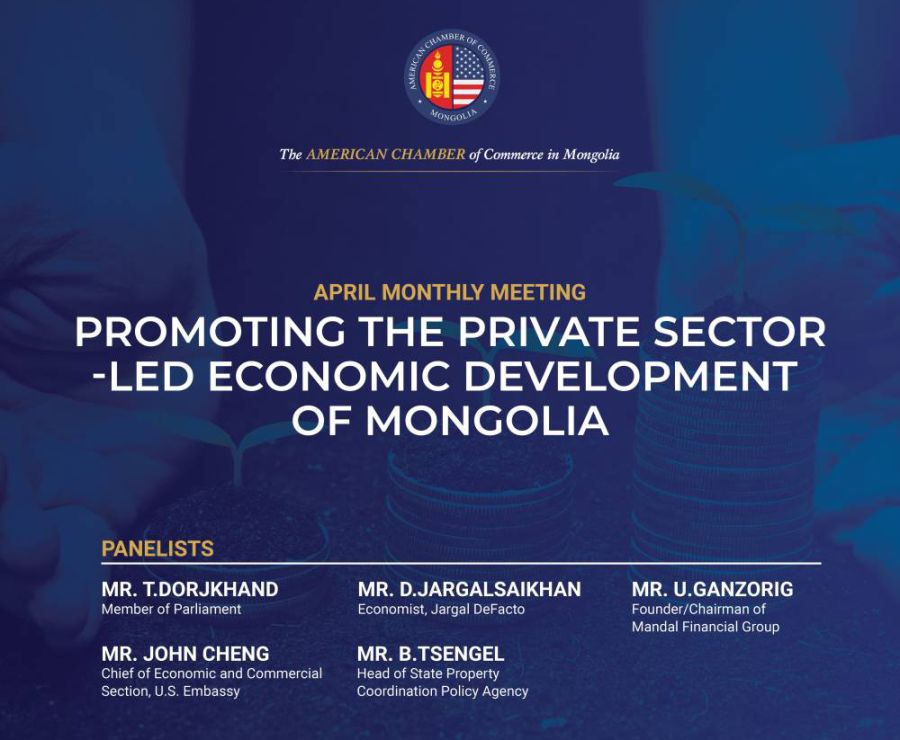 Ulaanbaatar/MONTSAME/. On April 5, the American Chamber of Commerce in Mongolia (AmCham Mongolia) organized its April Monthly Meeting, Promoting the Private Sector-led Economic Development of Mongolia. The panelists for the event were Member of Parliament T. Dorjkhand, independent economist D. Jargalsaikhan (Jargal DeFacto), Founder and Chairman of Mandal Financial Group U. Ganzorig, Chief of the Economic and Commercial Section at the U.S. Embassy John Cheng, and Head of the State Property Coordination Policy Agency B. Tsengel. The Monthly Meeting was held in a hybrid format – in-person and virtual, with more than 80 people in attendance, including representatives of the AmCham community, foreign and domestic investors, diplomatic officials, and journalists.

In his opening remarks, Mr. B. Tsengel, head of the State Property Coordination Policy Agency, gave detailed information about the current status of state-owned enterprises (SOEs), citing legislative changes adopted for SOEs to become more efficient and productive. He noted that the New Revival Policy includes changes to governance and human resource procedures for appointing heads of SOEs to reduce corruption and politically motivated appointments.
MP T. Dorjkhand spoke about the structure of governing bodies and how they regulate SOEs. Current practices have detrimental effects on private sector competitiveness, creating increasingly difficult circumstances for private businesses to win state tenders and signaling the need for reforms and restrictions. He also emphasized that large-scale corruption has slowed private sector growth for the past 30 years, stating, "The government cannot do business with itself." This is evident when SOEs are recognized as the nation's top taxpaying companies at the end of the fiscal year.
Mandal Financial Group's founder and chairman, Mr. U. Ganzorig, proposed that public-private engagements should be formed for at least three to five years, exceeding the four-year political lifecycle, or for even longer terms that are carefully planned and guaranteed. He urged participants to be proactive when demanding accountability from the government.
Mr. John Cheng, chief of the Economic and Commercial Section at the U.S. Embassy in Mongolia, states, "Mongolia's government, much like any other governing body across the globe, recognizes its role as a regulator and is interested in maintaining the stable income of its enterprises. It's when they see these enterprises as the sole channel of revenue, with a motive for profiteering, that it paints an uglier picture." He acknowledged the previous speakers' valuable insights on restructuring SOEs and how greater transparency between stakeholders will lead to successful transformation. In his closing words, he noted, "Mongolia does not have to look to nations that are necessarily bigger or better but should look for similar countries with success stories. For instance, Romania recently reshaped its own state entities without divesting from them."
Mr. D. Jargalsaikhan, the founder of DeFacto Research Institute, pointed out that to achieve maximized growth and efficiency, all sectors of the economy need increased cluster initiatives. Furthermore, current government structure and practices are not very appealing to the private sector, and major reforms should be considered with a sense of urgency. He emphasized that the fouryear political cycle and regulations need to be more stable and forthcoming. To achieve these changes, the General Election Committee should be reformulated as the "Votes Committee", working on a daily basis to ensure that election monitoring and mechanisms are in place to ensure reforms.
At the end of the Monthly Meeting, the guest speakers answered all questions from the audience and provided final remarks.
Source: amcham.mn