Mongolian and French agriculture ministries hold consultative meeting
Economy
|
Agriculture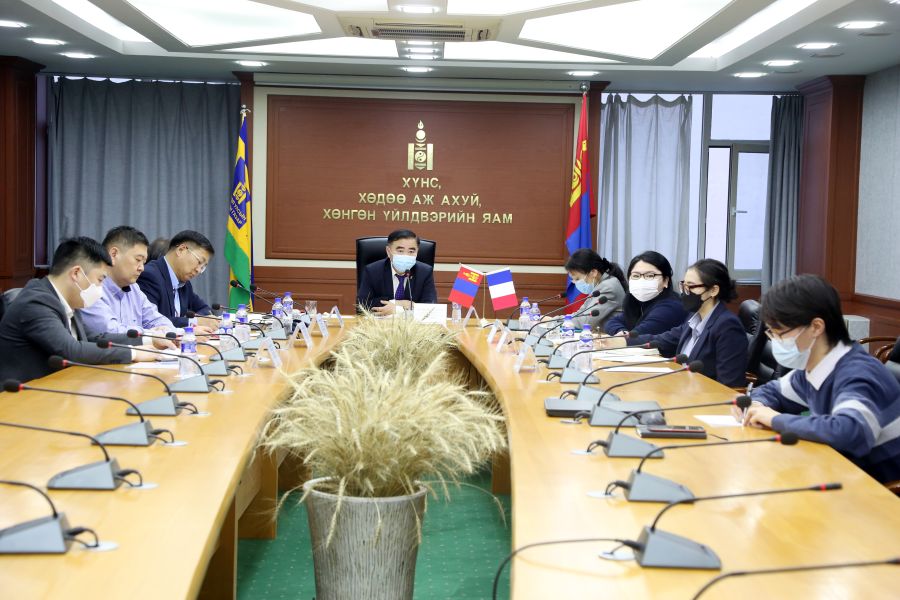 Ulaanbaatar /MONTSAME/ On January 11, the ministries of agriculture of Mongolia and the French Republic held their consultative meeting, which had been postponed due to the pandemic. Ambassadors of the two countries and ministry officials took part in the meeting chaired by Director of the Policy and Planning Department of the Ministry of Food, Agriculture and Light Industry of Mongolia Ts.Bolorchuluun and Director of the European and International Cooperation Department of the French Ministry of Agriculture and Food Frédéric Lambert.
The sides discussed bilateral cooperation in agriculture and food production, policies and joint projects in place, as well as opportunities and possible areas for collaboration.
They particularly exchanged views on introducing animal breeds that can withstand extreme weather, supplying agricultural equipment and machinery, having geographical indications registered by the European Union, establishing partnerships between agricultural businesses and supporting them in finding financial sources, studying experience in planting fruits and berry trees as part of the Mongolian President's One Billion Trees initiative, having Mongolia participate in the Sommet de l'Élevage agricultural trade show organized in Clermont-Ferrand, France every October, learning from France's experience in agricultural cooperatives, supporting cooperation between non-governmental organizations in pasture management, providing assistance to agricultural innovations and start-ups and joining international initiatives and organizing seminars and webinars.
Moreover, the sides agreed to seek opportunities to request the European Union for an increase in the funding from the Food Aid Fund of France in connection with the French presidency of the Council of the European Union in the first half of 2022 and to sign the memorandum on cooperation between the agriculture ministries of the two countries virtually in the near future.
Ambassador of France to Mongolia Sebastien Surun undertook to place emphasis on ensuring food security in Mongolia, enhancing economic benefits of the agricultural sector, reducing greenhouse gas emissions to combat climate change, and expanding cooperation in agriculture.
Mongolian Ambassador to France U.Nyamkhuu said the objectives set by the two countries in agricultural sector are aligned with the goal in the Mongolian government's long-term, development document Vision 2050 to develop agriculture as an environmentally friendly, climate and risk resilient, responsible, highly productive, and sustainable economic sector.