DAGVA RENTSENDAGVA: ELIMINATING CORRUPTION AND ENSURING ACCOUNTABILITY IS THE WAY TO DEVELOP
Ulaanbaatar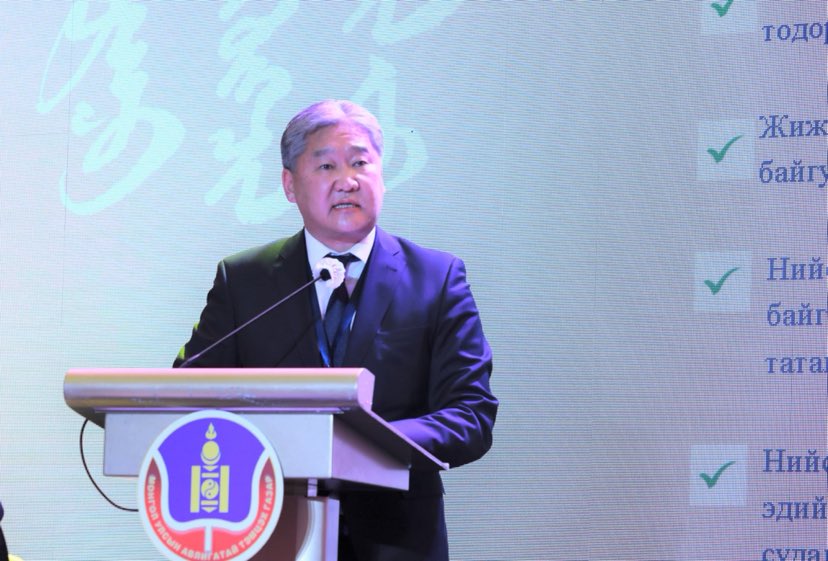 Ulaanbaatar /MONTSAME/ The Independent Authority Against Corruption (IAAC) organized "The National Forum Against Corruption-2021" on December 8th оn the occasion of the International Anti-Corruption Day (December 9).

Throughout the forum, representatives presented and discussed as part of four-session panel discussions. The panel sessions included "Legal environment for combating corruption and the cooperation between law enforcement agencies", "The role and participation of media and civil society organizations in combating corruption", "Strengthening integrity and transparency in the civil service sector", "Private sector and fair competition" with 6-7 speakers presenting per session.
The Capital City's Deputy Governor for Innovation and Technology Projects Mr. Dagva Rentsendagva participated in the "Strengthening integrity and transparency in the civil services sector" and made a presentation on "Digitalizing public services, reducing corruption and bureaucracy: The Capital city's solutions, challenges, and results".
He noted "We are discussing ways to reduce and eliminate corruption and bureaucracy, which are the biggest obstacles to the well-being, rights and freedom of Mongolian people. Eliminating corruption and ensuring transparency, accountability, and responsibility is a way to have a positive impact on the cooperation between the state and is way to co-development. I hope that this forum, initiated by The Independent Authority Against Corruption, will be a useful forum that helps in realistically identifying the causes and conditions of corruption that hinder Mongolia's development, and open up new ideas, ways and opportunities to eliminate corruption."
He also mentioned the digital transition of public services provided by the capital city. For example, the website "egazar.gov.mn" and the "Egazar" mobile application which has transferred land relations to the digital form, the "business.ulaanbaatar.mn" which is a unified information system to improve the accountability, cooperation, and, monitoring of government organizations and legal entities that conduct trade, production, and services, and the capital city's digital service eservice.ulaanbaatar.mn systems.
At the end of his presentation, Mr.Dagva Rentsendagva stated, "In the future, we suggest that Ulaanbaatar develop and approve an independent action plan to reduce corruption and bureaucracy, and organize its implementation in cooperation with citizens, civil society organizations and professional organizations"
Additionally, Commissioner D.Dulamsuren, Head of the Prevention and Public Awareness Department, IAAC, said "The comments and conclusions from today's forum will be sent to the relevant organizations as recommendations. The IAAC anticipates results will be achieved through cooperation, consensus, and comprehensive measures after the forum. According to Transparency International's Corruption Perceptions Index, Mongolia ranks 111th out of 180 countries in the world. This is not a good number. Therefore, the establishment of a "National Anti-Corruption Committee" to prevent corruption is helpful to the IAAC"
MEDIA RELATIONS DEPARTMENT OF THE GOVERNOR'S OFFICE OF THE CAPITAL CITY