Cultural and creative industry being supported by government policy
Politics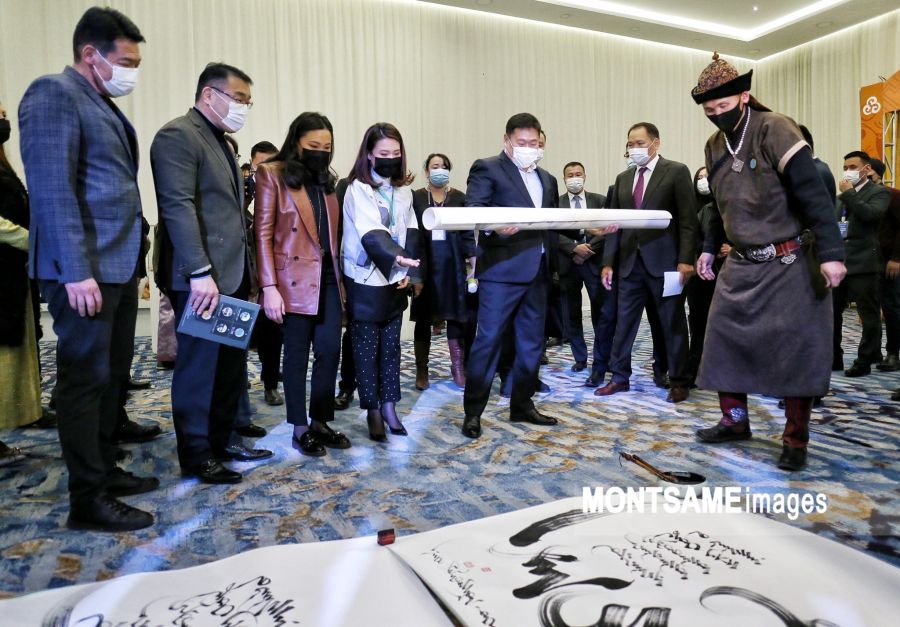 Ulaanbaatar /MONTSAME/. On November 6, an exhibition was opened by those in the creative industry at the Mongolian National Chamber of Commerce and industry. Prime Minister L.Oyun-Erdene became acquainted with the exhibition and held a meeting with representatives of SMEs and service providers.

During the exhibition, the organizers checked all participants for their COVID-19 vaccinations alongside creating the opportunity for people to be involved in an additional third shot of the vaccine at the venue.
Prime Minister L.Oyun-Erdene said, "Starting from November 1, culture, arts, and sports events have been permitted to be organized with 50 percent capacity. The government currently aims to downgrade the current level of restrictions from 'Orange' to 'Yellow' if 50 percent of the target population receives the additional dose of COVID-19 vaccines."
The Government of Mongolia announced that the creative industry will be developed as one of the leading sectors for growing the country's economy, providing support through policy. Thus in connection, the exhibition was co-organized by the Ministry of Culture, Governor's Office of the Capital City, and the Center for the Support of Small and Medium Enterprises of the Capital City. 300 products and works of 100 entities in the creative industry were presented during the exhibition.
As of today, there are 906 thousand workers employed at 62 thousand SMEs in Mongolia.
Highlighting that the sector makes up 18.3 percent of the GDP and 2.4 percent of total export, Prime Minister L.Oyun-Erdene said, "At the Cabinet meeting that took place on March 3 this year, we approved the 'Mongolian culture - Mongolian wealth' comprehensive program. In its framework, works will be carried out to develop the creative industry through appropriate legal framework, financing, infrastructure, and technology. An investment fund will also be established to support the cultural and creative industry."
Alongside the Prime Minister, the exhibition was visited by Minister of Culture Ch.Nomin and Governor of the Capital City and Mayor of Ulaanbaatar D.Sumiyabazar.