Honorary certificate presented to top inheritor of intangible cultural heritage of 2020
Art & Culture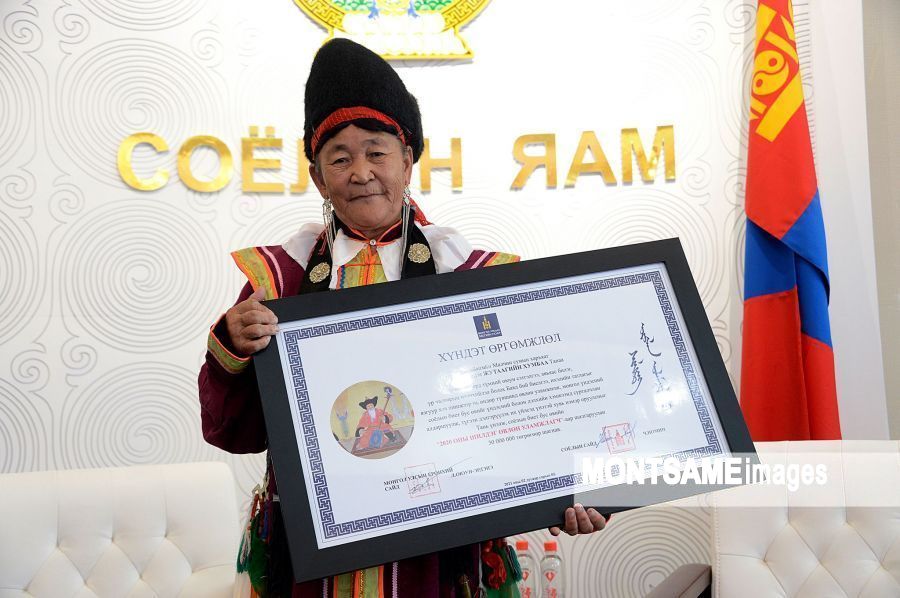 Ulaanbaatar /MONTSAME/. Minister of Culture Ch.Nomin received top intangible inheritor of 2020 ikhel player, biyelgee dancer Khumbaa Jutaa yesterday.

In accordance with the order issued by the Minister of Culture on February 5, 2021, Khumbaa Jutaa was selected as the top inheritor of intangible cultural heritage for the year of 2020. The award ceremony, which has been postponed indefinitely due to the COVID-19 pandemic, was held at the Ministry of Culture yesterday and an honorary certificate and monetary prize of MNT 30 million were presented.
Born in 1942, J.Khumbaa learned how to dance bayad biyelgee as well as to play ikhel from her parents at the age of 10. She participated in various festivals on the international and national level, such as 'Altan Tulga' folk arts festival /1980,1981/, the Folk Arts Festival organized on the occasion of the 80th anniversary of the People's Revolution of Mongolia /2001/, the festival organized for the safeguarding of the traditional morin khuur music of Mongolia by UNESCO /2007/, and 'Nomadic Mongolia-2018' cultural festival, and was awarded with medals and certificates as recognition of her contribution in promoting the cultural heritage.
Along with her students, she was also involved in the making of several documentaries including 'Tsatsal', 'Ikhel Khuuriin Egshig', and 'Bayadiin Khurimlakh Yos' as well as the joint Mongolian-French documentary 'Morin Khuur'. She is registered as one of 102 inheritors of intangible cultural heritage in the national list of inheritors of intangible cultural heritage approved by the Cabinet in 2019.
Long song singer Dulam Dorj and epic teller Baldandorj Avirmed were selected as the top inheritors of intangible cultural heritage of 2018 and 2019 respectively.