B.Narandelger appointed as Cultural Ambassador of Mongolia
Art & Culture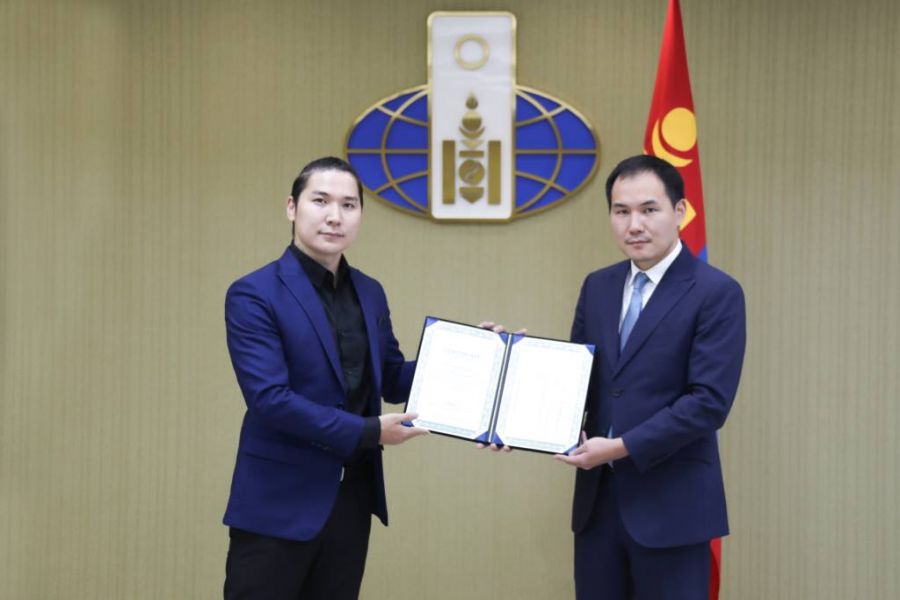 Ulaanbaatar /MONTSAME/ Deputy Minister of Foreign Affairs B.Munkhjin presented a certificate of Cultural Ambassador of Mongolia to artist of Ulaanbaatar Ensemble, Leading Cultural Worker Narandelger Byambaa, who has been appointed to the role.
The new cultural ambassador B.Narandelger, who is making valuable contributions to globally promoting the intangible cultural heritage of Mongolia, khuumii (Mongolian throat singing), Tsuur (end blown flute), and Mongolian jaw harp, pioneered Khuumiibeat ethnic music genre that combines the traditional khuumii with beatboxing. His piece combining folk dance and music with beatboxing has been added to the repertoire of Ulaanbaatar Ensemble and is being presented locally and internationally.
B.Narandelger is successfully implementing the project, 'Promoting the value of national heritage and culture', for over 18,000 students of 60 schools. He is an artist who has contributed to the promotion of Mongolian cultural heritage and was among the people who set the Guinness record for the most people performing traditional throat singing simultaneously.