Beneficial bacteria to be used in reducing soil pollution near Gandantegchinlen Monastery
Environment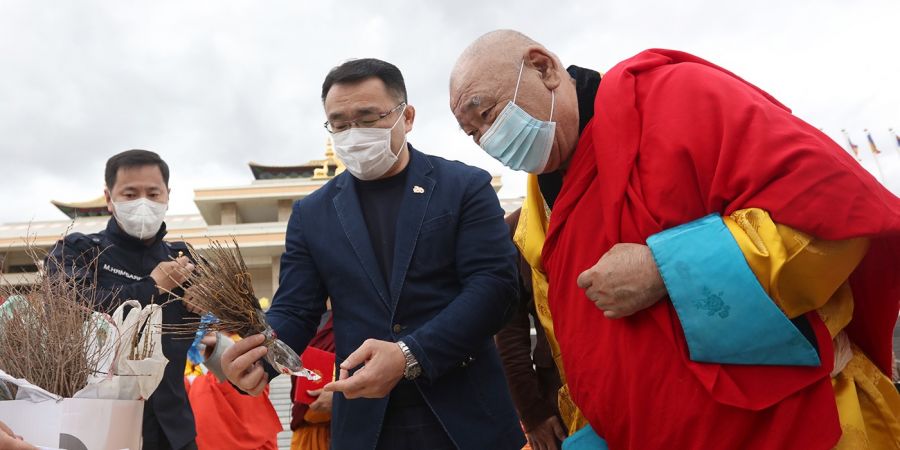 Ulaanbaatar /MONTSAME/. On May 26, Governor of the Capital City and Mayor of Ulaanbaatar D.Sumiyabazar became acquainted with the operations of Mongolian Buddhist Center of Gandantegchinlen Monastery.

During his visit, he signed a Memorandum of Cooperation with the Monastery's Senior Khamba Lama D.Choijamts, setting the framework for partnership to reduce soil pollution in the area, create a healthy, safe living environment for citizens, and ensure ecological balance.
More specifically, the city government and the monastery will be jointly organizing sterilization and disinfection for pit latrines of households near the Gandantegchinlen Monastery and utilizing beneficial bacteria for reducing soil pollution. Furthermore, it was decided to provide 5,500 larch sapling for over 800 households in 16th khoroo of Bayangol district in aims of supporting the efforts to reduce air pollution, creating a healthy environment.

Governor of the Capital City and Mayor of Ulaanbaatar city D.Sumiyabazar said, "Trees, shrubs, and greenery are important in reducing air pollution. The tree planting campaign will continue to run in an even wider range. The city government is currently aiming to make Ulaanbaatar green, meeting international standards. However, as the soil pollution near Gandantegchinlen Monastery has reached a high level, work to accelerate the planting of trees and reducing soil pollution is being started at the location.
There are 196 thousand pit latrines in the ger districts of Ulaanbaatar city. Based on science and technology, an initiative has been launched to reduce soil pollution and establish eco sanitation facilities, and a study is currently being carried out on the matter. As a result of its implementation, the soil pollution of Ulaanbaatar city is projected to reduce to 85 percent of its current level."