Julien Malland: I always thought that the best qualities of an urban artist are observation, understanding and adaptation
Society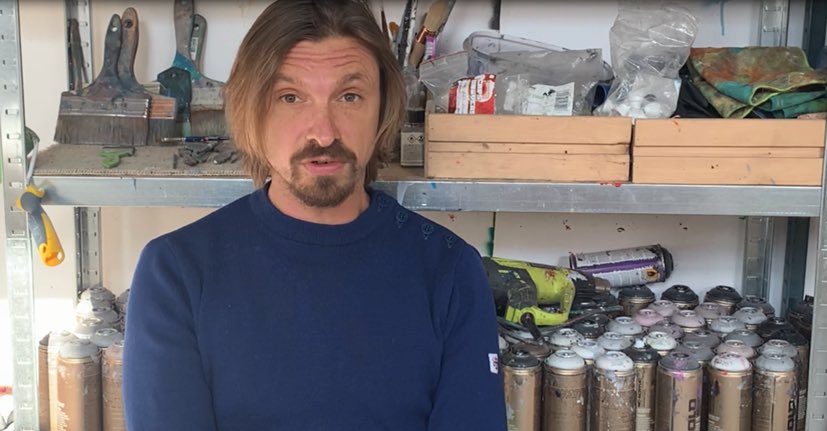 Ulaanbaatar /MONTSAME/. Nogoonbaatar International Eco Art Festival has launched its activities in March of 2021, involving Mongolian, French, Czech and German artists targeting Ger Districts of Ulaanbaatar city. Here we would like to introduce you an art critique Batzorig Mart's interview with French artist Julien Malland, known as Seth Globepainter, the participant of the Festival.
Born in Paris, Seth began to express himself on the walls of his city in the mid-90s. His preferred terrain, however, was in the 20th district where he became known in the graffiti scene for his specialization of painting characters. Graduate of the Ecole Nationale des Arts Décoratifs, he published alongside Gautier Bischoff in 2000 the book Kapital, which to this day remains one the best-selling books about French graffiti. Together, they founded Wasted Talent in 2004, a publishing house that specializes in monographs of urban artists.
Starting from 2003, he went on a trip around the world to exchange with artists from different cultures, and to open up to new ways of living and painting in urban areas. This experience culminated in the book Globe Painter published in 2007 following with the documentary series Les Nouveaux Explorateurs produced and broadcast by Canal+ where Seth proposed to discover a country through the prism of its urban arts. For 5 years, he took a part in travelling to 15 destinations full of meaning.
During the course of his artistic explorations, Seth developed his distinct painting style, working often with the theme of childhood. Using the wall as a blank page, Seth relies on one hand the individual or collective imagination – local gods, myths, or tales. The child becomes a spokesperson, a messenger of his investigations. He puts into play his image of innocence, and places his character in difficult social, political and geographical contexts.
How did you respond to the invitation to cooperate with the Nogoonbaatar Eco Art Festival, and what attracted you to this event?
I have always been fascinated by Mongolia and its culture. It is a country that one dreams of here in France. To be able to meet, exchange and interact with artists from another culture and another geographical area is why I do what I do. It was a great opportunity to help facilitate creation in an area in need during the Nogoonbaatar Eco Art Festival, along with its social and ecological mission.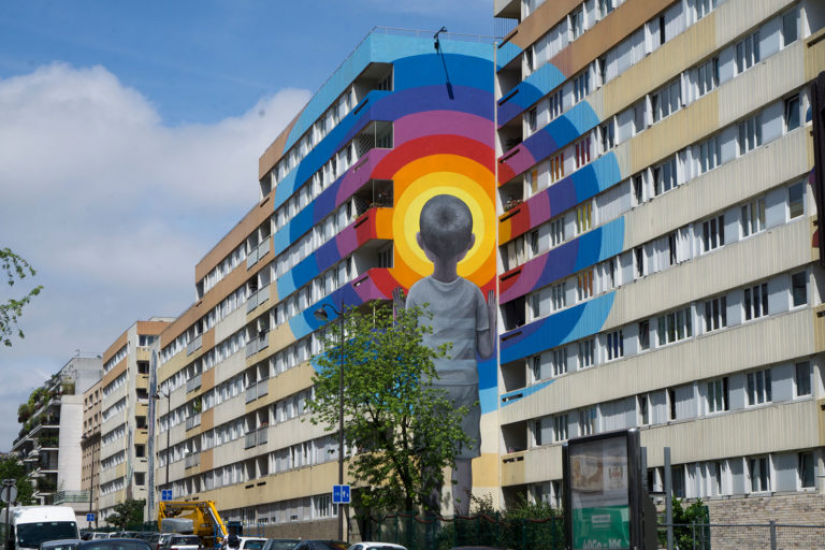 How much did you know about Mongolia before participating in this project?
Like many people in France, I had a certain impression of Mongolian culture. I had seen documentaries about the nomadic steppes and tribal history. I was also aware of problems linked to uncontrolled urbanization the rural exodus in Ulaanbaatar.
Why did you choose the child in many of your works?
The image of a child speaks to everyone, kids and adults alike. In public space, using childish characters makes it possible to gently reference serious subjects, to tackle complicated issues without attacking the viewer. The contrast between the children and the harsh environment in which they are often represented, further reinforces the conveyed message.
Most of the children you portrayed in your paintings look away, their faces not visible or wearing mask. Do you pass any meaning or message through this?
It's a way to capture the imagination of the viewer. Not everything is said. It's up to each person to imagine the character's face, and make it their own. It allows everyone to decide whether or not the child is sad or happy, contemplative or daydreaming. I am not looking to impose with my characters but instead to encourage people to identify with them.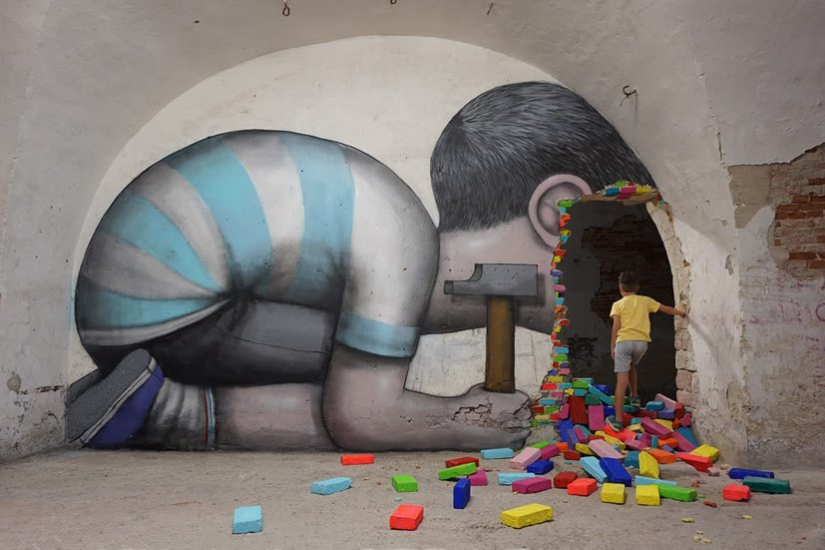 About the countries you liked or disliked the most, while travelling by work?
There's not a country that I like nor dislike. Each country, every place has a soul, a unique culture that offers the possibility of exploration. All you have to do is let yourself go without any preconceptions, to allow yourself to be guided by your own curiosity and each place will become a source of mutual encounters.
Is there any difference in the perceptions of the people, who saw your work, depending on economic development, geographical location, culture etc?
Depending on the culture, the geographical location or social aspects, perceptions can vary. That's what is interesting about art in public space. Since we are interacting with people passing by in the street, it is important to understand the place where are painting in order to adapt to the context. I always thought that the best qualities of an urban artist are observation, understanding and adaptation.
What do you think is the difference between street art and public art?
Street art is a way to make public art. It is a movement that is both spontaneous and illegal, while seeking to speak to everyone (unlike graffiti, which is primarily aimed at other graffiti artists). Public art corresponds to all forms of artistic expression in public space: commissions, murals, sculptures, installations but also graffiti and street art.
Can art be accessible for the majority?
Art can be accessible to everyone. But we will all understand it differently, depending on our culture and education. It will always be complicated to speak to people who don't have the same cultural references of conceptual contemporary art, just as it will be difficult to reach an intellectual from the economic and cultural elite who deems a realistic painting of a galloping horse kitsch. When I create in public space, I try to be as universal as possible by putting myself in the shoes of those who will discover my work.
Street art seems to become an icon of contemporary art today, just as pop art had become the icon of contemporary art in the 70's and 80's. Do you agree with that?
Maybe. It is a popular art, easily understandable, which corresponds more and more to today's evolving society. In terms of purpose and form, it is at odds with institutional contemporary art, but it also corresponds to the popular demand of the art market. A lot of collectors prefer the ease of street art to contemporary art, which is occasionally complicated to approach.
Due to the pandemic, foreign artists were unable to participate in the Nogoonbaatar Eco Art Festival. How do you feel about participating in art events in this way? What are the advantages and disadvantages?
The benefits ensure that these events take place and that there is a minimum of interaction, so that local and foreign artists are not isolated despite the pandemic. The downsides are that it's not possible to really meet, or have a deeper exchange through communication and working alongside each other physically. Hopefully things will change next year.
The Nogoonbaatar Eco Art Festival is funded by the European Union National Institutes for Culture (EUNIC) and organized by the EU Delegation to Mongolia, the Embassy of the Czech Republic, the Alliance Française d'Oulan Bator, the Goethe-Institut Mongolia, the Arts Council of Mongolia and the Academy of Fine Arts of Mongolia. The festival is curated by Red Corner, initiated by 976 Art Gallery.