Mongolian Lamb to become name card of Mongolia
Mongolian Brands

"Annual profitability from sheep flock in Mongolia could reach USD 1 billion, which equals to ¼ of the government budget and will definitely help promote the economic growth of the country. Each herder household will become able to directly earn MNT 300 million in a year only with less than 1,000 livestock animals, helping the country's economy to flourish and triggering market benefits. Mongolians have ample opportunities to become billionaires with its great wealth of growing population of livestock," noted the team of the Chineeleg Malchin Boijuulakh Tuv NGO, intending to address challenges in the animal husbandry and herders, pastureland degradation, etc. The non-government organization is willing to divert public attention to this area.
Mongolia has been seeking to export meat abroad in the past three decades. The only obstacle is diseases in grazing animals, because of which, foreign quarantine services usually became hesitant to buy meat from Mongolia, leading the problem to persist until now. The problem is often aggravated by Mongolians' traditional practice in animal husbandry. Particularly, herders spend 4-5 years of hard work and labor to raise their animals which causes overgrazing and wasting their precious time. As an alternative, herders have the opportunity of meat processing of young livestock animals to sell on the market.

Foreigners arriving in Mongolia prefer to eat meat from pasture-raised animals, which perhaps can be found in Mongolia only. Unfortunately, we do not pay much attention or understand this valuable healthy and organic food we have. Some countries misjudge that Mongolian livestock animals are 'ill' and it is worth mentioning that there is excessive use of Ivomec injection. Young livestock animals under the age of one are less prone to diseases and their meat is properly considered a healthy and clean product.

The Chineeleg Malchin Boijuulakh Tuv NGO has very well understood the situation and has introduced the 'Mongolian Lamb' lamb brand, naming it as one of the solutions to problems in the industry. The brand project – 'Mongolian Lamb' has been launched by the Chineeleg Malchin Boijuulakh Tuv NGO within the framework of its 'Wealthy Herder' program in cooperation with Mon Ecolamb LLC.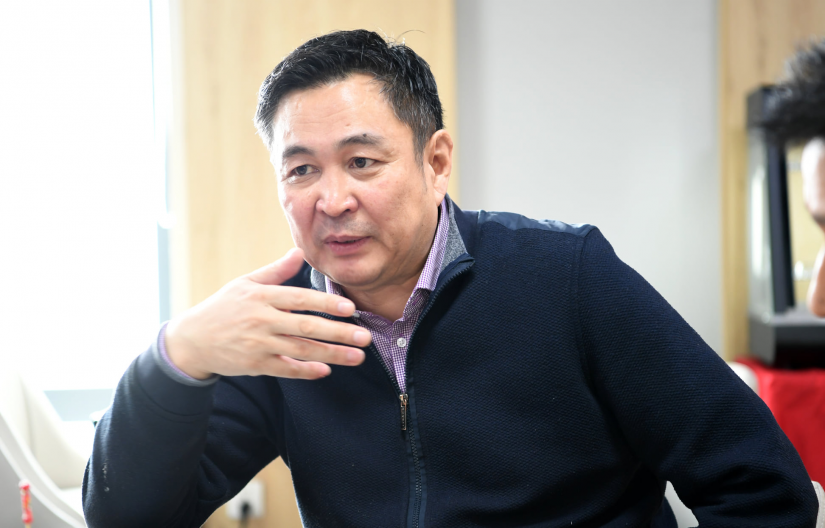 About this, L. Odser, head of Chineeleg Malchin Boijuulakh Tuv NGO told, "We have started to make improvements in the livestock flock structures and ensure supply of animal meat to the market within a short period to make herders businesspeople and producers."

The 'Wealthy Herder' project was carried out to make Gobisumber aimag a model region, with tasks to change herders' mindset and approach and to breed livestock population with animals with extra vertebrae and with breeds of Barga and Uzemchin for meat production. As a result, the breed quality in Gobisumber's livestock population has been improved and the live weight of six to seven-month-old lambs averaged more than 35 kilograms. The same works are in full swing in other aimags, such as Umnugobi, Khentii, Khuvsgul, Khovd and Bulgan. Herders in the regions started selling lamb meat through the Chineeleg Malchin Boijuulakh Tuv NGO, followed by Dornod, Sukhbaatar, and Khovd aimags which implemented the program to provide their lamb meat.
Under a tripartite agreement of Chineeleg Malchin Boijuulakh Tuv NGO, Mon Ecolamb LLC and Tsaluut Impex LLC – meat factory, pasture-grazed lamb meat branded as 'Mongolian lamb' which are produced to satisfy international quality and health standards with proper packaging are offered on the market. These measures are designed for preventing pastureland degradation that is associated with overgrazing, as well as excessive use of Ivomec, and are aimed at providing residents with organic lamb meat and allow them to build healthy eating habits with domestic food products. Furthermore, herders are given chances to reduce their burden by tending to fewer animals with increased benefits and to enjoy regular income from their livestock flocks. Taking all these into consideration, it is undisputed that the Mongolian Lamb brand is a comprehensive project to bring reform to Mongolia's agricultural system.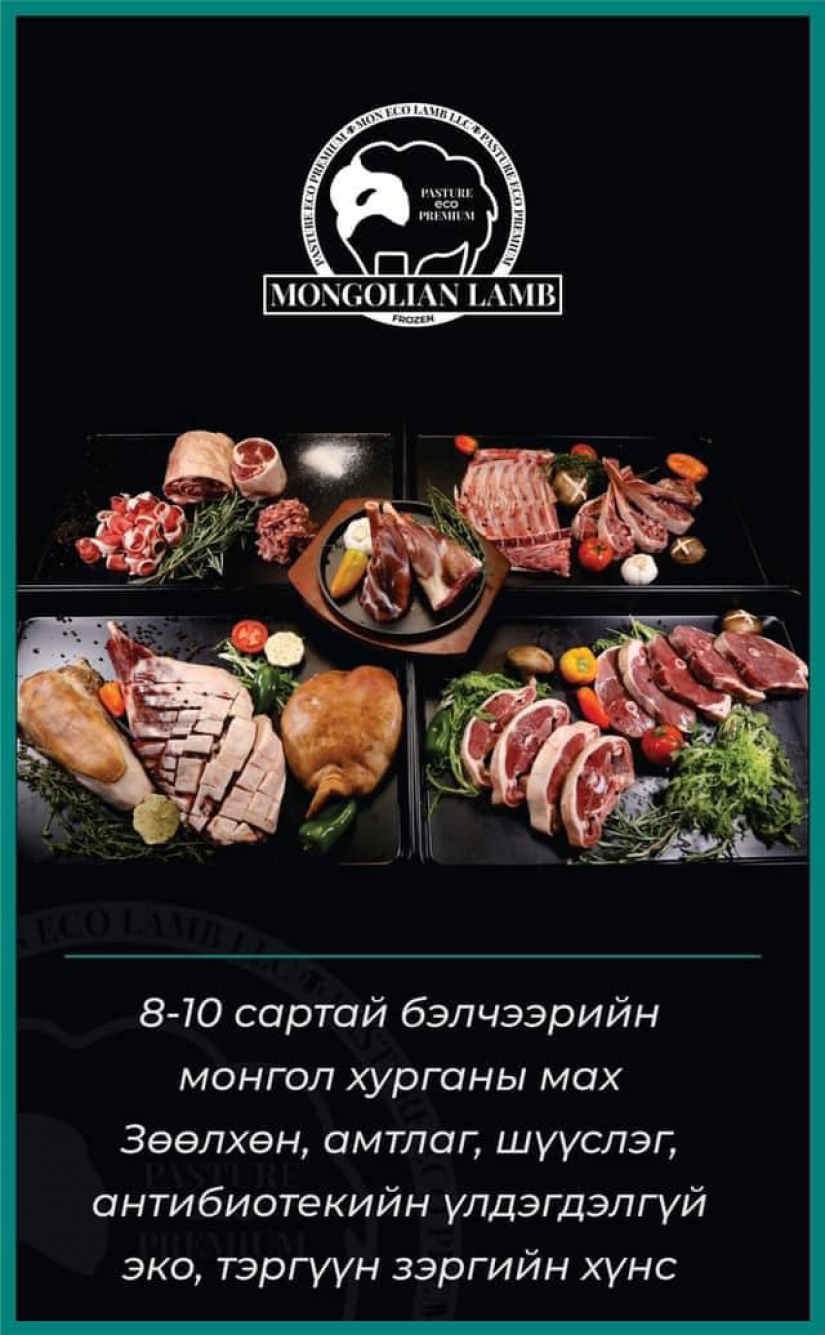 To give an instance, a livestock census for 2020 by the National Statistics Office of Mongolia shows that Mongolia had 67 million livestock animals in 2020 after reaching an all-time high of 70.9 million in 2019. Among them, 4.1 million heads of horses, 4.7 million heads of cattle, 472.9 thousand heads of camel, 30.0 million heads of sheep, 27.7 million heads of goats were counted. Out of the 30 million heads of sheep, there are 14-15 million dams and the remaining 15 million sheep are grazing through pasturelands without yielding any significant benefits and adding work burden on around 230,000 herder households.

"I do not understand why people object to consuming lamb. They never think about millions of livestock animals dying every year," said Mr.Odser. "In reality, it has been thousands of years since the world first introduced into their diet meat from young sheep in their young or adolescents ages when the meat is the richest in nutrition and minerals. I believe that Mongolia has the potential to make the lamb a global brand and supply to the world countries by way of keeping its basic and traditional animal husbandry production knowledge and making management reforms since the type of pasture-grazed lamb is found only in Mongolia. The world knows that this is a valuable product."
Translated into Mongolia, 'lamb' means the meat of young sheep. From this, Mongolian people imagine a baby animal feeding from her mother when they hear this word. However, in this case, meat from lambs who reached 8-12 months already has the highest nutritional value and contains many vitamins and minerals, and becomes an excellent component of a healthy diet.

About the 'Wealthy Herder' program, Mr. Odser said "Each whole meat of sheep provided to us by our partner - meat producers within the program weights up to 17-23 kilograms. This shows our project's economic viability and capability to provide healthy foods to the population. With around 20 million heads of good quality lambs, we could use 5-6 million of them for domestic meat consumption and export the remaining 14-15 million to foreign countries at an average retail price of USD 10-15. That way 230,000 herder households in Mongolia could earn an annual income of USD 1.5-2 billion per annum and businesses will grow thanks to the value chain created by the lamb exports. Five to ten times of increase in income of Ulaanbaatar city and other larger residential regions will lead to the promotion of small and medium-sized businesses and manufacturers, helping the country to achieve economic growth."
"Why 'Mongolian Lamb' brand cannot be like a global franchise such as KFC and McDonalds with presence in New York, Tokyo, Moscow, and Beijing. That is our motive – to become a chain that covers the whole world. For example, we are aiming to create brand products that meet every customer's need for pasture-grown eco and clean products, such as Mon Eco Lamb, Mongolian Lamb, Paster, Eco and Premium that are available in every corner of the world. We are ready to overcome all challenges to arise on our way ahead."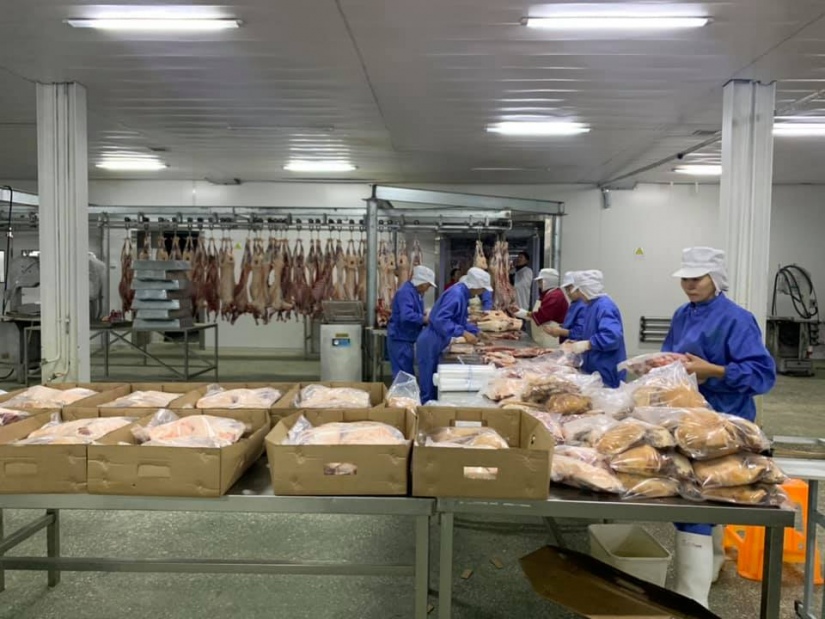 "Arab countries are buying lamb meat from us in recent years. We, ourselves, need to learn to adopt habits of eating clean and healthy foods and give the cleanest food to our loved ones. We need to produce and eat the tender and healthy lamb meats and sell them abroad, this is our ultimate aim."

N.Saranchimeg