Javkhlant Gobi Investment confirms compliance with ISO international standards from AFNOR
Society
Ulaanbaatar, Mongolia - Javkhlant Gobi Investment, a mining service supplier to Oyu Tolgoi, has recently received international certificates of conformity from Afnor, an accredited certification body. Afnor confirmed the compliance of its integrated management system with international standards in the field of quality, industrial and occupational safety.
"Successful certification reinforces the company's status as a reliable supplier of high-quality services and enhances the company's competitiveness in the field," said Mr. Philippe Merlin, Ambassador of France to Mongolia, during the award ceremony, held on Nov 09, 2020. "In France, companies receive this certificate in order to increase their reputation for expanding their operations. In the sense of a more reliable partnership, I hope it will be the same in Mongolian business environment" he added.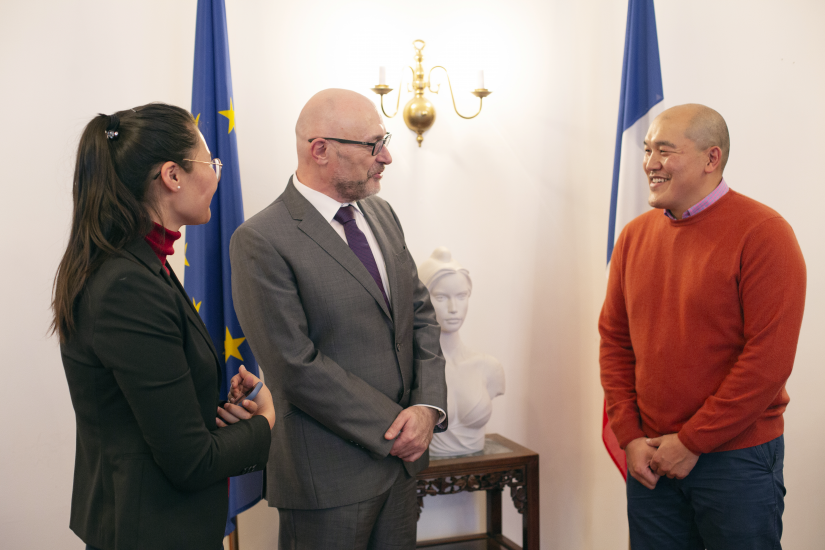 French Ambassador Philippe Merlin talks with J.Bayasgalan, CEO of Javkhlant Gobi Investment
Ambassador Philippe Merlin also expressed his gratitude to Javkhlant Gobi Investment Company for participating in the award ceremony from Khanbogd soum in South Gobi, Mongolia. He said "We appreciate the efforts of the company that is eager to keep pace with large companies. The French Embassy will continue to support connection between local businesses and French companies in the future"
Bayasgalan.J, CEO of Javkhlant Gobi Investment Company, emphasized that obtaining an international quality certificate is a step for the company to further cooperate with European companies such as France and Germany and expand its foreign relations. The international quality certificate issued by the Afnor Group is internationally recognized by its high requirements. Currently, Afnor Group has issued certifications to more than 20 of the largest Mongolian companies, including Energy Resources, Erdenes Tavan Tolgoi and Newcom Group. "We are pleased to share with our customers the good news that a local company founded by locals of Khanbogd soum has received an international certificate and is joining the ranks of Mongolia's most influential companies," said Bayasgalan.J, CEO of Javkhlant Gobi Investment Company.
At Javkhlant Gobi Investment, the company's units regularly pass external audits for compliance with safety requirements. In the first half of 2020, JGI announced that it had received the standard in the field of industrial and occupational safety (ISO 45001) introduced in 2018. According to experts, this was the first international standard that focused on systematic activities to prevent injuries to employees and involved organizational management in improving occupational safety. JGI has also received international standards in the field of quality (ISO 9001:2015) which also contributes to the sustainable development strategy adopted by the company.