N.Tuvshinbayar: Sport has been an eye-opener for me
Sports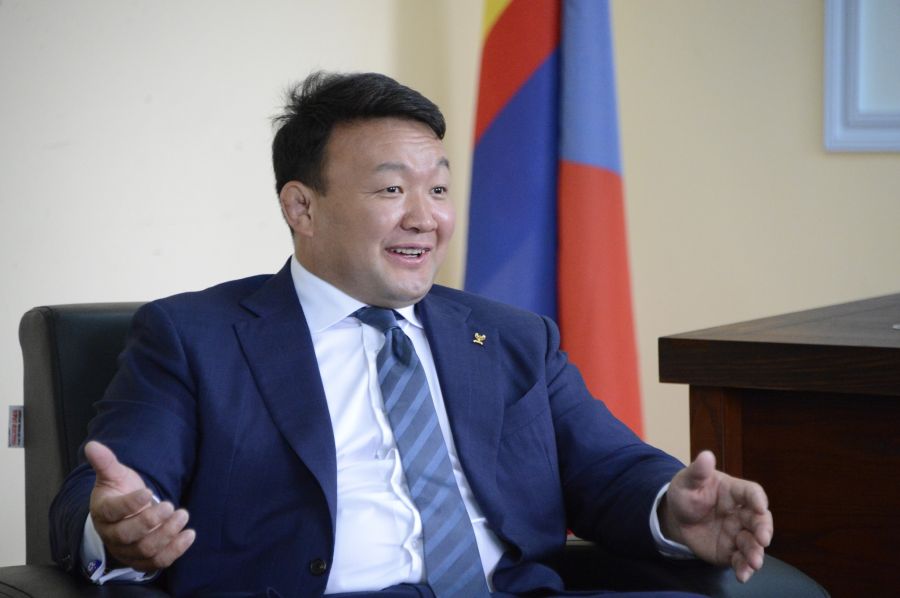 Ulaanbaatar /MONTSAME/ Hero of Labor of Mongolia, famous judoka Tuvshinbayar Naidan was appointed to the responsible position of President of the Mongolian National Olympic Committee (MNOC) in August. He is the 2008 Olympic Champion, 2012 Olympic silver medalist, 2014 Asian games champion, 2015 World Bronze medalist, 2016 Asian championship Gold medalist, 2007 silver medalist and two-time (2008,2011) bronze medalist in -100 kg division. Every sport and Olympics lover in Mongolia warmly welcomed the first ever appointment of an Olympic medalist as MNOC President. Here is our interview with new MNOC President N.Tuvshinbayar.
-All Mongolians, let alone those engaged in the world of sport, are expecting a lot from the new board of MNOC. For example, during his meeting with you, the President of Mongolia urged you to reform the committee, advance MNOC's external linkages, and learn from foreign coaches and experts. What is your take on the suggestions?
-It has been a month since I was appointed to the responsible position of MNOC President. During this time, I have gotten acquainted with several activities. Even though the national teams have great potential there is an issue in every sport. For example, the sport in which we could excel is not advancing.
On the other hand, many new sports are emerging with the rapid global development. Modern world sports aimed at improving physical fitness of children and youth hooked on the internet and their phones are developing across the globe. For example, 3x3 street basketball has been added to the Olympic program. The world of sports is rapidly developing with such new trends. Now we have to promote sports science in our country. What I have in mind is to have close cooperation with sports associations, upskill their personnel, and strengthen their external relations.
Mongolia won its first Olympic gold medal at the 2008 Beijing Olympics. We are now aspiring to claim the first Winter Olympic gold medal from the 2022 Winter Olympics to take place in Beijing, China. We will be placing special emphasis on the development of winter sports.
We will find out what issues are facing the sports associations and solve the issues by working with the Olympic Council of Asia, international organizations, and other organizations that implement assistance projects and programs such as the Olympic Solidarity Commission. First, we are receiving ice sport equipment through international assistance and inviting professional coaches in connection with the establishment of 'Steppa Arena' Winter Sports Palace.
-You have already seen the training of national teams of boxing, freestyle wrestling, basketball, and table tennis even though it has not been long since your appointment. You also exchanged views with the authorities of the State Committee for Physical Culture and Sports established a month ago. What are your thoughts after these meetings?
–The State Committee for Physical Culture and Sports is bound by law to perform some government functions through nongovernmental organizations. We plan to soon establish a memorandum of cooperation with the state committee to carry out specific activities in that regard. It appears important to me to enlarge and support the team administered by the committee.
Also, there is a shortage of professional coaches. We need to and can keep our traditional way of coaching through national policy. But we seriously lack professional coaches of emerging sports. I learned that having enough professionals has always been an issue for the sports associations. There are also the matters of expanding foreign partnerships, and training and upskilling coaches. In the selection of coaches, the lack of language skills becomes a barrier to the best ones with exceptional methods of training. I have plans in mind to solve issues like these.
-It appears MNOC will be placing special emphasis on the development of public physical culture and winter and team sports. What are the noteworthy goals set for this?
-The development of physical culture and sports has two aspects. It can be represented by a pyramid. People have to go up from the bottom to the top.
At the bottom of the pyramid are children and youth. Olympic tournaments and the emergence of new champions can have a special effect on children and make them interested in sports. But there is one problem. Sports hall is an important factor that make children interested in sports and develop public physical culture. The solution to this could be to host major international games. With this not only will we showcase our country to the world and have new sports complexes and centers, but will also promote sports to children and youth.
-I believe that you being a worldfamous athlete will help with the advancement of MNOC's external linkages. Am I right?
-The International Youth Green Games which was scheduled to take place this year across 20 sports has been postponed to 2021. We also have been chosen to host the 2023 East Asian Youth Games, an official event on the tournament calendar of the Olympic Council of Asia.
This gives us an opportunity to organize the national sports festival at international-standard sports complexes. During the festival, all Mongolians will play sports and test their strength over 14 to 21 days.
-MONTSAME News Agency wishes great success to MNOC in its endeavor to promote sports and Olympism and we are ready to further cooperate with the committee.
-MNOC is also ready to cooperate and spread Olympism with the National MONTSAME Agency that promotes the country abroad through news contents in four foreign languages. I have learned a lot of things from sport. It has been an eye opener for me. As an athlete who chose sport as a profession, I wish to give my all to developing sports in Mongolia. Also, I have been appointed to a highly responsible position. Sport is a wonder created by humankind that always spreads joy, excitement, health, and happiness.