PM obliges officials to focus on the buildings of Puppet Theater and Fine Arts Museum
Art & Culture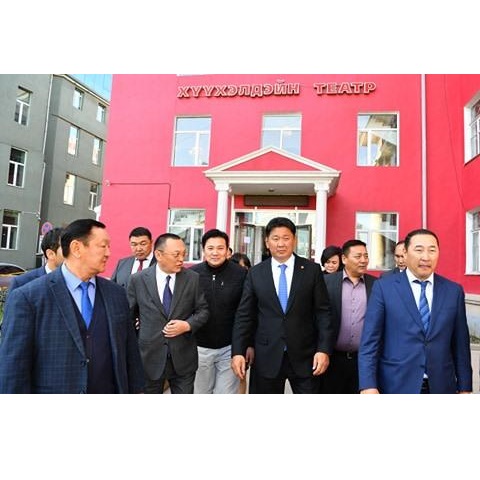 Ulaanbaatar /MONTSAME/. On September 28, Prime Minister U.Khurelsukh visited the Puppet Theater of Mongolia and the Fine Arts Zanabazar Museum to become acquainted with its operations.

During the PM's visit at the Puppet Theater, the theater executive informed him of the necessity to increase the budget for more job positions at the theater in order to present large-scale plays for children as only 11 of the over 30 positions for staff members are the positions available for professional actors. Furthermore, as the theater is located in the south wing of the State Academic Theater of Drama, the insufficiency of available space significantly decreases the quality and accessibility of plays. After becoming acquainted with the operations of the theater, the PM met with the theater staff, highlighting that he is paying special attention to the sector of culture and arts. He then obliged the corresponding officials to give more focus on the issue of the theater's building.
As for the Fine Arts Zanabazar Museum, only 10 percent of the museum's total collection are currently being presented to the public, with the rest 90 percent in storage at the museum. Noting the necessity to increase storage space for exhibits, the fine arts museum introduced its AR technology (augmented reality) project, that enables visitors to view the digital form of the museum's invaluable exhibits as if they are being presented in reality.
Prime Minister U.Khurelsukh said, "The Government of Mongolia is giving special focus on the development and investment in the sector of culture and arts. The Ministry of Culture was re-established after 26 years to develop the sector through policy. As it is important to achieve significant results by intensifying the ministry's operations, I hereby oblige to realize the following objectives: to bring the quality and standards of cultural services to a new level, to create an online database for culture, to prepare national content and create innovative works, to enlighten the public and put arts and cultural works into economic circulation, to prepare skilled human resource, to create cultural heritage and enhance its preservation and protection, to preserve nomadic culture and heritage and create a tourism product based on it, and have the sector be financed through multiple sources."