Artist S.Zayasaikhan opens 'Hidden identity' exhibition
Art & Culture
Ulaanbaatar/MONTSAME/. Artist S. Zayasaikhan, who is well-known for depicting the national characteristics, history, and culture inspired by the life of ancient nomads, opened his 'Hidden identity' exhibition at the Mongolian National Modern Art Gallery on September 25.
At the opening of the exhibition, artist S.Zayasaikhan emphasized, "In its history Mongolians passed a complicated period. During this period, our values have been lost and denied. So I tried to bring them back and depict in my artworks. With my painting 'The return of the ancestors', I tried to explain, in terms of arts, what kind of thought and impression a modern person may have if he meets the ancestors."
The eyes of the people depicted in the paintings look furious, resentful and longing for love. About the depiction of rifles in the painting, the artist said, "Modern people see the world from a materialist point of view. Some deny what their ancestors created and inherited. The holding of rifles implies that a modern man is terribly "broken" to the point of frightening his ancestors. But this is just an angle of my view and I do not want to force my views to anyone."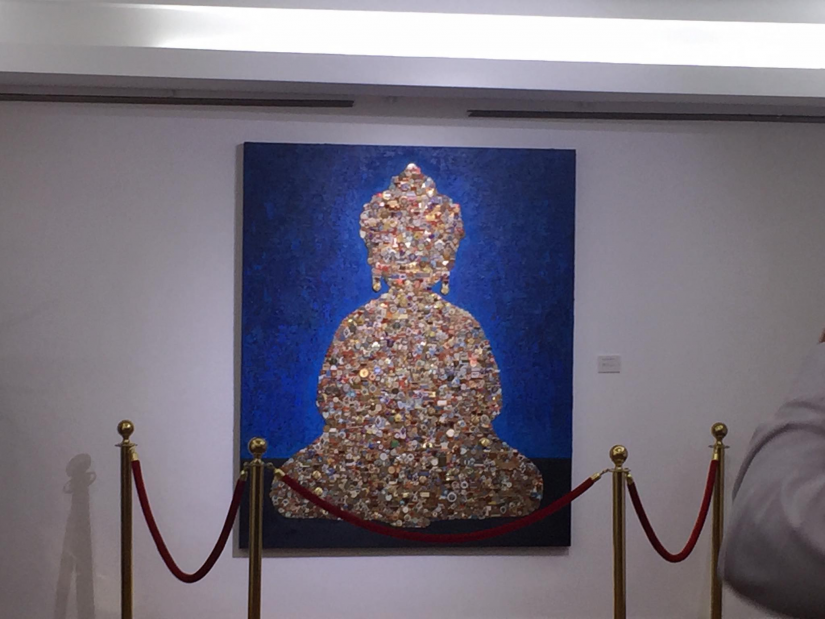 The main work of the exhibition, 'Buddha' was created of various medals. The artist worked hard to collect the medals and he even has photos that verify the searching work.
The exhibition is open for two weeks.
J.Bolor-Erdene