New cabinet ministers appointed
Politics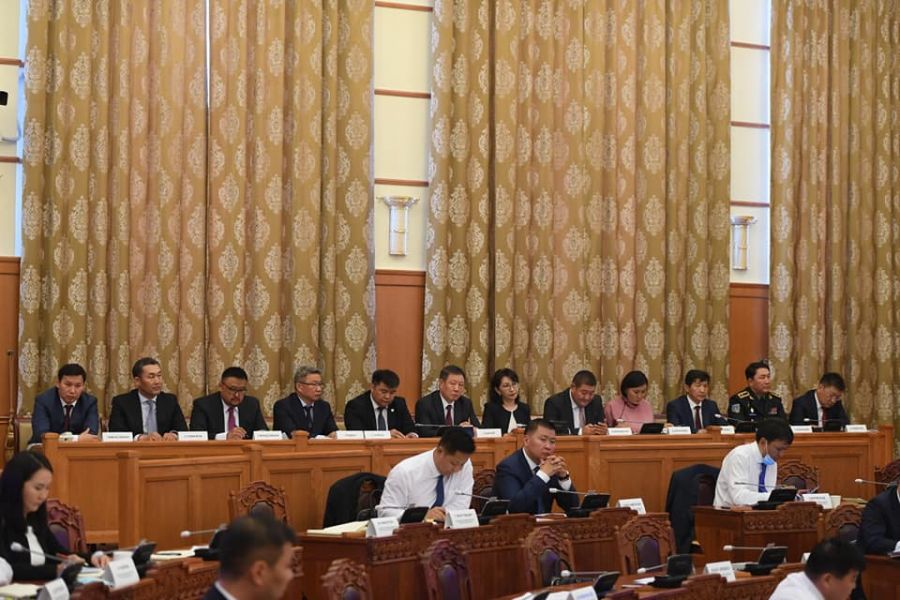 Ulaanbaatar /MONTSAME/. The Parliament of Mongolia today, July 8, approved new members of the cabinet, presented by Prime Minister U.Khurelsukh, yesterday July 7. The Steering Committee of the ruling Mongolian People's Party, which holds majority or 62 seats in the 76-seat parliament - State Great Khural, convened on July 7, to approve the list of ministers to nominate for the cabinet.

This is the first time Prime Minister of Mongolia appointing ministers of the cabinet in accordance with the recent amendments to the Constitution of Mongolia, which were adopted on November 14, 2019. The parliament, on July 7, approved the cabinet to have a total of 14 ministries, including 6 ministries of general function and 8 sectoral ministries. The newly-appointed cabinet members are:
Deputy Prime Minister - Ya.Sodbaatar
Head of Cabinet Secretariat - L.Oyun-Erdene
Minister of Environment and Tourism - D.Sarangerel

Minister of Defense - G.Saikhanbayar
Minister of Foreign Affairs - N.Enkhtaivan
Minister of Finance - Ch.Khurelbaatar
Minister of Justice and Internal Affairs - Kh.Nyambaatar
Minister of Labor and Social Protection - A.Ariunzaya
Minister of Construction and Urban Development - B.Munkhbaatar

Minister of Education and Science - L.Tsedevsuren
Minister of Road and Transport Development - L.Khaltar
Minister of Culture - S.Chuluun
Minister Mining and Heavy Industry - G.Yondon
Minister of Food, Agriculture and Light Industry - Z.Mendsaikhan
Minister of Energy - N.Tavinbekh
Minister of Health - T.Munkhsaikhan
As the Constitution of Mongolia reads, a member of the government shall be appointed or dismissed after presenting to the State Great Khural and President of the Mongolia, Prime Minister Khurelsukh presented the new ministers to President Kh.Battulga today, and afterwards, the ministers took the oath to the Parliament during today's plenary session of the parliament.

Also the Constitution now allows only Prime Minister and up to 4 members of the government to hold the position of parliament member concurrently and to comply with this, following four members of the 17 ministers are current members of the parliament.
• Minister of Environment and Tourism D.Sarangerel
• Minister of Justice and Internal Affairs Kh.Nyambaatar
• Minister of Finance Ch.Khurelbaatar
• Head of Cabinet Secretariat, Minister L.Oyun-Erdene
When appointing the cabinet members, it is said the principle to fill the positions with professional appointment based on the nominees' qualifications and professional standards has been followed.