Four parties to collaborate to establish metal alloy production plant
Economy
|
Mining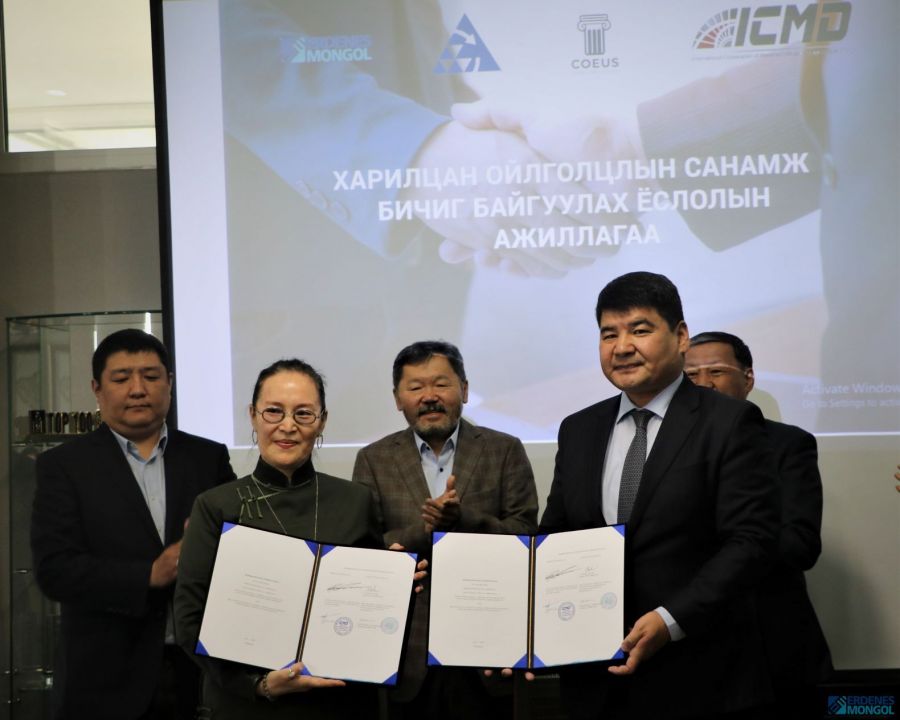 Ulaanbaatar /MONTSAME/ With the aims of naturalizing eco-friendly recycling technology in Mongolia, putting waste coal into economic circulation, producing value-added product and exporting it to the international market, a four-sided memorandum has been established today, June 10 among "Erdenes Mongol" LLC, "National Center on Complex Processing of Mineral Raw Material of the Republic of Kazakhstan", "ICMD International Corporation of Metal Alloy Development Holding of Germany" and "Coeus Consulting" Company.
The memorandum was signed by CEO of "Erdenes Mongol" LLC P.Gankhuu and Representative of "ICMD International Corporation of Metal Alloy Development Holding of Germany" in Mongolia N.Tsend-Ayush. Establishment of the memorandum enables the parties to carry out an environmentally friendly and brand new innovation project in mining sector of Mongolia.

A large amount of low-heat-value coal that does not satisfy requirement of power stations and individual customers is generated during operation of coal mines. In particular, around 300 thousand tons of coal, which is impossible to be used in power stations come from Shivee-Ovoo coal mine annually. Nevertheless, it is possible to produce metal alloy, which is a combination of iron, aluminum and silicon, using the coal. Therefore, a metal alloy production plant and a power station will be built within the project and the sides established the memorandum in aims of developing feasibility studies and solving issues of required investment.
Shivee-Ovoo coal mine will fully supply waste coal or raw material of the plant. "Erdenes Mongol" LLC will develop feasibility study of the power station to be constructed within the project while Kazakhstan and German sides will formulate feasibility study of the metal alloy production plant.
In addition, as the main raw material used in steel processing plant, metal alloy is in huge demand in metallurgical industry of the countries such as Russia, China, Japan and India.