WHO Representative in Mongolia gives Covid-19 information and advice
Society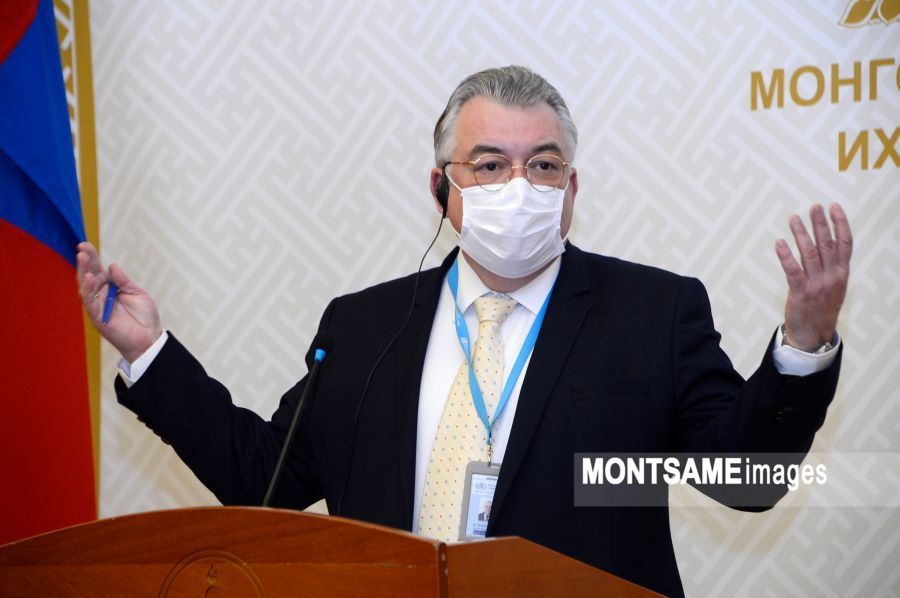 Ulaanbaatar /MONTSAME/ On May 15, at the request of Speaker of the State Great Khural (Parliament) G.Zandanshatar, World Health Organization (WHO)'s Representative to Mongolia Sergey Diorditsa held a briefing on the Covid-19 situation at the State Palace.
He said, "The State Emergency Commission organized an emergency management exercise for COVID-19 response on May 6-8 in addition to restricting public events and the Tsagaan Sar - Lunar New Year. The exercise played an important role in strengthening cooperation between professional organizations and demonstrated the country's efforts to prepare for a response should an outbreak occur. The Government and State Emergency Commission are addressing every issue of concern and Mongolians are standing together against the pandemic. The citizens' compliance with the advice and guidance of health authorities is commendable."
He continued "Citizens' compliance with the decisions of their Government and the World Health Organization is extremely important in fighting the disease. We might still put more restrictions and stay-at home regulations in place depending on how things play out and that means we have to adapt to the current situation.
We are holding this briefing to also clear Covid-19 misconceptions in the community. According to health experts, people could become re-infected with COVID-19 even after recovery. To protect our friends, family, and the community, we have to frequently wash our hands, keep social distance, do exercise, and avoid drinking and smoking. We have to remain on guard as the pandemic has yet to pass. Misinformation about Covid-19 is more dangerous than the disease itself," the WHO representative said, requesting people to receive their news from reliable sources.
"The State Emergency Commission has been conducting risk assessments regularly. As there is no Covid-19 vaccine or medicine yet, we have to follow the government's decisions. Covid-19 cases in Mongolia are detected in returnees from abroad and there has been no local transmission so far" he added, while commending the achievements of the Government of Mongolia.