L.Khangai: It shouldn't be assumed that the construction for the pipeline going through Mongolia will begin in just a few days
The Mongol Messenger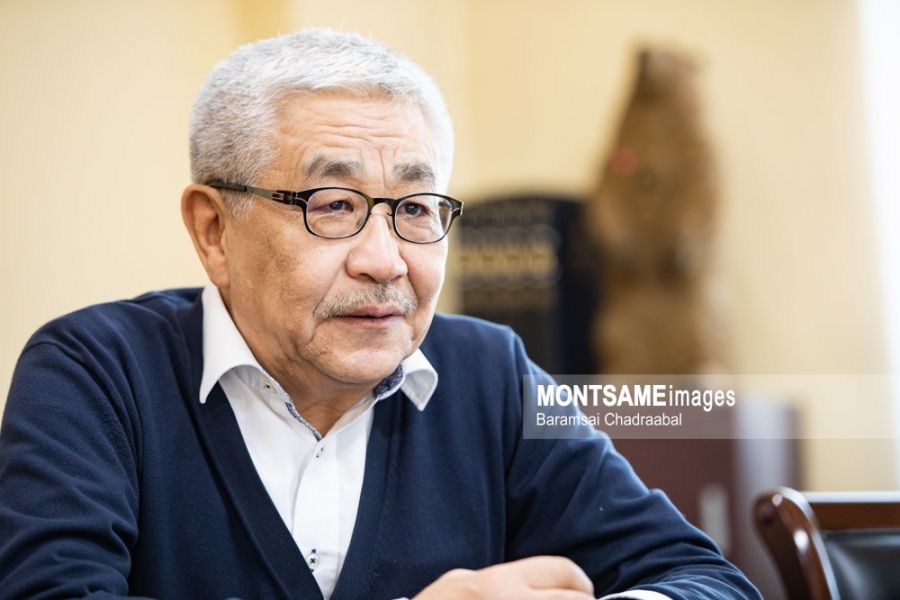 Ulaanbaatar /MONTSAME/. During the official visit of Prime Minister of Mongolia U.Khurelsukh to the Russian Federation in December 2019, a Memorandum of Understanding was established between the Government of Mongolia and the 'Gazprom' company, setting the official start of the project on building pipelines going through Mongolia that have been under discussion for over 20 years.
On March 31, the National Security Council held a meeting, and established a working group headed by Deputy Prime Minister U.Enkhtuvshin that is responsible for providing the construction project with policy and coordination. A few days ago before the meeting, President of the Russian Federation V.Putin gave permission to commence the work before investing in the project when he received Deputy Chairman of the Board of Directors and Chairman of Management Committee of Gazprom A.Miller. In other words, the day when the construction work for the Power of Siberia-2 pipeline that will transport 50 billion cubic meters of natural gas from Russia to China across Mongolia. MONTSAME National News Agency talked about the matter with former Ambassador Extraordinary and Plenipotentiary of Mongolia to the Russian Federation L.Khangai.
-The 'Power of Siberia' pipeline that will supply 38 billion cubic meters of natural gas was put into operation in December 2019. What is the reason for accelerating the launch of the project on the second pipeline?
-In a way, Russia is an Asian country, but on the other hand, it is also a European country. Their coat of arms is also an illustration of a two-headed eagle looking both right and left. The country is interested in being involved in both the markets of Europe and Asia. If difficulty arises in the European market, they will provide their products to the Asian market. And if the same happens in the Asian market, they will export to Europe. The main export product of Russia is: 1. Petroleum, and 2. Natural gas. Most of its export products are sold in the countries of Europe. However, as it has become increasingly difficult to export to Europe due to various limitations starting from 2014, they have begun to show interest in the Asian market. After discussing the matter of exporting natural gas to China, the biggest market of Asia, for about 10 years, a 2,156 km-long pipeline named 'Power of Siberia' was built in 4 years and put into operation last December, with a contract to supply natural gas worth USD 400 billion over the course of 30 years. The matter was discussed for a very long time, because the sides had to settle on what condition the natural gas is going to be supplied at what price through which areas.
-Right now, it seems that a fair bit of advancement is being made in the construction project of the Power of Siberia-2 pipeline in Mongolia?
-It shouldn't be assumed that the construction work for the pipeline going through our country will immediately begin in just a few days. However, there have definitely been advancements. Just a week ago, a working group led by the Deputy PM was established at the National Security Council to provide policy and coordination for the project. Secretary General of the National Security Council A.Gansukh, Minister of Foreign Affairs D.Tsogtbaatar, and Minister of Finance Ch.Khurelbaatar are the members of the working group. During his meeting with the Russian President on March 27, Deputy Chairman of the Board of Directors and Chairman of Management Committee of Gazprom A.Miller introduced their 2020 action plan. This included the starting the feasibility study for the project to supply natural gas to China through Mongolia.
/The Power of Siberia-2 pipeline to be built through Mongolia will supply 50 billion cubic meters of natural gas from Russia to China annually. The pipeline can reach Shanghai by connecting to the West-East Gas Pipeline/
Source: gazprom.ru
-Discussion on implementing the project is taking place between 'Gazprom' company of Russia and China National Petroleum Corporation (CNPC) of China. What company will be representing the side of Mongolia?
-'Gazprom' is the largest state-owned company of Russia. CNPC is also a global-scale state-owned company. They have requested us to find them the company that should partner with them on behalf of Mongolia. Only a large-scale Mongolian company should get in contact with the two big companies. They would most likely not accept a request for partnership with a company with 5 workers that was established the day before. In my opinion, a large-scale company on the same level as them is 'Erdenes Mongol' LLC. First of all, it is a state-owned company; secondly, it is under the control of the government; thirdly, it brings together many large companies of Mongolia; and fourth, it is known internationally. And last but not least, the company's main goal is to attract foreign investment.
-Some Russian researchers estimate Chinese gas consumption to reach an annual amount of 600 billion cubic meters by 2030. What changes would the pipeline connecting Russia and China bring to Mongolia?
-I would first like to note that the future of Mongolia highly depends on the cooperation with these two countries. Our southern neighbor is a country with the largest economy as well as the highest population of the world. And our northern neighbor is a country that is rich in natural resources. Transporting commodities and industrial products between them is quite profitable for our country. Here, we must mention the signing of the Mongolia-Russia-China Economic Corridor programme during the meeting of the three presidents in 2016. The current gas pipeline matter was also reflected in the programme. In general, it could be said that Mongolia is a country with a tradition of transit transport. This is because silk and porcelain used to be transported from China to Russia through the Tea Road from the 18th century to early 20th century. And in return, furs and wool material used to be transported from Russia to China. Another example would be the Trans-Mongolian Ulaanbaatar Railway JSC. A very large-scale transit project was implemented 70 years ago, connecting Russia and China with the railway. Large amounts of profits are earned by transporting cargo between the two countries. We have sufficiently benefited from it, and continue to do so even now. It is difficult to imagine the modern development of Mongolia without the railway. Just like the Ulaanbaatar Railway JSC, the gas pipeline is also a large-scale project connecting Russia and China. Some people are wary of possible overdependence on either Russia or China as a result of the project implementation, when there should be no such worries in reality.
-What would the economic benefits be as a result of the construction of the pipeline? Increased job opportunities, for example.
-Perhaps, it is because of our weak economy, but our people always first bring up the economic benefits in any matter. To put it more specifically, it is important to be in integration with the two countries. But of course, we must discuss the economic benefits. It will all be clear after the feasibility study is finalized. However, there is one preliminary feasibility study that was done in 2000. As for the construction of the pipeline currently in discussion, It is difficult to give any specific numbers since its feasibility study has yet to be completed.
-What did the feasibility study done in 2000 show?
-In 2000, a company named 'Russia Petroleum' that held the license for the Kovykta gas field located over 400 km from Irkutsk city of Russia did a preliminary feasibility study for a pipeline from the field to Beijing across Mongolia. They calculated that the part of the pipeline that would supply an annual amount of 25 billion cubic meters of gas going across the territory of Mongolia /1,050 km/ and the eight pumping stations would be constructed in 4 years. They had also made more detailed calculations, such as how 3,700 workers are necessary during the peak of the construction, while 1,354 people would be working after the construction completes. Most of the workers would be Mongolians, of course. There is also a study that concluded that 4-6 job opportunities would be created in other sectors, with each job opportunity in the gas sector. This would mean that if 1,500 people work at the pipeline, there would be an additional 6,000 job opportunities at gas distribution stations for example.
-I assume that the Mongolian side will also participate in developing the feasibility study.
-Our side will participate in the study. Statistics and information would probably be required from our side. From what we can see from practices in other countries, there are several options for the construction of gas pipelines. One would be to have the pipeline construction be funded from other countries and receive payments. The other would be building the pipeline ourselves, and earn income through transit. There is also an option to raise money together with both the seller and consumer, and build the pipeline with the funds. Our government must come to an agreement with the two sides for which option we should go.
/The construction work of the Power of Siberia pipeline that was put into operation in December 2019/
Source: gazprom.ru
-Ukraine receives USD 3 billion as transit revenue for the pipeline connecting Russia and Europe. How much income will Mongolia be able to receive from the transit?
-There are many countries with a gas pipeline going through their territory, such as Tunisia, Morocco, Slovakia, Poland, Ukraine, and Belarus. For instance, in 2018, Ukraine transported 86 billion cubic meters of gas from Russia to Europe, receiving USD 3 billion, while Belarus transported gas and petroleum, earning USD 1.58 billion. There is a set coefficient of about USD 2.5 for transporting 1,000 cubic meters of gas through every 100 km of your country. According to that number, if Mongolia transports 38 billion cubic meters of gas annually, we would earn about USD 1 billion. Currently, however, we are discussing our capacity to transport an annual amount of 50 billion cubic meters of gas through our country.
-With the implementation of the project, our country can also become a consumer country alongside transit. Is natural gas possible to become a cheap energy source for Mongolia?
-I cannot give a proper answer since I am neither a researcher nor an engineer. However, it is considered that the gas consumption of Mongolia will reach 0.5 billion cubic meters of gas annually, and eventually 1 billion. Starting with needs at home,then the power plant, the amount could reach about 1 billion if we also begin to use cars that run on natural gas. It is a good practice to sell the gas along the way as it is being transported. The biggest consumers of Mongolia are the cities of Ulaanbaatar and Erdenet. To eliminate our air pollution, smokeless stoves and fuel are currently under discussion. One way to do that is to use gas. This can be seen from various practices from all over the world.
-The global economy is currently in high risk due to the coronavirus pandemic. Will coronavirus be an issue for the project as well?
-Probably not. The coronavirus situation will most likely calm down in a year at its longest, while the pipeline construction would take several years.
-What was the reason for stopping the Altai gas pipeline project that connected Russia and China without having it go through a third country?
-There are a lot of difficulties in constructing the pipeline in the route. First of all, the pipeline would be relatively long at about 6,700 km; secondly, there are numerous natural obstacles such as high mountains and wide rivers as it would have had to go on the other side of the Tavan Bogd Mountains; thirdly, the area happens to be an active area for earthquake; and as for fourth, it goes through the Ukok area that is registered in the List of UNESCO World Heritage Sites as well as the Xinjiang Uyghur region. Whereas in Mongolia, the pipeline would be relatively short, and have little natural obstacles as it will be placed on mostly plains, resulting in cheaper costs and quicker construction period. It will also be built near railway and autoroads, so the currently available infrastructure is available for use.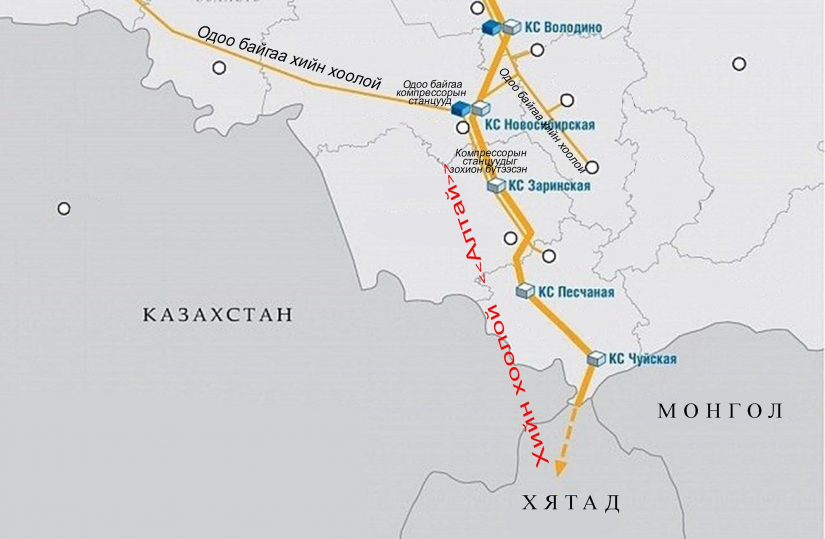 /'Altai' gas pipeline/
Source: neftegaz.ru
-Kazakhstan has also expressed their interest in having the pipeline go through their territory. Why was Mongolia chosen instead of Kazakhstan?
-The Energy Minister of Kazakhstan put forth a suggestion to construct the pipeline through their territory during his meeting with the Russian Minister earlier this year. However, the Energy Minister of Russia had already announced that research on constructing the pipeline through Mongolia is being done. So in a way, it is simply that we were quicker. Despite this, we must continue to do our work instead of starting to relax as Russia and Kazakhstan have very close relations.
-Was Kazakhstan also interested in providing their eastern region with natural gas?
-The country of Kazakhstan has quite a large amount of natural gas. They are interested in including their own gas on top of Russia's natural gas and exporting it to China. In other words, their interests are different.
-The amount of investment from Russia to Mongolia has increasingly dropped in recent years. What is the reason for this in your opinion?
-Mongolia used to purchase almost everything from China until the 1920s. Cotton, tea, flour, rice etc. After the 1921 Revolution, we began to purchase everything from Russia. With the collapse of socialism, most demands began to be provided from China once again. The export structure of Russia and Mongolia are very similar. Both countries mostly export commodities. China, on the other hand, produces industrial products as well as final products that we use. Personally, I am quite concerned about how investment from our northern neighbor has reduced to an amount that is 10 times less than our southern neighbor. It is necessary to develop a policy to attract Russian investment and implement it.