Border fences removed for wildlife migration
Environment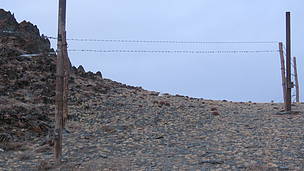 The border troops identified that the Argali wild sheep (Ovis ammon) flock had repeatedly knocked off the border fence in three parts near the Tsagaan River in Sagil soum of Uvs province in the Altai Sayan ecoregion. Therefore, with the funding of WWF-Mongolia, the province Environment and Tourism Department, Uvs Nuur Strictly Protected Area Administration, together with border troop unit dismantled some of the fences and made a way for wildlife migration. This allows not only free movement of wild animals and herds of Argali living in the Tuva region of the Russian Federation and in the Uvs province, Mongolia, but also prevents the wildlife from getting caught and dying in the fences. Also, automatic cameras are installed at these points, which allows for the constant monitoring of Argali and other wildlife migrations. Biotechnical measures were also taken for wildlife, such as salt and hays were left for wildlife near the route. In the future, it is planned to remove border fences in some places along the Uvs province border.


Based on the research results on Argali sheep population movements using radio-transmitting collars within trans-boundary areas in the region conducted by the WWF Mongolia since 2007, the General Authority for Border Protection agreed and removed fences with barbed wires in some parts along the border fence in 2012. Barbed wires were taken away in seven parts of the state border fence with length of 11 km. To enable movements for wildlife, middle three-row wires were removed, while lower and upper row wires were kept. Between these upper and lower row wires, Argali sheep was able to freely move in and out.
In addition, WWF-Mongolia and General Authority for Border Protection signed a memorandum of understanding in 2012 and have been cooperating effectively. Within this framework, a successful cooperation is being carried out in wildlife research and monitoring near the state border and its surrounding territories, and protection of wildlife habitat, and freedom of movement and migration is being focused.
Source: WWF Mongolia