Mongolian collector B.Batbayar holds four creations of renowned painter Qi Baishi
The Mongol Messenger
Ulaanbaatar /MONSTAME/ Four original paintings called 'Branch', 'Sea Creatures', 'Birds', and 'Fan' by prominent painter of China Qi Baishi are being kept by Mongolian collector Batbayar Batjargal.
Well-known politician and businessman B.Batbayar founded the Badamkhand Museum of Art with his family and in addition to the aforementioned art pieces, his collection consists of around 500 works of art by famous artists such as Japanese painters Kitagawa Utamaro and Katsushika Hokusai, Spanish Surrealist painter Salvador Dali, Mongolian painters B.Sharav, U.Yadamsuren, G.Odon, L.Gavaa, Ts.Jamsran, Ts.Dorjpalam, N.Tsultem, D.Choidog, Ts.Ichinnorov, L.Namkhaitseren, Do.Bold, S.Dondog, Ts.Budbazar, M.Tsembeldorj, Sh.Chimeddorj, and N.Aviyabazar, and Chinese painters Wang Wu and Wang Shimin.
He started collecting postage stamps, postcards, and badges at the age of 10, so even now, there are rare stamps printed in 1950s, 1960s, and 1970s in his collection. He later began collecting paintings after buying the 'Branch' by Qi Baishi in 1978, when he was majoring in engineering at the Kryvyi Rih Mining Institute in Soviet Ukraine. Batbayar gave a full set of Mongolian stamps that was worth MNT 1500 or USD 100 at the time to a collector from Moscow in exchange for the painting. At the time, the average salary of Mongolians was MNT 400 while USD 1 equaled MNT 15 and postage stamps were in high demand among foreign tourists and considered a currency as they were well-made and released in small numbers. Saying "Collecting stamps is for children, become a big collector now", the Russian collector who sold the painting to Batbayar gifted him a watercolor painting 'Great Revolution' by Russian painter M.K.Krutinskaya.
Internationally recognized painter Qi Baishi was the only Asian among the top ten painters of the world at the time. As someone who began his art collection with such famous painter's creation, Batbayar surely dreamed of acquiring more and more paintings by Qi Baishi. In 1993, he purchased the 'Birds' by Qi Baishi from Chinese renowned painter and art collector Wang Shimin for USD 48,000. The painting is quite expensive as the average salary of Chinese people was CNY 400 in early 1990s. In mid 1990s, Batbayar bought another piece, the 'Fan' by Qi Baishi, from Wang Shimin. He doesn't remember how much he paid for it. "It wasn't that pricey", he says. As such, he obtained three original paintings by Qi Baishi. The 'Birds' was created in 1942 and measures 50x110 cm, whereas the 'Branch' measures 70x160 cm.
The fourth art piece by Qi Baishi in Batbayar's collection is the 'Sea Creatures' which was painted in 1920 and measures 60x130 cm. The painting was purchased from Mongolian People's Artist L.Gavaa's son G.Tumur for MNT 20 million in 2003. The painting with a dedication that reads "From 93 year old Qi Baishi to dear friend L.Gavaa" was gifted by Qi Baishi himself to painter L.Gavaa, one of the Mongolian representatives that arrived in Beijing in 1952 to attend an event dedicated to the third anniversary of the founding of the People's Republic of China. "This painting is a glorious piece of work and shall never be taken out of Mongolia," the late painter said while entrusting the painting that witnessed a part of the history of Mongolia-China relations to his son.
The 'Sea Creatures' is now one of the precious exhibits of the Badamkhand Museum of Art.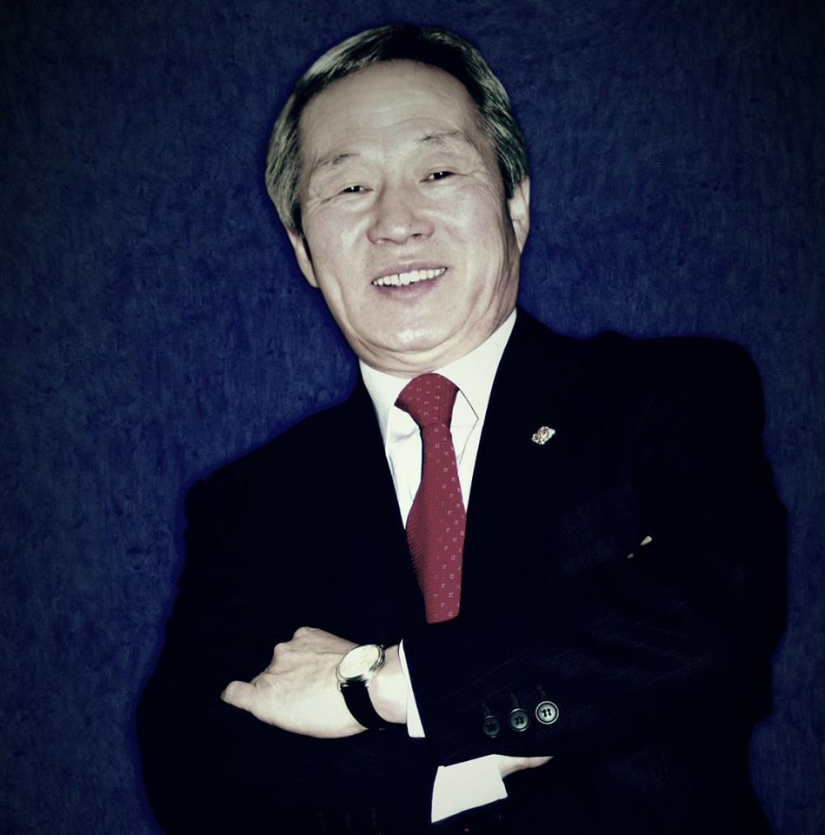 Collector B.Batbayar

One of his first collections, 'Great Revolution'
Sh.Batbold