Training takes place for online platform to promote Mongolia
Society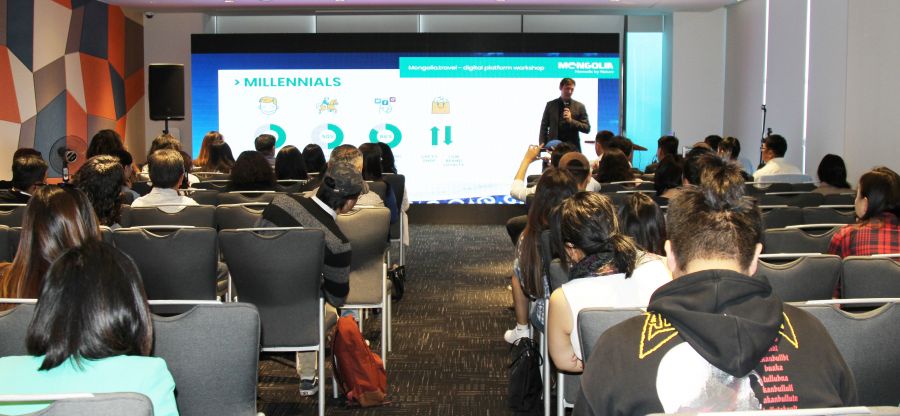 Ulaanbaatar /MONTSAME/. In partnership with Chameleon Strategies International, a training was organized for an online tourism platform, 'Mongolia.travel' on May 23. As the Ministry of Environment and Tourism is prioritizing the use of new technologies and being up-to-date with the global trends, the online platform for tourism has recently been developed.

.
The platform is to create the opportunity to develop community-based, sustainable tourism involving all sides involved in the tourism sector. Information about how tourists and travellers will use online network in informing others about their trip, how tourism companies can interact with their customers as well as general instructions for the Mongolia.travel online platform and developing advertisement was given at the event.
On the significance of the platform, Minister of Environment and Tourism N.Tserenbat said, "While tourism websites used to be in the form of a magazine, where it was limited to images and information about their country to the world, it is now possible for every citizen to become a content creator with the A.I. platform. For instance, if a foreign citizen left a positive comment about their trip in Mongolia on social networks, the comments can now be brought to the main platform, creating the opportunity to advertise through tourists. In other words, it's possible for people to see the comments written about Mongolia by other tourists and travellers without being limited to images and information about their destination. With this, it becomes possible to advertise on a much larger scale from person to person."
Highlighting that the online platform also creates the opportunity to advertise in many more ways as a part of international projects, such as 'Silk Road', 'Tea Road' and 'Ikh Tumen Gol' as well as a Central Asian country without being limited to Mongolia, he said, "The advantage of the platform is that it creates the opportunity to increase profits by private entities advertising their own products and services on the platform rather than only Mongolia to the world." The link to the platform is www.mongolia.travel.
.