President meets his Russian counterpart
Politics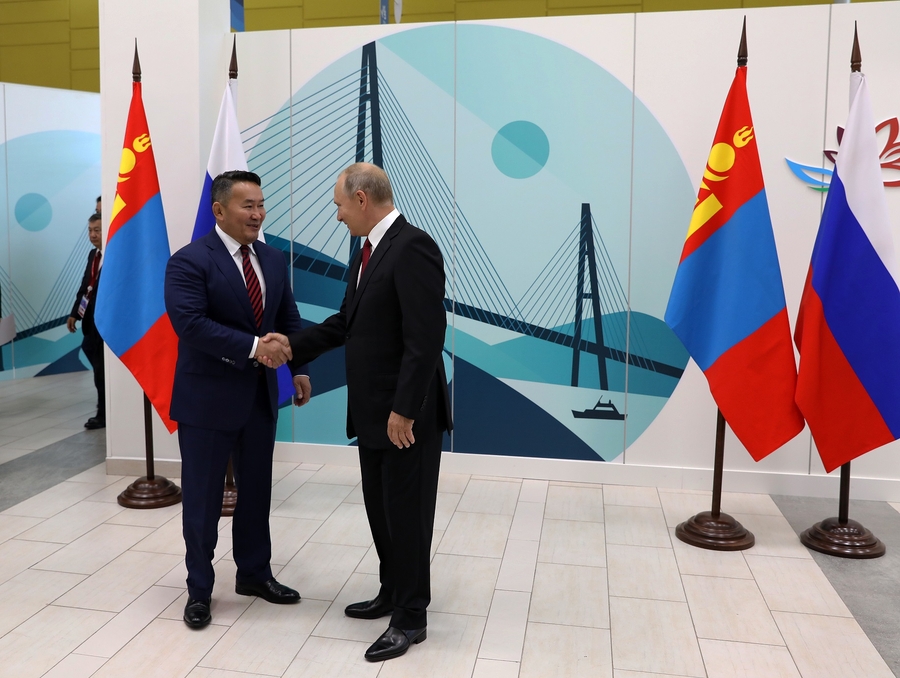 Ulaanbaatar /MONTSAME/ President of Mongolia Khaltmaagiin Battulga met President of the Russian Federation Vladimir V.Putin and held an elaborate discussion on bilateral cooperation today, September 12.

At the beginning of the meeting, the heads of state of Mongolia and Russia expressed their pleasure at meeting again in the Far East on the sidelines of the Eastern Economic Forum in Vladivostok, while underscoring the great significance of such meetings in broadening bilateral cooperation.

President Battulga mentioned his previous proposal on renewing the 1993 Agreement on Friendly Relations and Cooperation between Mongolia and Russia and establishing it without a defined term, and talked about spending the RUB 100 billion soft loan from Russia on the reform of the Ulaanbaatar Railway Joint Venture and in energy sector and deepening the cooperation between the National Security Councils of the two countries and adopting a revised cooperation plan.

President Battulga also said that Mongolia was studying the possibility of accessing a port in the Far East, while making certain proposals, including on establishing a joint working group to intensify the implementation of the Mongolia-Russia-China Economic Corridor program. Furthermore, President Battulga made a proposal to cooperate on the establishment of the Northeast Asian super grid for energy and handed over an economic feasibility study related to the proposal and the projects to President Vladimir V.Putin.

President Vladimir V.Putin emphasized his satisfaction with the positive indicators in all areas of bilateral cooperation and economic growth in recent years and expressed interest to further intensify bilateral cooperation in agriculture, railway, and defense sectors. President Vladimir V.Putin reiterated his support for the proposal of President Battulga on building the natural gas pipes between Russia and China via Mongolia.

President Vladimir V.Putin said that the RUB 100 billion soft loan to Mongolia, which is currently under negotiations, can be used on the reform of the Ulaanbaatar Railway Joint Venture and a thermal power plant.

The sides agreed to jointly celebrate the 80th anniversary of the Khalkha River Battle next year and organize a joint exhibition, produce a feature film and a documentary, and publish a book in the margins of the anniversary. Moreover, President Battulga invited President Vladimir V.Putin to pay a visit to Mongolia with the purpose of celebrating the anniversary together.
Source: president.mn