AMCDRR highlights prevention and multi-stakeholder approach
The Mongol Messenger
The Government of Mongolia opened the three-day Asian Ministerial Conference for Disaster Risk Reduction (AMCDRR) on July 3. The AMCDRR 2018, organized under the overarching theme 'Preventing Disaster Risk: Protecting Sustainable Development', forms the regional platform to share good practices, lessons and experiences in disaster risk management among governments, intergovernmental organizations, regional and international organizations, UN organizations and stakeholder groups.
About 3500 representatives of 50 Asia-Pacific countries including highlevel delegates, international, civil society organizations, media, private sector, children, disabled people, scholars and researchers participated in the conference.
Opening the conference, Deputy Prime Minister of Mongolia U.Enkhtuvshin delivered a speech and urged a strong focus on disasterresilient infrastructure in national plans to implement the global plan for reducing disaster losses, the Sendai Framework for DRR adopted by UN member States in 2015.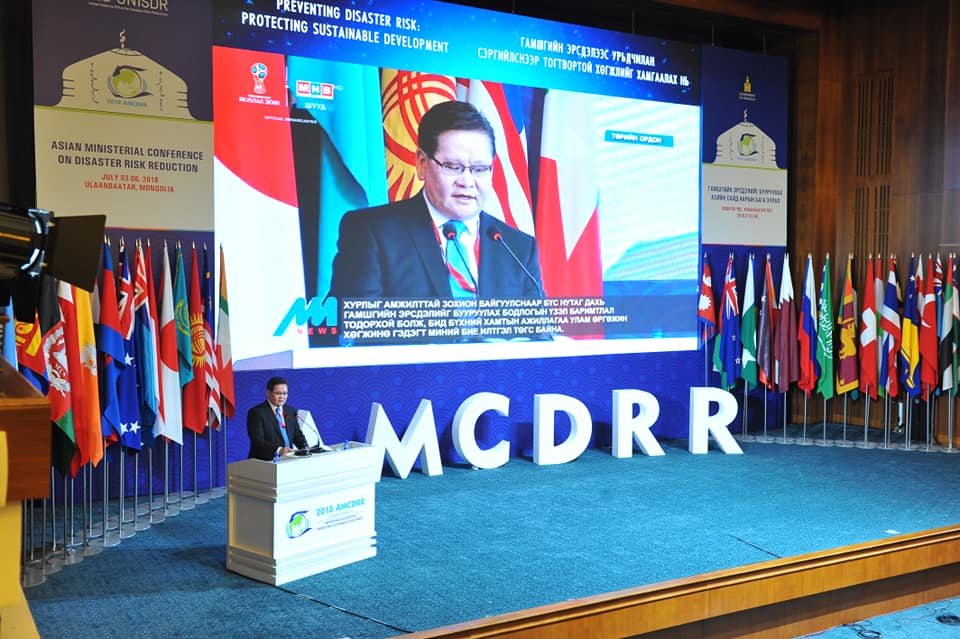 "Mongolia made an initiative to set up a Northeast Asia Platform for Disaster Risk Reduction in Mongolia and discussed the matter on the 4th and 5th international conference 'Ulaanbaatar Dialogue on Northeast Asian Security" said Mr. U.Enkhtuvshin and called on attendees of the Ministers' Session to support the initiative. Prime Minister U.Khurelsukh urged participants to use the three days to review challenges in the region on disaster losses through increasing actions at the local level in the world's most disaster-prone region which saw over eleven million people displaced by disaster last year, notably in east and south Asia and the Pacific islands.
The UN Secretary-General's Special Representative for Disaster Risk Reduction Mami Mizutori said "Mongolia itself is vulnerable to a range of natural hazards including drought, floods earthquakes and forest fires. The government has shown great leadership on disaster risk reduction in the AsiaPacific region." The conference featured six technical, two featured, seven themed sessions and over 50 subsessions.
Engagement of private sector in DRR is crucial
The AMCDRR thematic event 'Private Sector Interventions' offered an opportunity to various organizations to share and discuss experiences in practical implementation of disaster risk reduction practices and programs. The session highlighted good practices of the private sector and explored how to scaleup engagement of the private sector in risk reduction and resilience-building, including through public-private and private-private partnerships.
Researcher at the Dongguk University of Korea, Ms.Yejin Kim introduced the case study of the Lotte World Tower. She emphasized the importance of resilient investment, legal framework that ensures that the building meet the standards, intelligent infrastructure and e-disaster management system.
Panelists including Philippine Disaster Resilience Foundation Project Lead Ms. Anna Katrina Aspuria, Chairman of the Myanmar Private Sector Disaster Management Network Mr. Martin Pun and CEO of Disaster Reduction & Resilience Solutions Dr. Jane E. Rovins highlighted the improvement of the private-public partnership in their presentations. When disaster strikes, both the public and private sectors face the consequences. As the private sector is responsible for more than 70 percent of investments worldwide, it has tremendous potential to help reduce disaster risk and increase resilience, through such actions as business continuity planning and risk-informed investing.
Forecast-based early warning helps reduce vulnerability
The 'Social Protection and Vulnerability Reduction' session focused on how to leverage social protection programming, cash-based assistance and forecast-based financing to build the resilience of vulnerable and hazard-exposed households and communities. The case studies showcased current practices in social protection while exploring opportunities to expand existing social protection schemes to address resilience. Mr. Idrees Mahsud, representative of the National Disaster Management Authority of Pakistan introduced the social protection mechanism and strategies of Pakistan. He emphasized the importance of proper database (national registration) and delivery system in financing reconstruction. Ms. Lilian Mercado Carreon, Asia Regional Director of the Oxfam International said that the targeting is important in reducing and preventing the poverty. She also emphasized the importance of information-based system when developing social protection policies. Prevention and preparedness are more cost effective than disaster assistance.
UNDP Resident Representative Ms. Beate Trankmann and Secretary General of the Mongolian Red Cross Society Ms. N.Bolormaa talked on disaster dzud (summer with droughts followed by severe winter) in Mongolia. The dzud is driven by climate change and has major socio-economic impacts. Ms. Beate Trankmann said that the early responds to dzud focused on humanitarian assistance during and after the disaster. However, it is now important to monitor the commonly affected areas and develop mechanisms of early warning in order to minimalize impacts of the disaster. The panelists agreed that the preparedness, forecastbased financing and early warning will improve the community-based approach.
Ministers and heads of the delegation of the countries that previously hosted the World and Asian Conferences on Disaster Risk Reduction attended the Asian Leaders meeting, which discussed issues regarding current situation of regional disaster risk management, achievements, recommendations on overcoming difficulties in managing further implementation and investments. The meeting focused on determining the future policy of disaster risk reduction.
Implementation of the Sendai Framework for DRR reviewed
Deputy Chief of the NEMA Ts.Ganzorig delivered presentation on "Sendai Framework Monitoring: Opportunities and challenges of Mongolia". "The Government of Mongolia adopted the Mid-term strategy for Sendai Framework implementation in Mongolia in 2017. The strategy was developed in conjunction with the key documents," he noted. The countries shared their experiences and achievements on the new opportunities on finance, technology, information/ statistics and capacity building as the pillars of the successful implementation of disaster risk reduction policies and programs.
Improving resilient infrastructure for DRR
The 'Strengthening Disaster Resilient Infrastructure and Urban Resilience' session hosted by the Government of Mongolia discussed one of the pressing global issues: urbanization and its resilience.
Additional Principal Secretary to Prime Minister of India, Dr. P.K. Mishra said "Steady progress in improving disaster resilient infrastructure can reduce the number of people affected by disaster, economic and infrastructure losses. With the improvement of infrastructure, we can meet the major targets and objectives of the Sendai Framework." Mr. Mishra also emphasized that the private sector involvement in improving urban resilience is crucial. He also noted that the investments to the resilient infrastructure is extremely beneficial and it is not an additional expense.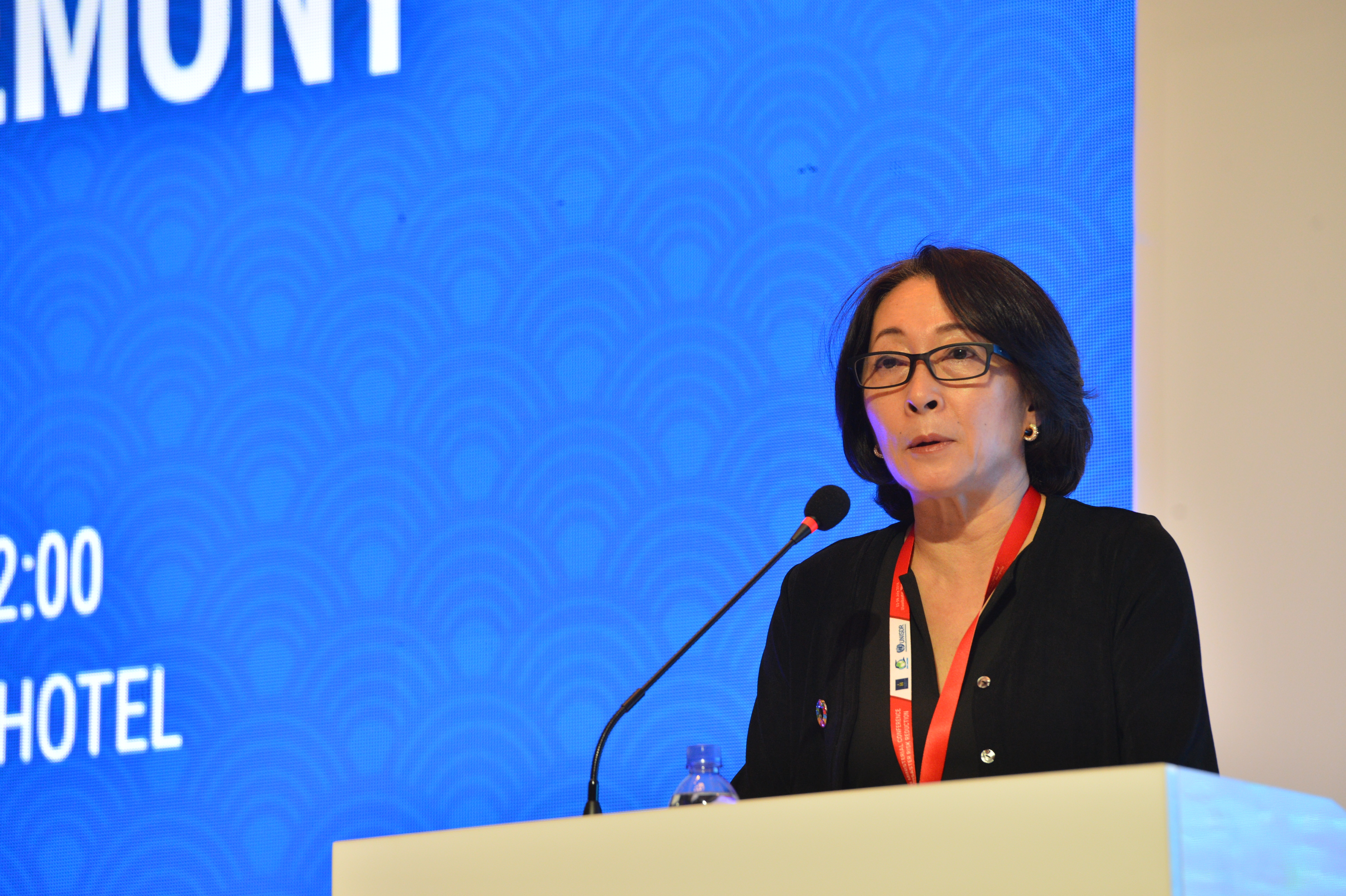 Supporting his statement, Special Representative of the UN Secretary General for Disaster Risk Reduction Ms. Mami Mizutori raised the issue of making resilience a commodity. She agreed with Mr. Mishra on importance of involvement the private sector in resilient infrastructure. "Currently, I am not sure whether people are willing to pay extra for resilience, even if it is not that much. In 1992, at the UN Conference on Sustainable Development in Rio de Janeiro we raised the issue of green development and lifestyle. At that time people had no idea about it. However, after 20 years since then living green has become a trend and people want it. So how do we make people want it and how the private sector must be involved in that? Instead of talking about disaster risk or impact, we must make people interested in it," she said.
Deputy Prime Minister of Mongolia Kh.Enkhtuvshin and Deputy Chief of the NEMA, Colonel B.Uuganbayar reported on the current situation of urban development, ongoing projects and programs on urban resilience and pressing issues of Mongolia. In addition to established DRR units and systems, Deputy Prime Minister emphasized that Mongolia became the first country in Asia Pacific to fully commit all municipalities to UNISDR's Making Cities Resilient Campaign.
Member of the National Disaster Management Authority of India Dr. Kamal Kishore said that about 66 percent or two third of all public sector losses is infrastructure related, so investing in resilient infrastructure is not a luxury, but a necessity. He also highlighted the importance of observation, forecasting and establishment of coalition. Nations, banks, institutions and private sector could form a coalition in order to share experiences, build capacity, invest in resilient infrastructure and make tangible contribution.
Emphasis to public-private partnership in DRR
The 'Increasing public-private partnership and investment for disaster risk reduction' session hosted by the Government of Mongolia allowed the participants to share their experience in improving public-private partnership in disaster risk reduction.
Deputy Minister of Finance of Mongolia Kh.Bulgantuya introduced the economic issues caused by disaster, particularly dzud (harsh winter), including poverty and urban settlement leading to inadequate infrastructure. Due to IMF's Extended Fund Facility program being implemented in Mongolia various expenditures have been cut. Thus, she mentioned the importance of developing PPP and microfinancial tools such as insurance in order to invest in disaster risk reduction. Ms. Kh.Bulgantuya said that some works have been done in this regard, but there's plenty of work to be done.
Minister of Social Welfare and Resettlement of Myanmar Win Myat Aye cited several practices of Myanmar. He mentioned that the private companies in Myanmar are actively engaged in disaster risk reduction and rehabilitation actions, closely collaborating with government. "Not all Governments are capable of investing in DRR, thus regional or local initiatives are needed to bring together experiences and resources of private and public sector," he said.
Principal Disaster Risk Management Specialist of the Asian Development Bank (ADB) Dr. Charlotte Benson said that the need for a change in practice is particularly urgent in view of the huge scale of investment in infrastructure required over the next decade or so. Developing Asia needs to invest USD 26 trillion in infrastructure between 2016 and 2030 to maintain its growth momentum, eradicate poverty and respond to climate change. Private sector financing is critical in meeting this scale of investment and PPP will be an important modality for attracting private investment in infrastructure.
Other panelists including Mr. Ajit Chaudhuri, Assistant Vice President of the Tata Sustainability Group and Dr. Giriraj Amarnath, Research Group Leader: Water Risks and Disasters, International Water Management Institute (IWMI) gave details on the examples of successful PPP and microfinance tools. Mr. Ajit Chaudhuri said "DRR is not a philanthropic action anymore, it has become a matter of our future well-being. Businesses must be involved in building of the national disaster management." Dr. Giriraj Amarnath introduced the Index based Flood Insurance system successfully implemented last year. The system provides insurance services based on the collected data estimating the risk level and validating the transactions.
The AMCDRR 2018 concluded on July 6 with adoption of outcome documents including 'Asia Regional plan for Implementation of the Sendai Framework for DRR 2018-2020', 'Ulaanbaatar Declaration' and 'Statement of Voluntary Commitment of Stakeholders'. The most frequently discussed issues including prevention, long-term planning and multi-stakeholder approach were embodied in the two key documents.
The 'Ulaanbaatar Declaration' called the governments and stakeholders to ensure community-based approach, promote full and equal participation of women, PwD, children and youth in development of DRR policies, establish and strengthen DRR platforms on all levels, promote risk-sensitive investment, scale-up early warning systems and increase North-South cooperation to reinforce the financial and technical capacity of developing and least developed countries.
The 'Asia Regional plan for Implementation of the Sendai Framework for DRR 2018-2020' highlighted the establishment of methodologies to collect disaster loss data and risk profiles, with gender, age, disability disaggregated data, revision of national strategies and plans for DRR, development of policy frameworks to reinforce risk reduction measures in infrastructure, establishment of multi-sectoral and multi-stakeholder national and local platforms.

B.Misheel