Investors support plans to introduce pandemic economic recovery law
Politics
Ulaanbaatar /MONTSAME/ On August 17, at the 'Economy in the midst of the pandemic - Public-Private-Investors Meeting', Prime Minister L.Oyun-Erdene said the Government of Mongolia is announcing a policy to intensify public-private partnerships on the 200th day since its formation, which fell on the day of the meeting.
He stated that plans are afoot to establish five national committees and introduce a law on pandemic economic recovery. The Prime Minister also mentioned that instructions have been given to establish a Ministry of Digital Development and introduce an AI-based digital system into the government procurement process, as well as to attract investors to 100 mega projects announced by the government.
Prime Minister L.Oyun-Erdene underscored the five national committees will be under his direct control and that a sub-working group consisting of investors and representatives of the private sector will be established, which will bring an opportunity to improve public and private sector coordination and solve numerous pressing issues in the investment sector.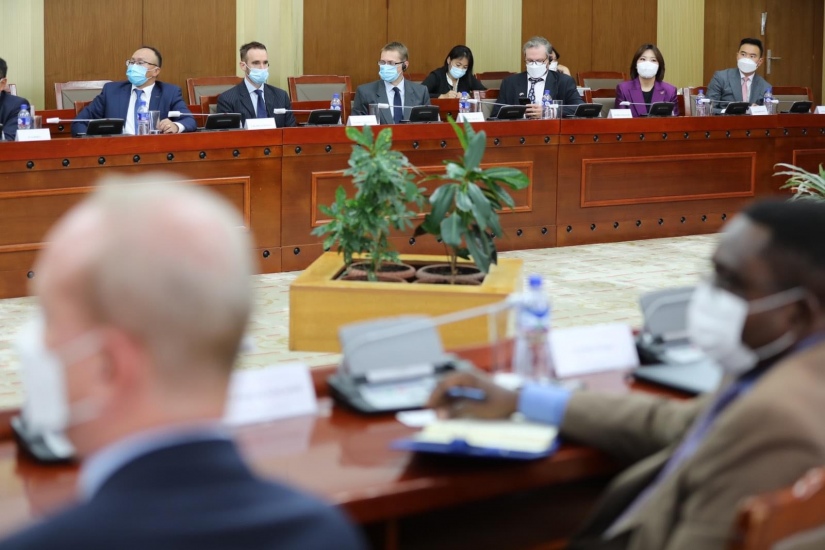 Following the Prime Minister's statement, investors expressed their stances.
In his remarks, Asian Development Bank's Country Director for Mongolia Pavit Ramachandran stressed the importance of the government's plans to enhance the legal framework for investment, particularly the easing of restrictions in the law on foreign investment, saying "It is important to attract investment to principal sectors, specifically the 100 mega projects announced by the government. It is of utmost importance to intensify public private partnerships in doing so. Our team stands ready to work with the Mongolian government, Ministry of Finance, and other stakeholders in that effort."
International Monetary Fund's Resident Representative for Mongolia Seok Hyun Yoon emphasized that the submission of a bill on pandemic economic recovery is of great importance. "I would like to draw your focus to two priorities for industrial advancement. The government's investment management and expenditure control are what is important," the IMF Resident Representative said.
World Bank Senior Country Economist Jean-Pascal Nguessa Nganou said, "I would like to congratulate the government of Mongolia that has achieved major success. The Prime Minister's speech clearly showed how the economy would have been without the implementation of the vaccination program and the economic recovery plan. Loans were given to businesses and jobs were saved as part of the economic stimulation plan," voicing WB's readiness to cooperate further with the government of Mongolia.
Investors and representatives of international organizations expressed their readiness to cooperate in agriculture, renewable energy, and food processing and endorsed the Prime Minister's plans to digitalize the government procurement process, establish a Ministry of Digital Development, and create a legal environment for in-pandemic economic recovery. They also asked the Prime Minister to hold such meetings more often than only once.