'Mongolian Heritage Spread Around the World: Archival Documents and Written Monuments' exhibition underway
Society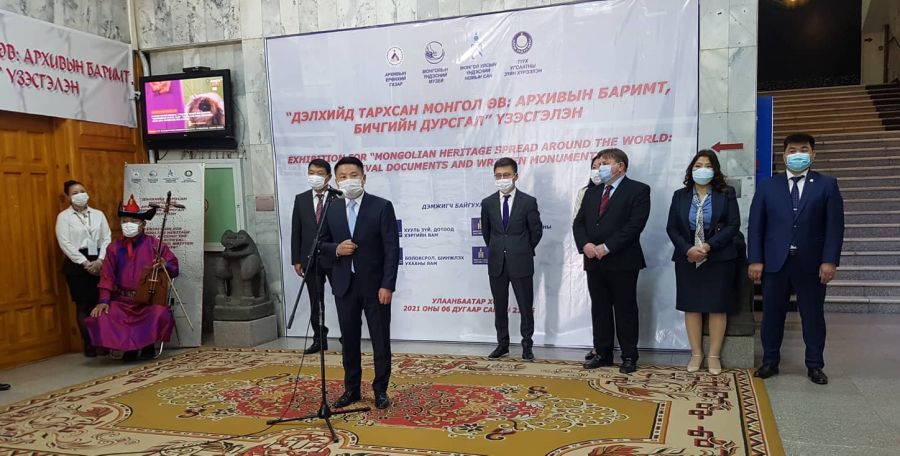 Ulaanbaatar /MONTSAME/ 'Mongolian Heritage Spread Around the World: Archival Documents and Written Monuments' exhibition launched on June 21, in the exhibition hall of the National Museum of Mongolia. The exhibition is displaying a collection 20th century documents related to the history of Mongolia, which were copied from Russian, Chinese and U.S. archives in chronological order.
Among the earliest exhibits are portraits of Chinggis Khaan and Khubilai Khaan, copied from 37 portrayals of Mongolian khaans, kept in Taiwanese archives. Copies of the Secret History of the Mongols, kept at Taiwan's National Palace Museum, letter from the Ilkhaan Ulziit to King Philip IV of France, and the letter from Roman Pope Innocent IV to the Great Khaan of the Mongol Empire are also on display at the exhibition.
A 20-minute-long montage of Mongolia-Russia historical moments between 1921 and 1980 garnered much of the attention at the exhibition. It includes videos showing Sain Noyon Khan T.Namnansuren on a boat during his 1913 visit to the Russian Empire and Commander-In-Chief D.Sukhbaatar during signing of an agreement between Mongolia and Russia in 1921.
51 documents selected from 150 collections on display
Deputy Minister of Justice and Internal Affairs S.Baatarjav said, "Writing systems are one of the most important advancements of human history. The rich cultural heritage from the Stone Age to today's technology age shares an inseparable link with them. Mongolia has a rich written heritage. Increased focus is being given to conducting research into the objects of historical and cultural heritage of Mongolia, copying them and preserving, studying, and commercializing the copies at home.
The exhibition is being held as part of the 'Mongolian Heritage Spread Around the World: Archival Documents and Written Monuments' two-day international academic conference that kicked off on June 21.
In recent years, the National Archives of Mongolia has been working towards the goal of expanding its external relations and increasing the archival collection with documents related to the history of Mongolia kept in foreign archives.
The exhibition featuring a selection of 51 documents from 150 collections of documents copied from Russia, China, and the U.S will continue until June 25.