Branding iron used for the Bogd Khaan's camels being kept in Undurshil soum
Art & Culture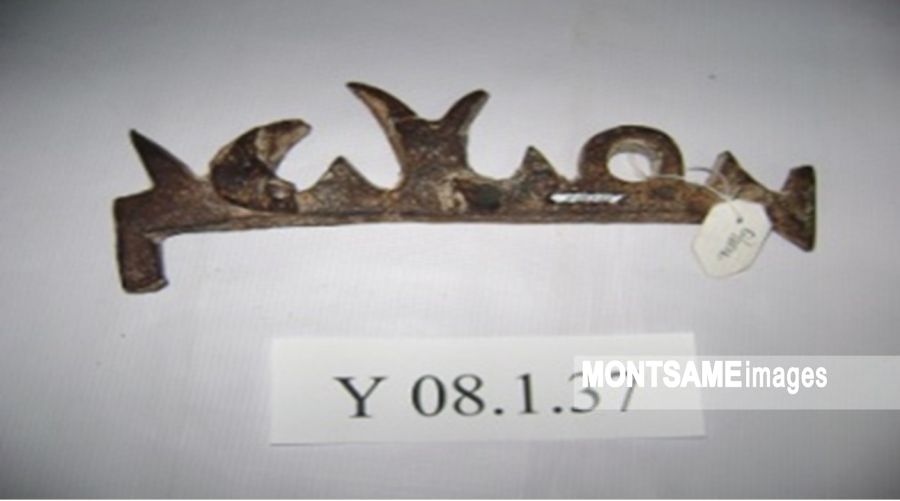 Dundgobi /MONTSAME/. The Local Studies Museum of Undurshil soum, Dundgobi aimag keeps a 250-year-old branding iron that was used for camels.

With 'Urjil' (Breeding) written in Mongolian script, the branding iron is 24 cm long, 7 cm wide, and 1 cm thick, weighing about 1 kg.
During the battle that took place between the Manchu and the Zuungar (Oirad) in the first half of the 18th century, many thousands of livestock animals were in use, with camels being prepared to be used by soldiers and having them herded as 'breeding herd' in the east and west parts of the then-Tusheet Khan aimag (territory occupying most of modern central Mongolia).
The herd in the eastern part of the aimag was herded in Undurshil soum, while the one in the west was herded in the soums of Khuld and Delgerkhangai. To have the camels herded, herders were specifically hired from aimags including modern-day Khovd, Khentii, Gobi-Altai, Tuv, Umnugobi, and Dornogobi, who then came to settle in Undurshil soum.
The camels were organized into 'suuri' (a base), each consisting of 10 thousand camels. The herding families were obliged to herd the animals without losing any single animal. The families were required to make payments as compensation if their number even decreased by a single digit. Following the defeat of the Manchu side, the herd of camels came to be referred to as 'the Bogd Khaan's Herd of Iron Camels'.
In the territory, there used to be a nomadic temple named 'Dalain Khural'. Consisting of some 20 monks, the Dalain Khural had two small temples made out of wood as well as several gers that were moved from place to place along with the camels in the central region of the aimag.
In the late 1960s, the branding iron was found from the remains of the temple by a person named T.Luvsandorj, who then presented the artifact to the Local Studies Museum.