One and only 'Dariganga Heritage' silver set
Art & Culture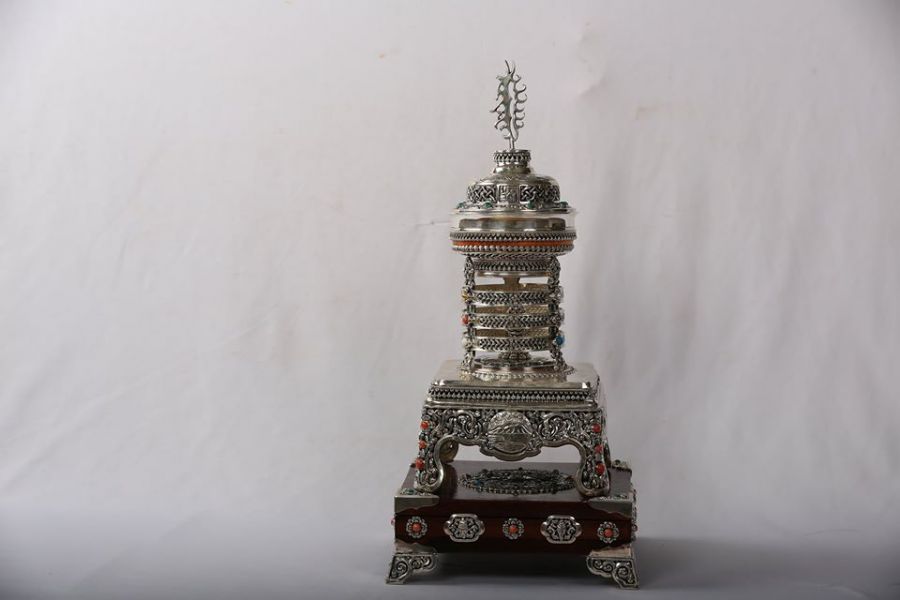 Sukhbaatar /MONTSAME/ The one and only silver set of 6 called 'Dariganga Heritage' was made by young smith G.Erdembileg on the occasion of the 70thanniversary of Sukhbaatar aimag's Museum of Ethnography. The exhibit is kept at the museum.
Sutra box
The table shaped box has four silver supports decorated with engraved silver. The eight auspicious symbols are placed on the four sides of the box in pairs together with 3 floral decorations set with gems on each side. Also, there is a silver decoration featuring the wind horse encircled by traditional Tumen Nast pattern and 8 cabochons at the center of the lid. The four corners of the lid are ornamented with silver floral decorations set with turquoise cabochons. A piece of paper that reads
"Today's creation, future heritage
The magnificent set decorated with the nine gems
Depicting the golden stupa and symbolizing
The cherished culture and traditions is installed
On the sandalwood box of the scripture of great wisdom
In representation of an eternal flame and placed
At the rear of the great treasury" is glued inside the sutra box.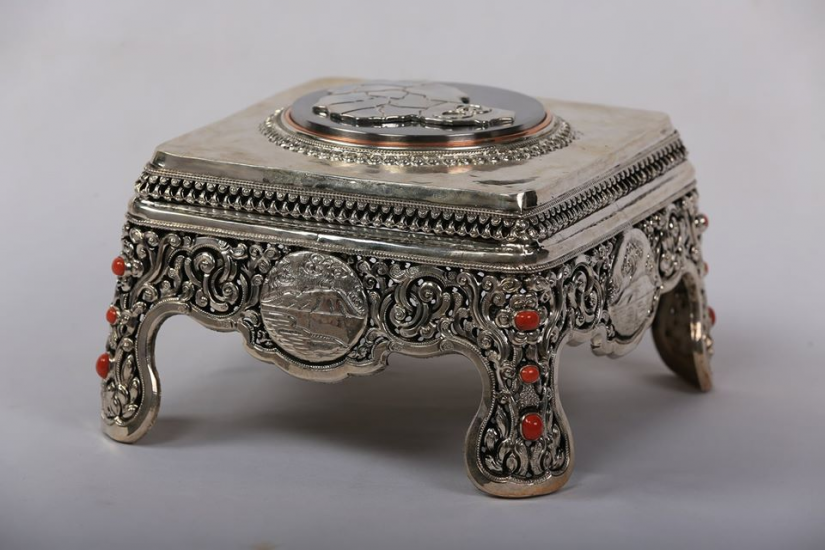 Silver anvil
Four sacred mountains, Altan Ovoo, Shiliin Bogd, Darkhan Khaan, and Zotol Khaal, are embossed on the four sides of the silver anvil embellished with 12 gemstones and floral and leaf patterns. The map of Sukhbaatar aimag featuring the number 70 in traditional Mongolian script is engraved on silver on the anvil's steel plate with a copper band around the rim.
Trivet
This silver trivet is decorated with nine gems and traditional patterns.
Hearth fire
The silver hearth fire burning on 10 petals on lotus belongs inside the trivet.
Silver bowl
The silver bowl decorated with lattice pattern features an image of one of the zodiac animals, Mouse.
Top piece depicting the museum's logo raised on a Mongolian ger
The top piece featuring images of four swans representing four seasons is decorated with lattice and floral patterns and eight turquoise cabochons.