Labor shortage in harvest looming despite abundant crop yields
Economy
|
Agriculture
This year, sowing was made on 536,600 hectares of land, which equals to 0.34 percent of the total land of Mongolia's territory with high mountains and wide open steppe-grassland. Out of the sowing areas, wheat was sowed on 364,000 hectares, potatoes on 18,600 hectares, vegetables on 9,600 hectares, rapeseed on 61,100 hectares and fodder plants in 52,700 hectares respectively.

Despite the fact that the total area of sowed land is contracted by 0.5 percent compared to previous year, the area sowed with wheat increased by 4.8 percent, while potato-sown area expanded by 16.7 percent and vegetable area by 26.7 percent. Taking the possible risks posed by COVID-19 global pandemic into consideration, the sectorial ministry has increased the total planting area of the most important types of seeds and vegetables this year on purpose.
According to the preliminary balance, 513,300 tons of grain are expected to be harvested, 487,600 tons of which are wheat, 237,000 tons of potatoes, 113,600 tons of vegetables, 32,800 tons of rapeseed and 109,400 tons of fodder plants. Compared to the balance of last year, wheat harvest is deemed to grow by 80 thousand, while potato and vegetable harvests are to be added by 46,200 and 1,900 respectively.
Flour, potato to be fully met from domestic sources
In order to produce flour sufficient to meet demands for a year, 306,000 tons of wheat, 180,000 tons of potato and 251,000 tons of vegetables would be needed. Looking at the preliminary balance of this year's harvesting, wheat demands are expected to be satisfied completely or 100 percent from domestic sources, whereas demands of potato to be ensured by 140 percent, staple food commodities by 60 percent and sparsely planted vegetables by 45 percent.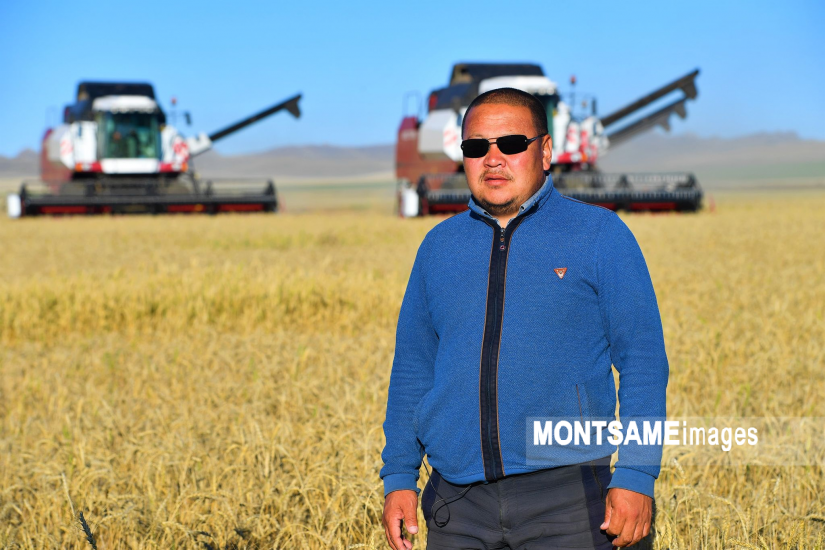 J.Gantumur: 20 quintals to be harvested from 'good quality' field

During the current period of busy harvesting underway countrywide, our reporting team headed to Tseel soum of Tuv aimag, which is responsible for producing a quarter of the country's agricultural products. "In spite of the low level of precipitation experienced this year, harvest yields obtained have been reasonable" said Director of 'Tseeliin Khur' LLC J.Gantumur, twice champion of national harvesting campaign.
One of the two biggest wheat farming companies in Tseel soum, 'Tseeliin Khur' has planted on 2,700-hectare land in 2020, with expected harvesting amount of 4,000 tons of wheat this autumn and the company's main consumer is 'Altan Taria' flour producing company. The company's wheat crops have already ripened, however, they are not rushing to reap them as they are eager to sell directly from the field. On condition that flour production standards are ensured and price is agreed by sides, combine harvester 'Vector 410' - a unique combination of the basics of classic design and the latest technology will be utilized for gathering crops within a few days. At a price of MNT 350 million per unit, the Russian-made 'Vector – 410' combine's quality and performance are well-approved by farmers. Several fields have been cultivated for this year, and 20 quintals could be harvested from 'good quality' field and 10-15 quintals from remaining fields, according to J.Gantumur.
Ts.Shirchinjav: Protein level in a pack of alfalfa hay equals to protein in 3-4 packs of grass hay
Alfalfa is known for its properties of helping the farming field soil to heal and providing nutrients to the poor soil. In addition to its healing qualities, the alfalfa is planted to be used as fodder hay for livestock animals as a pack of alfalfa hay contains protein equivalent to protein level in 3-4 packs of grass hays, said Honorary Agronomist-titled and consultant to the 'Khuulei Khan Khisig' company Ts.Shirchinjav. The 'Khuulei Khan Khishig' company, solely engaged in growing alfalfa, has planted alfalfa on over 300-hectare land area in 3 fields of Tseel soum that had been left barren as a result of continuous growing of crops for more than 50 years. In other words, it is a way of rehabilitation of degraded soils using alfalfa.
The company is planning to collect 10,000 kg alfalfa grains and 15,000 packs of alfalfa hay, however, the grains were not ready for harvest yet. In foreign countries, the alfalfa plant is used for mostly food and household goods production. In Mongolia, factories, horse trainers and herders in rural and remote areas purchase alfalfa hays for feeding their livestock animals. Each pack of hay fodder costs around MNT 8,000 whereas each alfalfa fodder's price reaches MNT 10,000, nonetheless, the alfalfa fodder has higher protein level and is more compact and cost-efficient for long-distance transportation. This implies that each herder family is able to provide their livestock animals and overcome harsh winter conditions with minimum losses if they start to grow alfalfa plants for their own use, instead of being dependent on pastures and forage crops alone that are becoming more scarce by degrees.
Ts.Shirchinjav mentioned that works are underway in western aimags to cultivate fodder plants with more protein level and increase soil productivity and enable farming opportunities in the region in the long run. According to him, Mongolian variety of alfalfa - called Burgaltai, is perfectly suited for the country with abrupt weather changes and is able to tolerate colder temperatures.
Sh.Altankhuyag: Harvesting completes only after grains are placed on threshing yards
A threshing yard of 'Youths' collective farm, built in 1976 in Tseel soum, Tuv aimag, has kept its original state until today, despite being transferred to the private sector. With storage capacity of 3,000 tons of grains, the threshing yard is still being used for the same purpose of winnowing and storing as during the socialist times. Threshing is performed for grains for 2-3 times depending on the size of the chaffs and then separated and distributed for their uses for flour milling, animal fodder and grain reserves.
"A farmer says harvesting is completed only after the grains are brought to a threshing yard because the grains on the farm fields could be harvested by farmers themselves or they even can be 'obtained by the nature''' says Director of Devshin Tuvshin LLC Sh.Altankhuyag. When we arrived at the 100-hectare threshing yard, the first part of harvesting 100 tons of wheat and 10,000 packs of fodder hay, which are sufficient to produce 70 tons of flour and 30 tons of bran, had been already delivered. For 2020, Devshin Tuvshin company has sowed wheat, rapeseed and green fodder plants on 1,400-hectare land with calculated 15 quintals wheat to be harvested from each hectare.
In recent years, it has been noticed that farmers are more inclined to plant fodder and rapeseed and are reluctant in the case of wheat planting. Farmers have underlined that the wheat price fixed by the government has not been changed in the past 6 years, during which prices of fuel and other staple food products and basic services have risen several times. Additionally, the fact that farmers also encounter with a need to deliver wheat grains to flour mill plants at their own expenses as well as other financial issues, such as relatively lower profits gained from wheat sales than fodder hay or rapeseed grain sales and more minor negative impacts of extreme weather events on the cultivation of forage crops, tend to cause farmers to avoid sowing wheat seeds. On the other hand, due to the number livestock animals in Mongolia, which has surged to 71 million as of 2019, resulting in overgrazing of livestock on grasslands, and combined with other problems of natural disasters, demand for fodder is rising in the market.
Harvesting is suffering labor shortage
This year's nationwide harvesting campaign was intended to be finished within 20-25 days since its inception, or by the first half of October, by utilizing over 1,000 combine harvesters, some 500 potato harvesters, around 700 grain threshing machines and other equipment and machineries for separating, freight and loading of grains. Every farmer we ran into during our trip to Tuv aimag were talking about the manpower shortage in harvesting and they told us they were having a hard time finding people who would work at harvest fields with daily wages of MNT 30,000-50,000. Upon the decision of the State Harvesting Commission, 1,992 students of the Mongolian University of Life Sciences and 500 students from the Law Enforcement University are being mobilized for the harvesting. 50 of them are distributed to Tseel soum, however, the farmers were saying it was not enough to accomplish harvesting goals on time.
L.Nandintsetseg