Bayankhongor aimag's brand of camel milk products
The Mongol Messenger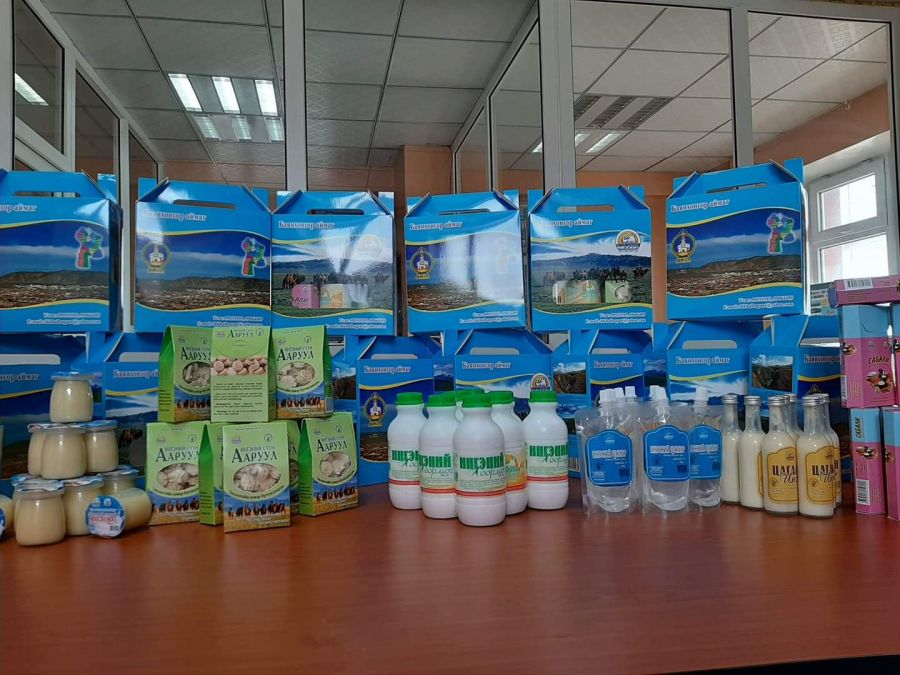 Bayankhongor /MONTSAME/ Mongolians traditionally do not process camel milk for commercial purposes, but rather daily household consumption. However, one family in Bayankhongor aimag that saw the increasing market demand for the products is aiming to create a local brand of camel milk products.
Ikh Khalbagant (Great Spoonbill) LLC based in the capital of the 5th bag of Bayanlig soum of Bayankhongor aimag was started in 2002 as a retail trade business. It started producing baked goods in 2007 and camel milk products in 2009.
The company now produces various organic and quality food products such as bread, pastries, tarag (traditional yogurt), milk, aaruul (dried curds), khoormog (fermented camel milk), ice cream, and cheese at its 440 sq.m factory. Around 70 percent of the products are supplied to schools, kindergartens, military units, and other local consumers, and the remaining 30 percent to neighboring soums, capital of Bayankhongor aimag, and Ulaanbaatar. Also, khoormog is exported to China in a small quantity and aarts (curds) to the United States and South Korea.
The company has been making khoormog, aaruul, aarts, condensed milk, and tarag from camel milk since 2010 and created a local brand of the products by offering them in a gift set that comprises of khoormog, aaruul, condensed milk, wine, milk vodka, and sable and mailaenderli cookies, made with Swiss technology from camel milk. The production of cheese, wine, and cookies started in 2017 with the help of some advice from two Swiss professionals. The gift set is also supplied to Ulaanbaatar to order.
Camel milk yogurt awarded the Best National Product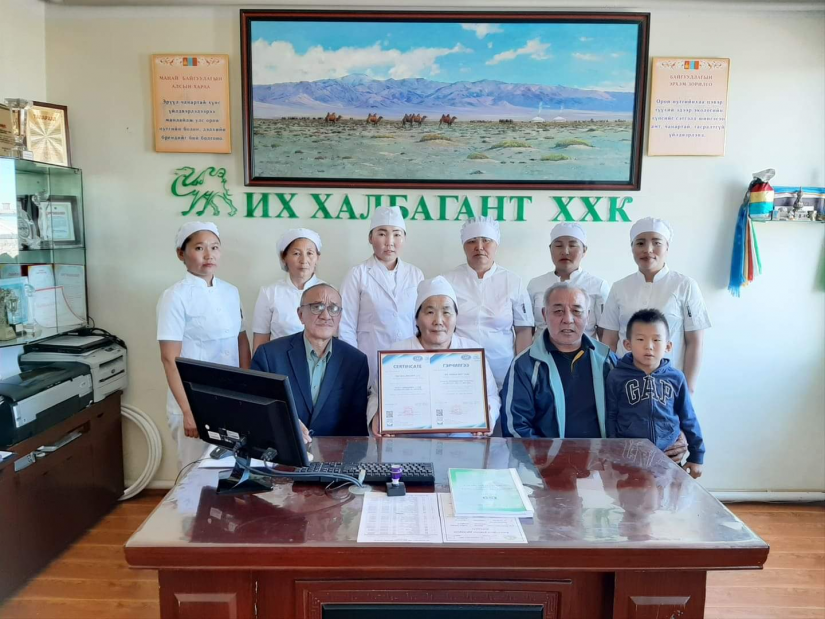 The camel milk product, already wellknown to customers was awarded with the best product of the aimag of 2003-2007 and the best agricultural product in 2019 and the camel milk powder, Khalbagant (Spoonbill), was granted a utility model patent in 2006.
The company also tried producing yogurt from camel milk for the first time in Mongolia and it was a success. Necessary tests and assessments were made accordingly for the launch of the product that was awarded the Best National Product by the Government of Mongolia later in 2007.
Moreover, its khoormog made from camel milk became the first product in the aimag to qualify for a conformity mark and the factory's compliance with the ISO 9001 2015 standard gives assurance that the products are made in a safe environment.
Ikh Khalbagant aims to reduce import, increase export products, and satisfy domestic demand with local products by promoting industries in the region. Moreover, herders' incomes increased as the processing of camel milk boosted the productivity of their camel herds and as a result, they have gotten more willing to have bigger camel flocks.
Camel milk in traditional medicine
In any industry, local availability of raw materials is important. The total number of camels and natural conditions of Bayanlig soum are ideal for the production of camel milk products. Bayankhongor aimag ranked second in the country with its 57.4 thousand camels in 2019 and Bayanlig soum leads the aimag with the total number of its camels.
Located 740 km from Ulaanbaatar and 220 km from the aimag capital, Bayanlig soum has an uninterrupted electricity supply, 24 thousand camels, over 18 thousand goats, nearly 20 thousand sheep, and more than 700 cattle. The soum has a total population of over 3,400 people and the locals have the resources to produce over 16 thousand liters of milk per day and 1.6 million liters per year.
For the Gobi people, camel milk and dairy products made from it are not just food, but also a good source of calcium, phosphorus, vitamins, and protein. Milk contains casein, a substance that absorbs toxic smoke and substances and removes them from the body. Therefore, experts say camel milk could be good for smoke inhalation and alcohol intoxication. Research results also show that it plays an important role in the treatments of chronic diseases of liver, gallbladder, and stomach.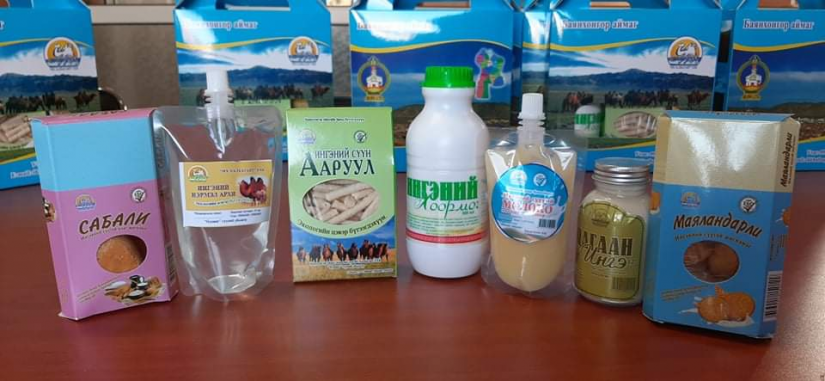 Besides as food, camel dairy products are widely used in traditional medicine. The products have a higher energy value than other milk products and long shelf life, stay fresh long, and can withstand complex transport and be a breast milk alternative.
'Breakfast for You' coming soon
Town residents, nursing and expectant mothers, elderly people, and school and kindergarten children consume camel milk products for better immunity as well as treatments of edema, fatigue, poisoning, scurvy, and diabetes.
Ikh Khalbagant plans to make sphereshaped aaruul – a mixture of barley flour and ghee coated with powdered aarts made from camel milk – by equipping its factory with the necessary equipment. It will also pack barley flour, ghee, and honey in a gift set 'Breakfast for You'. The healthy and quality products can improve bowel movement and treat calcium deficiency.