Special attention to be attached on employment
Society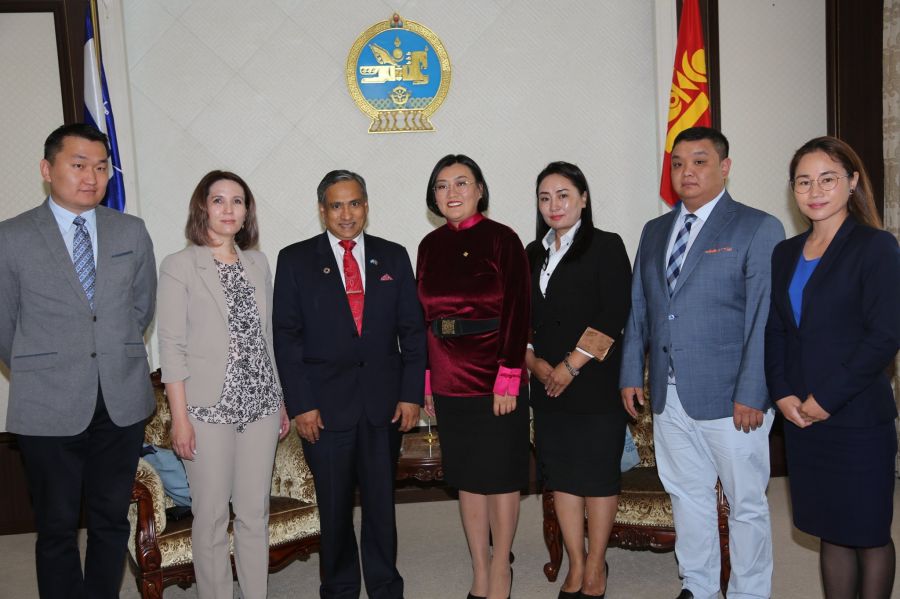 Ulaanbaatar /MONTSAME/ Newly appointed Minister of Labor and Social Protection A.Ariunzaya yesterday, July 20, met with UN Resident Coordinator in Mongolia Mr. Tapan Mishra.
Congratulating on her new appointment, Mr. Tapan Mishra briefed about the UN and actions being co-implemented in Mongolia's labor and social protection sectors.
While citing that the UN has been rendering support and cooperating in promoting social protection and employment in Mongolia in time of the globally spread COVID-19 pandemic, Mr. Tapan Mishra asked the Minister to attach special attention on the country not to draw back from its commitment to reach Sustainable Development Goals (SDGs) due to the coronavirus situation. "The UN is working to define its scope of actions to jointly fulfill with the Mongolian Government in coming five years and it aims to include number of issues including social protection, employment and youth development," he added.
In response, Minister A.Ariunzaya said "I previously used to counsel the Government to make proof-based planning and now I am happy that I got a chance to put them into effect. I attended the UN High-Level Political Forum that took place last week, where I reported about proof-based decision-making. We will not deviate from our path to the SDGs even in difficult times of coronavirus. And the Government will back up all activities for achieving SDGs.
During the meeting, the two sides exchanged opinions on numerous matters such as opportunities to create jobs by promoting employment, operations of vocational education and training industry as well as enhancing social protection in a way of raising herders' economic potential.