Speaker meets World Bank Country Manager Andrei Mikhnev
Economy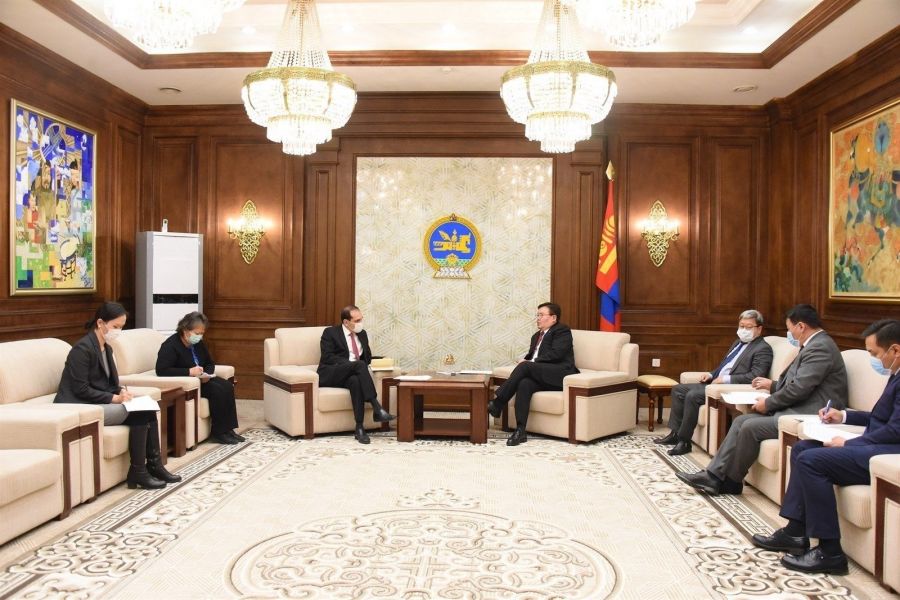 Ulaanbaatar /MONTSAME/ On March 31, Speaker of the Parliament G.Zandanshatar met Mr. Andrei Mikhnev, the World Bank Country Manager for Mongolia, exchanging views on overcoming coronavirus crisis and policies and actions for economic risk prevention. The World Bank Group has approved USD 14 billion package of fast-track financing to assist countries coping with economic impacts of COVID-19.

At the start of the meeting, Speaker G.Zandanshatar expressed Mongolia has willingness to use this financing opportunity for efforts to protect its economy from crisis. "In order to prevent from risk, we are taking various measures such as promoting export of coal and other products, preventing its people from unemployment, rendering soft loans and tax exemptions as well as making food supply steady. We will be delighted to closely cooperate with the World Bank in this direction," the Speaker mentioned.
Speaker G.Zandanshatar notified that financing agreement of USD 26.9 million on provision of essential medical equipment for Mongolia's health industry within the immediate financing of USD 14 billion by the World Bank will be urgently adopted at the Parliamentary spring session as priority.
Mr. Andrei Mikhnev said "Mongolia is among the countries that will receive financing of USD 14 billion approved by the World Bank and IFC's Boards of Directors. The World Bank will cover USD 6 billion of the total funding and the International Finance Corporation will cover the remaining USD 8 billion and it will mainly target to support private entities being affected by economic difficulty. Financing worth around USD 27 million will be provided to Mongolia in the first shift for its purchase of most needed medicine, injection, protective clothes and test kits and we plan to fulfill it promptly in a short period of time."
He also informed that the World Bank commends urgent and appropriate measures being taken by the Government of Mongolia and well safeguarding its people, containing the spread of the virus in this though time. Mr. Andrei Mikhnev remarked that international organizations assess the current situation in Mongolia as very well even though the country locates in the region that is on high alert for COVID-19 infection.
"According to a survey conducted by the World Bank, Mongolia's economic growth was predicted to be at 5.3 percent. But it was expected to be at 2.4 percent by the latest research that calculated coronavirus impacts to the economy. Therefore, it is essential to make and fulfill immediate proper policy on prevention of economic crisis. However, there is a conclusion that Mongolia carries out appropriate policy and can make reform in times of economic downturn and crisis. I am hopeful that you can keep doing well further," Mr. Andrei Mikhnev added.
During the meeting, Speaker G.Zandanshatar and Mr. Andrei Mikhnev touched number of issues such as legal reform to be made in directions of governance system, supervision and responsibility and strengthening judicial independence within the framework of amendments made to the Constitution as well as pension reform policy and preparation on parliamentary online meetings.