When will the old passenger trains of Ulaanbaatar Railway JSC "retire"?
The Mongol Messenger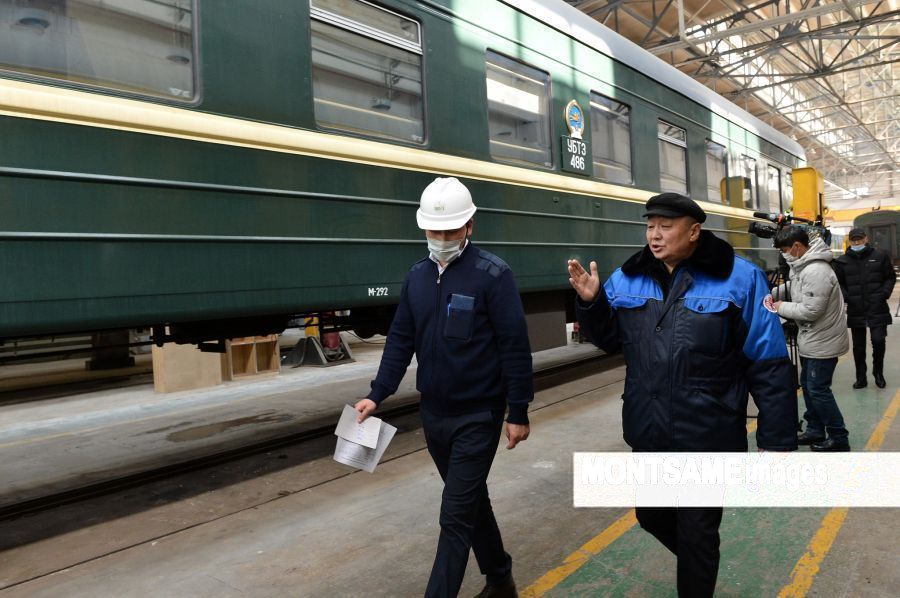 Ulaanbaatar /MONTSAME/. 80 percent of the total train cars currently used in Mongolia continues to use the old technology of burning coal for heating. There is no other country that is in the same state as ours as every other country is developing its electric, high-speed trains and equipping it with proper ventilation systems and air conditioning as well as vacuum. Moreover, despite the maximum 28 years of usage for passenger trains that has been set in Mongolia, some train cars that have been used for 57 years continue to be operated. Thus, MONTSAME National News Agency talked about this matter with Deputy Head in charge of repairs of the Passenger Transport Department at Ulaanbaatar Railways JSC B.Ganbaatar.

-As of today, how many passenger train cars are being used at Ulaanbaatar Railway JSC? For how long is one train car intended to be used?
-The usage period of a passenger train car is 28 years. Of the total of 276 cars being currently used, 74 percent have been used for over 28 years. The longest one has been used is 57 years.
There are 46 train cars of which usage period has gone over by 5 years, taking 16.67 percent. 57 train cars that have been used for 34-37 years take 20.65 percent. 35 train cars that have been used for 38-40 years take 12.6 percent, and 65 train cars that have been used for over 41 years take 23.55 percent of the total train cars. From this, you can see that three-quarters of the total train cars continue to be operated despite going over its intended usage period.
The aforementioned old train cars are being operated thanks to the immense work put in by repair workers of the Passenger Depot in order to extend their usage period.
-What should be done to renew them? What have been the obstacles so far?
-At least 20-30 train cars are required to be purchased each year to renew them. At that speed, a good portion would be renewed in 5-6 years. There would no longer be any train cars that have gone over its usage period, offering passengers modernity and comfort on top of our services. However, the main issue in purchasing is insufficient financing.
As of now, all repairs for bogie and brakes of passenger train cars are being done domestically. After long usage periods of train cars, their main body begins to rust. This makes it necessary to partially change the body, which is the only part where we face difficulty. Some broken-down equipment is required to be replaced. And we conduct those repairs, too. However, these types of repairs are costly. The older the train cars, the more costly it would be. As some parts need to be replaced while others are repaired, the costs for repairs continue to grow as they go.
Last year, we spent a total of MNT 8.1 billion on doing repairs for 276 train cars. Equipment and replacement gears are not manufactured domestically, so we also have to make purchases from the Russian Federation. But year after year, the prices of gear and equipment grows by 20 percent. Due to this, repair costs continue to become higher as well.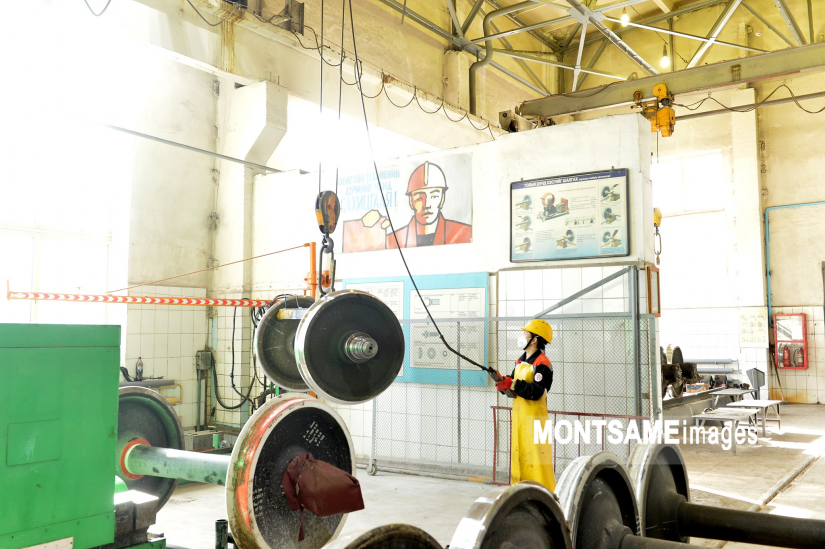 Although there is insufficient funds, we fully use our available resources in the repairs to fully ensure the proper operations of trains. The leftover funds are spent on painting the train cars and interior decoration to ensure passenger comfort.
If we had the proper funding, it is fully possible to give more emphasis on passenger comfort by upgrading train cars, such as transitioning our trains into electric heating, and installing vacuum toilets in bathrooms.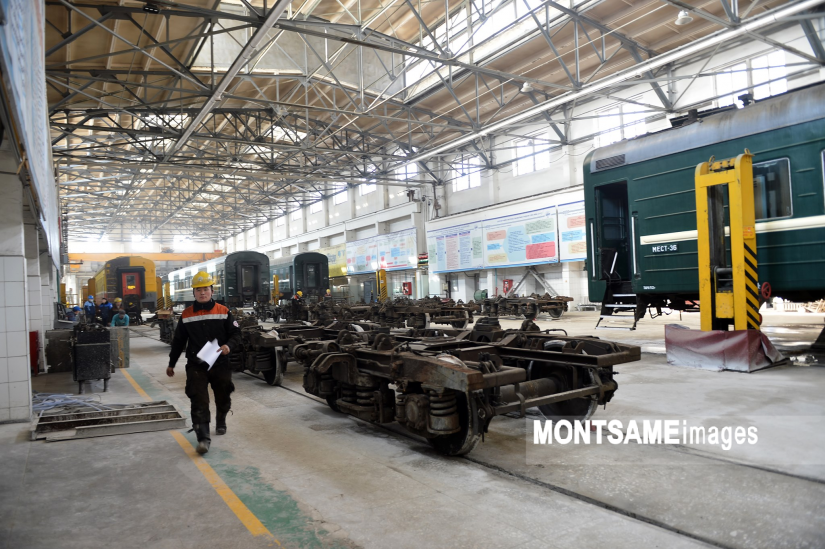 -How many of the 74 percent that needs to be renewed are being repaired by the railway company?
-In general, all of the train cars are being repaired in our full capacity. There is a necessity to step-by-step renew 74 percent of the train cars that have gone over its usage period with modern replacements. We are doing repairs and upgrades for our cars in a way that meets modern standards and ensures comfort for our passengers in the framework of available domestic resources.
For instance, 80 percent of the train cars that are being used today use the old method of burning coal as a solution for heating. In other words, this much percentage is not equipped with modern ventilation and air conditioning systems. However, due to the pressing issue of air and environmental pollution, we are faced with the necessity of transitioning our train cars into electric heating.
Today, Ulaanbaatar Railway JSC transports each passenger for MNT 30 per km. If this amount is increased to MNT 52, our railway sector will be able to operate without any deficits, and even fully renew the train cars.
Currently, the train en route Beijing-Ulaanbaatar uses electric heating. It has one diesel train car, which provides electricity for the train. The train has vacuum toilets, and its sleeper cabins are fully equipped with fridge, air conditioning, and shower. Despite the availability of this type of solutions, financing continues to be the sole issue. There is a lot for us to do in the area of ensuring passenger comfort.
The image shows an electro-diesel train that was manufactured in the People's Republic of China in 2007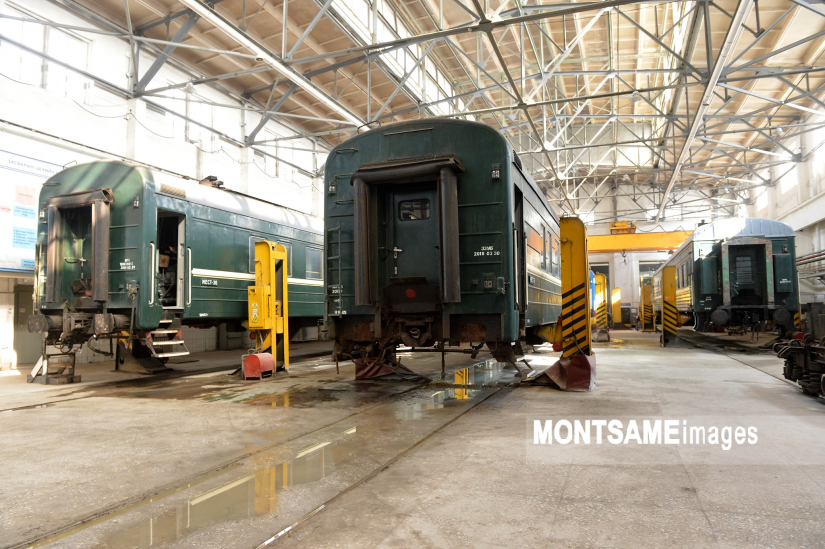 The image shows the repairing process of train cars manufactured in East Germany that was provided from the former USSR. They have been operated in Mongolia for 50 years
-Were most of the currently used train cars manufactured in the former USSR?
-Train cars that were manufactured in the former USSR, and current Russia and PRC are being operated. There are some that were manufactured in East Germany as well.
-Is there any difference in their repairs? In the manufacturing standards, for example?
-Although there are certain differences with each country, the main difference lies in how long of a period it was operated for. German cars are being used for 70 years, and those of former USSR are being used for 50 years. The Chinese train cars are relatively new as they were purchased in 2007.
-There is most likely no other country that continues to operate train cars that use coal. Electric and high-speed trains continue to develop with ventilation and air conditioning as well as vacuum. What are some other solutions for upgrading the train cars?
-One way is to increase the current price for our services to meet the level that is on the markets. There is no other way as it has become impossible to continue to move forward like this. We make international trips, but we also have to ensure the comfort of passengers on domestic trips as well. Personally, I do not wish to see our railway sector behind in development for many years.
Another solution is to acquire investment from the Government, and attract investment. Ulaanbaatar Railway JSC transports one passenger for MNT 30 per km. If it is increased to MNT 52, the sector will be able to keep its balance. There will be opportunities to renew the train cars. Alongside passenger train cars, our freight trains are also in the same amount of necessity for renewal.
The image shows a passenger train fueling up for another journey.
B.Bold
Photography by N.Batbayar