The time is nearing to domestically process black gold and become self-sufficient
The Mongol Messenger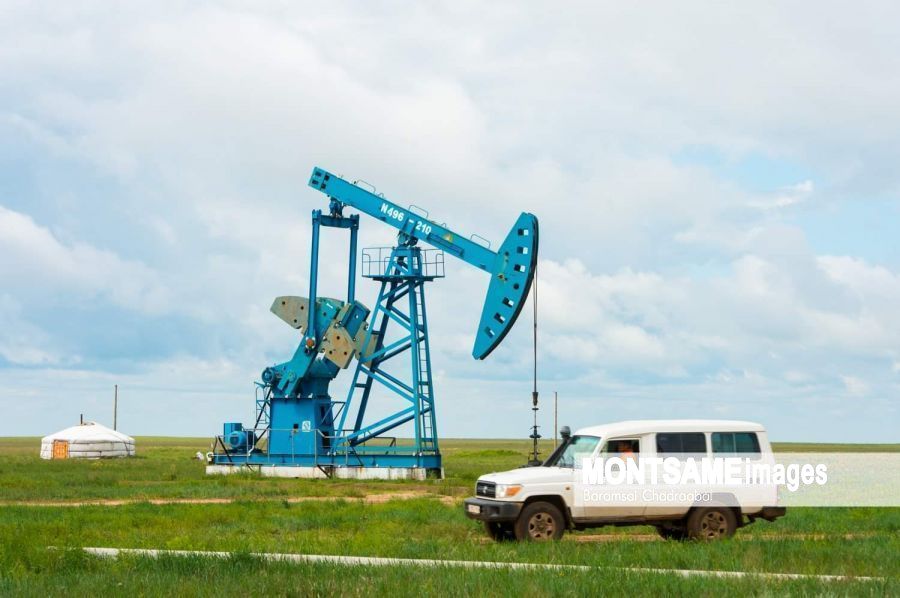 Ulaanbaatar /MONTSAME/ The oil refinery project which had been an unachieved goal of Mongolia, has started and is now going smoothly. A couple of months ago, the Government of Mongolia completely fulfilled its obligation to develop the infrastructure facilities of the plant worth over MNT 120 billion with its own funds and labor. Minister of Road and Transport Development B.Enkh-Amgalan emphasized that the infrastructure development was carried out at thrice cheaper cost with the use of domestic workforce. The Government of India is disbursing the project funds as scheduled. In other words, the most favorable conditions for realization of the project have been created at last. The only thing to hope is that the project will continue even when the government changes.
Gas price can be maintained at MNT 1000
The opening of a 27 km railroad, 17 km road, and 110 kV power transmission line connecting the oil refinery in Dornogobi aimag's Altanshiree soum to Sainshand soum opens up an opportunity to transport equipment and materials to the construction site in order to begin the construction works.
The construction of the non-technological facilities of the refinery with an initial estimated cost of USD 1.2 billion will start in the spring of 2020 and the crude oil processing facilities in 2021. If the construction goes promptly and smoothly, the plant will open in 2023 and Mongolia's industrial production could then increase by 30 percent and GDP by 10 percent. In addition, the refinery is expected to bring about many positive changes such as annual budget contribution of USD 150 million, 20 percent drop in the exchange rate of USD against MNT, 20-30 percent decline in foreign exchange outflows, and over 600 new jobs. Most importantly, when Mongolia starts producing gasoline domestically, gas price is projected to fall to around MNT 1000 per liter or even MNT 800 with the government's support. This price could go down further from MNT 800 once the plant's capacity reaches 2 million tons.
Mongolia's yearly gas consumption could reach 1.8 million tons during the peak period, on which the country spends around USD 1 billion. Mining and agriculture, the country's key economic drivers, account for 60-70 percent of the total consumption. Statistics show that the consumption could decrease to 1.2 million tons when mining activities stagnate. The refinery is expected to produce 400 thousand tons of A-95 gasoline, 600 thousand tons of diesel fuel, 40 thousand tons of aviation fuel, and 20 thousand tons of mazut and other petroleum products and satisfy at least 70-80 percent of the domestic demand.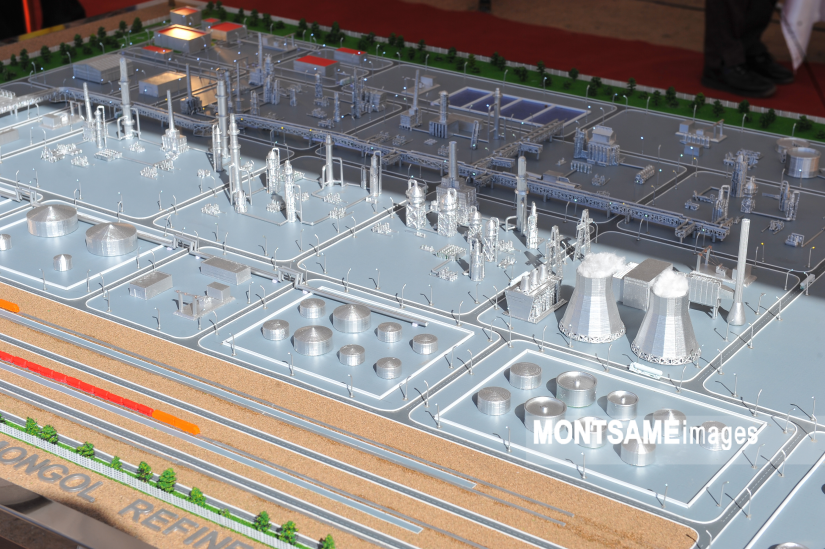 At which price should raw materials be supplied at - extraction cost or market price?
There are 33 petroleum exploration blocks in Mongolia. One million tons of oil is annually extracted and exported to China from three of those, namely Tamsag XXI and Toson Uul XIX in Dornod aimag and Zuunbayan XIV in Dornogobi aimag. The oil-in-place of these producing blocks was estimated at 332 million tons and their total proven reserves at 43 million tons, which means only 15 percent of the total oil reserves can be extracted. There is almost no country in the world that extracts all of its oil-in-place as the possible extraction volume depends on the amount of energy in the ground layer. The more the energy amount is, the more oil can be extracted. In Russia, for example, up to 80 percent of the oil reserves of some of its blocks can be extracted.
It is planned to extract 1.5 to 1.6 million tons of oil from the abovementioned three blocks every year between 2015 and 2039. Coming into operation of the oil refinery will enable to supply it with all of the crude oil domestically extracted in Mongolia. However, should it be supplied at market price or the cost of extraction? Taking into account its shares, the Chinese side would obviously go for market price.
According to a Production Sharing Contract valid until 2032, 25-30 percent of the total extracted oil is allotted to Mongolia. If the Government gets to have an opportunity to purchase its share of crude oil at extraction cost, it will hugely support the profitability of the plant, highlighted D.Altantsetseg, CEO of the Mongolian Oil Refinery state owned company. It is because raw material costs make up 85 percent of the total production costs of an oil refinery and operating and other costs account for the remaining 15 percent.
Railroad projected to be more efficient than pipeline
To supply raw materials to the plant from the Toson Uul XIX and Tamsag XXI blocks, it has been decided to build an oil collection center in and a pipeline starting from Tosol Uul XIX as the block is 90 km closer to the refinery than Tamsag XXI, which is located 640 km away from the refinery. However, the government of Mongolia concluded that establishing the railroad instead of a pipeline would be an optimal choice for developing railroad infrastructure in the eastern region. Even though it would be more efficient to use pipeline transport, construction of a pipeline itself would cost USD 350 million. The construction of a railroad between Tamsag XXI and Sainshand soum would require the same amount of funds necessary for building a refinery. However, the refinery's authorities support the the government stance, stating that pipeline transport and railroad transport basically have no difference.
Necessity of proving oil reserves and intensifying exploration
8 million of the total 43 million tons of proven oil reserves of Mongolia has been extracted and exported. Therefore, the refinery will have an annual capacity of 1.5 million tons. Boosting oil exploration and extraction activities is crucial to product exports which comes after fully satisfying the domestic demand.
Within the goal, Mongolian geologists have actively carried out explorations and thus far discovered oil reserves from three blocks. Specifically, a number of wells drilled in the blocks Galba XI, Khukhnuur XVIII, and Matad XX in Dornod aimag proved to contain oil. In 2018, from Galba XI, 1500 tons of oil has been extracted on trial and exported to China. From the now relinquished block Khukhnuur XVIII, approximately 35 tons of oil has been extracted. Two wells have been drilled in the relatively active block Matad XX. According to a primary exploration report, one of the two wells contains oil.
1.75 percent interest loan to be repaid from seventh year
During his visit to Mongolia in 2015, Prime Minister of India Narendra Modi agreed to give Mongolia a soft loan of USD 1 billion for infrastructure development and the year after, the government of Mongolia decided to build an oil refinery with the loan. A feasibility study estimated that USD 1.2 billion would be necessary for constructing an oil refinery. The sides agreed to increase the financing of the oil refinery project by USD 236 million during Mongolian President Kh.Battulga's state visit to India in September 2019. Minister of Finance Ch.Khurelbaatar and General Manager of Exim Bank of India Shri Saroj Khuntia signed an agreement on the additional financing on October 9, 2019.
As agreed, the repayment of the Indian 20-year soft loan with an interest rate of 1.75 percent will start seven years after the first disbursement date. It is expected that the plant will cover the project cost within the first five to eight years of operation. The project consulting service fee of USD 73 million mentioned in the detailed feasibility study equals not 10 but 5.8 percent of the total project cost. Authorities of the Mongolian Oil Refinery company underlined that feasibility studies estimate the project cost with -20 to +20 percent accuracy and that efforts are being made to cut the cost.
Mongolia has previous experience in domestic gas production
Geologists of Mongolia and Soviet Union embarked on an oil expedition in the 1940s. Mongolia first started extracting oil from a well drilled in Choibalsan I block in Zuunbayan and Tsagaan Els oilfields of Dornogobi aimag in 1949. The country extracted 490 thousand tons of oil annually from 1949 to 1969, producing A-76 and diesel fuels at its refinery. In 1969, when large blocks were emerging in Russia, the plant was put out of operation due to an accident.
Later in the 1980s, Mongolia had its oil blocks discovered by the British Petroleum company through research works of Mongolian and Soviet geologists, surface samples, and biochemical research. 24 oil blocks were classified in 1991 and the first Production Sharing Contract (PSC) was signed for Toson uul XIX and Tamsag XXI blocks in 1993. Then, 1998 saw the country's first trial export of crude oil to China. There have been oil exploration activities between 1994 and 2010 and oil extraction activities started to intensify in 2012. This is the history of Mongolia's oil exploration industry. It is commendable that now the time is nearing to have an oil refinery and become almost completely independent in the field from our neighbor in the north, Russia.