Erdenet Mining Corporation makes huge technical reforms for its 41st anniversary
Economy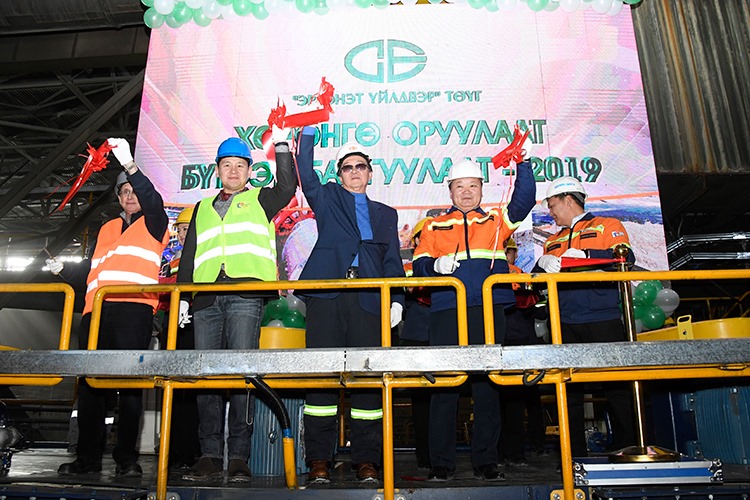 Orkhon /MONTSAME/. Mongolian state-owned enterprise Erdenet Mining Corporation (EMC) celebrated the 41st anniversary on December 14, last Saturday. The EMC, one of the largest copper ore mining and processing factory opened on December 14, 1978 to export its first copper molybdenum to exports.

On this historical day, the EMC company has commissioned new technologies and machineries at its main facilities, including open-pit mine, concentrator, repair-mechanical factory, auto transportation workshop and other manufacturing units.
EMC Director Kh.Badamsuren said the company has spent a total of MNT 420 billion for its technical restoration this year, USD 20 million of which was spent for extensive works of geological exploration. As a result of the latter, it has been concluded that the Erdenet deposit and surrounding areas contain enough reserves to last more than 60 years ahead. "The new technologies and machineries we procured this year are part of our goal to create pleasant working conditions for our miners and employees, enhancing the production capacity and benefits" he noted.
Director Kh.Badamsuren also noted that the government of Mongolia, just two day ago, has resolved to broaden the geological exploration unit to a geological exploration expedition.
General engineer of the EMC noted that "All of the technical reforms we made this year will allow production growth as metal concentration in ore has been low, so that the final product volume as well as revenue could remain stable.
The new mechanics in the scope of the EMC's technical reforms, which began on May 1 of this year, include Finnish Metso Corporation's MP-800 crusher to extract copper molybdenum, molybdenum concentrate conveyer, which will help raising the molybdenum metal removal by one percent and increasing annual revenue by MNT 95.5 billion.
Another rolling mill from Ukrainian NKMZ, large heavy equipment manufacturer with a capacity of 140 cube meter and 280 tons per hour is expected to bring annual economic benefits worth MNT 1.2 billion. Other new technologies include two EKG-12K excavators manufactured by IZ-KARTEX, 16M motor mining grader, Komatsu D275A-2 Crawler Tractor, Waterjet-2161 cutter machine, Telsmith's SBS/SBX cone crusher with a capacity of 130 tons per hour, 130-ton BELAZ 75131 mining dump trucks, PC220 excavator and others.
Also this year, the EMC has built a 4M dam with 6 meter in height and 1648 meter in length and 604-meter-long and 24-meter-tall connection channel, which is the largest connecting channel ever built at the factory

In addition to the aforementioned works, major maintenance works have been performed at its Thermal Power Plant with a total cost of MNT 2.2 billion in 160 days. The maintenance is deemed to ensure stable non stop operations of the power plant in both summer and winter seasons.
The EMC also reported that an EKG-12K excavator assembled by miners of the EMC in April 2019 has made a spending cut of MNT 755 million for seven months until today and increased effectiveness by 20 percent.