Governing body of Bratsk city of Russia works in Darkhan-Uul aimag
Society
Ulaanbaatar /MONTSAME/. Mayor of the city of Bratsk in Irkutsk, Russia S.V.Serebrennikov held a meeting with Governor of Darkhan-Uul aimag S.Nasanbat, Deputy Governor A.Tuvshinbat, and other officials on November 19.

Having been established between Darkhan-Uul aimag, and Bratsk city in March 2019, the partnership has developed rapidly in short period, with the second official meeting between the two cities, a joint exhibition and business meeting having taken place in September. This time, the governing body of the city, business owners, and culture and arts professionals did a working visit in Darkhan-Uul aimag.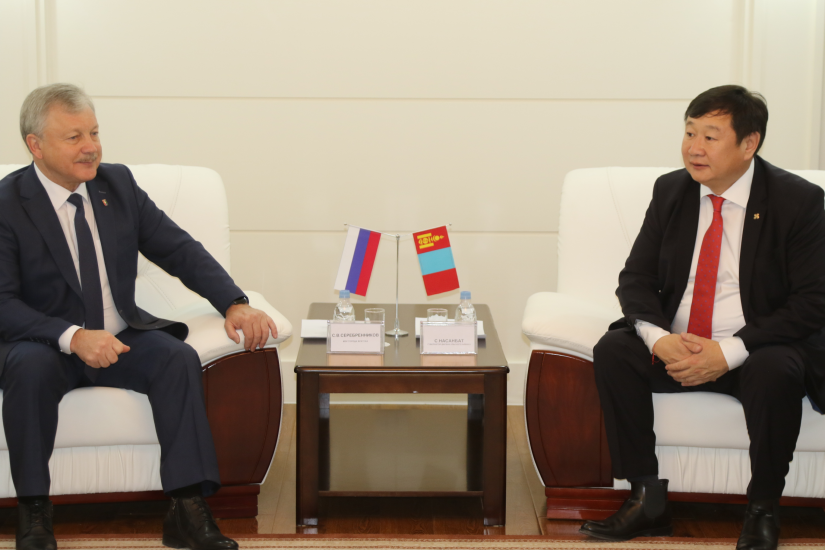 During the meeting, Governor S.Nasanbat put forth several suggestions, such as establishing a trading firm of Bratsk city in Darkhan, creating a favorable business environment to introduce 'Darkhan' products in Bratsk, connecting tourism companies, and giving support in kicking off their partnership, organizing student and youth exchange programmes, joint competitions, and tours, and partnering in accelerating relations in the sectors of education and culture.
The side of Bratsk expressed that they are ready to partner in realizing the suggestions. After their meeting, they became acquainted with the stores of the leading leather processing manufacturer 'Darkhan Nekhii', 'Eco Wool', 'Meatfoods', and 'Darkhand uildverlev (Produced in Darkhan)' as well as 'Bid buteene' wood processing factory.
A meeting will be held between the governing bodies and business owners of the two cities today on November 20.