Deputy Health Minister meets President of World Federation of Hemophilia
Society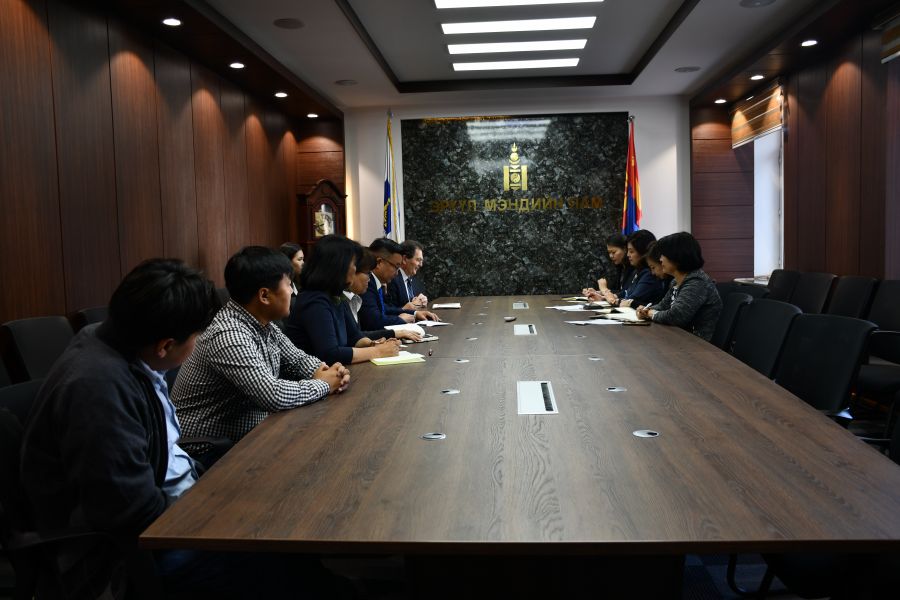 Ulaanbaatar /MONTSAME/. Deputy Minister of Health L.Byambasuren received President of the World Federation of Hemophilia (WFH) Alain Weill and Regional Manager Sachi Satapathy on September 10. Director of the National Blood Center N.Erdenebayar, corresponding officials of the Ministry of Health and representatives of the National Hemophilia Association were also present during the meeting.

Briefly introducing the humanitarian aid, works and initiatives being implemented in the health sector of Mongolia by WFH, President Alain Weill noted that alongside the total of 126 people diagnosed with hemophilia and treated nationwide, it is estimated that there are over 200 people that have yet to be diagnosed. He then continued on to say that the Government of Mongolia is putting efforts into increasing the purchases of Factors VIII and IX that are crucial in treatment and prevention of hemophilia.
Mentioning that WFH is also partnering in donating the factors and training doctors and specialists, Mr. Alain Weill also underlined the importance of building the capacity of doctors and specialists on blood disorders in all stages of health care services, especially in primary health care as early diagnosis is highly significant in preventing further difficulties and disabilities in individuals.
Afterward, Deputy Minister L.Byambasuren mentioned that hemophilia was first diagnosed and registered in Mongolia in the 1960s, and laboratory examinations were introduced in the framework of quality monitoring for blood and blood products in 1996, from which hemophilia A and B as well as its stages began to be diagnosed.
She also expressed gratitude for WFH for introducing the factors in treatment in the early 2000s, greatly contributing to the treatment and prevention of hemophilia in Mongolia.
During the meeting Deputy Minister L.Byambasuren noted that the Ministry of Health will provide comprehensive support in the measures being taken jointly with the WFH in the health sector of Mongolia.