Korean Maglev train offered for Ulaanbaatar transportation
Society
Ulaanbaatar /MONTSAME/. Chairman of the Citizens' Representative Khural of the Capital City R.Dagva received officials led by engineer, professor Byung Chun Shin on May 23. They invented and introduced a maglev (magnetic levitation) train into public transport services, which has been used at the Incheon airport of South Korea since 2016.

The professor introduced that the train is environmentally friendly alongside being economically beneficial and being suited to the climate of Mongolia. As the train's wheels do not cause friction with the road, it doesn't make any noise or cause dust particles. The driver-less train has the capacity to transport a total of 115 passengers in one car and has an e-payment system for the passengers' convenience along with being able to be controlled using advanced technology. Furthermore, as the train doesn't make any noise, it can be used passing near offices or even inside buildings without any issue. Thus, they believe that the maglev train can be introduced into the public transportation system of Ulaanbaatar city. A research was conducted and came to the conclusion that the train can be operated on 11.6 km road on the Peace Avenue and 8.4 km road on the Chinggis Avenue for starters.The Korean delegates then put forth the offer to continue the research, conduct a feasibility study and make estimation on the necessary costs and economic benefits, if the capital authorities give support, and invited the chairman to visit South Korea to become acquainted with the technology.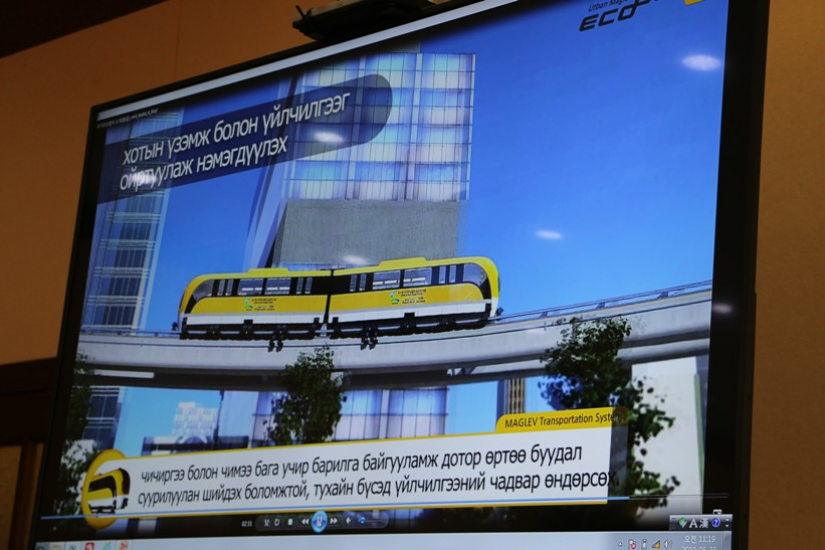 Chairman R.Dagva expressed that there is no reason to refuse the suggestion and said, "There are difficulties in the operations of public transport in Ulaanbaatar. With the increase of the city population, we need more buses to be operated. Thus, it has become a major reason for traffic jams. Public and private partnership is best option for solving these kind of issues, however the partnership must be truthful and mutually beneficial alongside having high socio-economic benefits. We are interested in introducing smart technology which is highly socially and economically beneficial.
He also noted the necessity of a smart public transport that is light, fast and has low costs.