Best artworks bought to State Fund
Art & Culture
Ulaanbaatar /MONTSAME/ Closing ceremony of 'Best Artworks of the Year-2018' was held on October 12, selecting its bests.


Traditionally, the best artworks are selected by a professional council and bought for the state fund with the regulation on buying best artworks for the state fund in accordance with the 115th governmental resolution approved in 2006.




Organized by the Culture and Arts Authority, the Government Implementing Agency and the Mongolian National Modern Art Gallery, 117 best works of 87 artists have been displayed including painting, Mongolian paintings, sculpture, carving, graphics, leather and installation.




Among the artworks, 'Black snow (Khar Tsas)' by Ts.Battur, 'Rainy Autumn of Parts' by S.Boldbaatar, painting 'Mother'' by P.Ganbat, 'Time wheel (Tsagiin Khurden)' by T.Nurmaajav, Mongolian painting ' Khulegu King' by G.Odbayar, sculpture 'Horseman of steppe' by T.Davaasambuu were selected as the best artworks and bought to State Fund.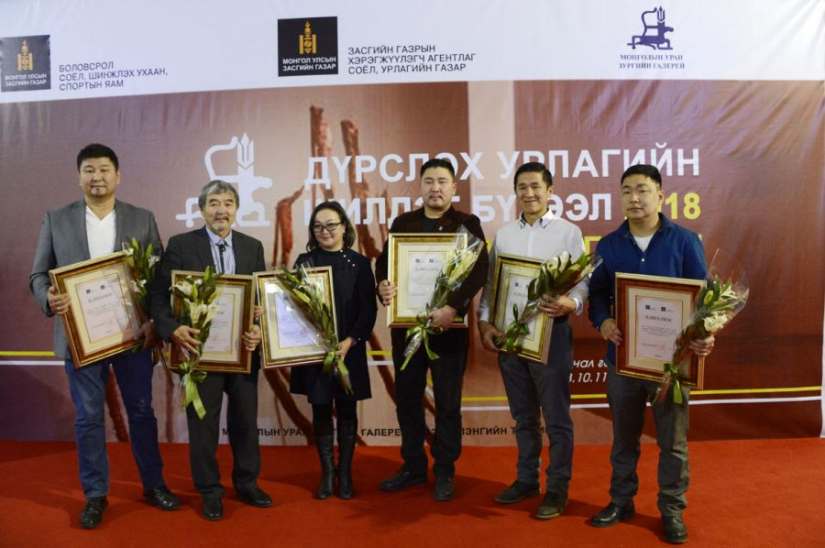 Painter T.Nurmaajav said, "I am happy that my artwork 'Time wheel' was selected as the best artwork of the year. Since the ancient times, Mongolians have been keeping the tradition to draw on their home appliances such as traditional wooden chests. With the aim to inherit and pass on the tradition, I painted on wooden flat. Although, the name reminds Mongolian chronology, the sun and moon incorporated in the painting, showing the relations among past, present and future. A human has limited lifetime. Thus, with this work I tried to show people that the time is the strongest thing.
Another exhibition will be organized demonstrating the selected best artworks. Additionally, people can see the best artworks from the official website of the Mongolian National Modern Art Gallery www.art-gallery.mn and purchase from the artworks.