Mongolia and Cuba Maintaining Traditional Friendly Relations
Politics
Ulaanbaatar, September 15, 2023 /MONTSAME/. The President of Mongolia Khurelsukh Ukhnaa arrived in Cuba for participating in the Summit on Science, Technology, and Innovation of the Group of 77 in Havana on September 15-16, 2023 at the invitation of the President of the Republic of Cuba Miguel Mario Díaz-Canel y Bermúdez. We present the history of the relations and cooperation of the two countries.
Mongolia and the Republic of Cuba established the diplomatic relations on December 7, 1960. Mutual trust and friendship have been the foundation of bilateral relations and cooperation. The history of the has been enriching with number of memorable events, which define bilateral ties, including historical visits of state and government heads of Mongolia and Cuba, leading physicians and medical specialists studied in Cuba as well as fame of boxers of the two countries, who challenged their power on the international stage. Cooperation between Mongolia and Cuba in modern times has been strengthening and developing in various sectors such as health, biotechnology, education, culture and sports.

THE HISTORY OF RELATIONS:
Minister of Foreign Affairs of Mongolia P.Shagdarsuren and Deputy Foreign Minister of Cuba Rodriguez LIompart signed an agreement on establishment of diplomatic relations between Mongolia and the Republic of Cuba on December 7, 1960. And Cuba has become the first nation in the Americas, which established diplomatic ties with Mongolia. Moreover, the two sides mutually opened their Embassies in Ulaanbaatar and Havana cities in 1962. The First Ambassador of Mongolia to Cuba G.Bagaa presented his letter of credence to the President of Cuba Osvaldo Dorticos Torrado in October 1963, while the First Ambassador of Cuba to Mongolia Gustavo Mazorra Hernandez presented his credentials to the Chairman of the Presidium of People's Great Khural of the Mongolian People's Republic J.Sambuu in November 1969.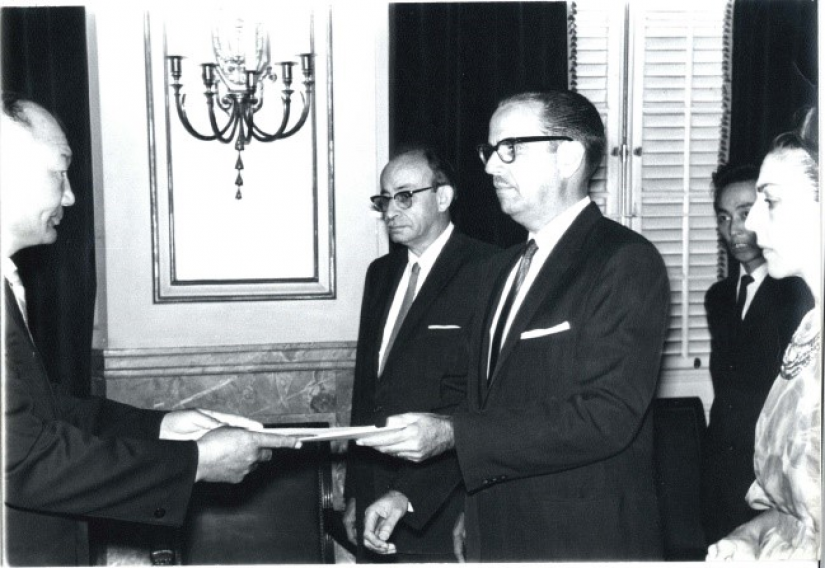 Ambassador G.Bagaa presenting his credentials to the Cuban President O.Dorticos, October 24, 1963, Havana city
High-level reciprocal visits between the two countries since the establishment of diplomatic relations were significant to the development of bilateral ties. In particular, Second Secretary of the Communist Party, Deputy Prime Minister and Minister of Defense of Cuba Mr. Raul Castro Ruz visited Mongolia in April 1970. There is a written record that during the visit, First Secretary of the Mongolian People's Revolutionary Party (MPRP), Chairman of the Council of Ministers Tsedenbal Yumjaa said to Mr. R.Castro that "Although our two countries are geographically distant, the bond between the people of Mongolia and Cuba is close and the people of Mongolia will always be together with the Cuban people in both of good and difficult times." While during the visit Mr. R.Castro recalled his talk "If there is no Ambassador to work in Mongolia from Cuba, I will come and work as an Ambassador " in regard with the Cuban Government's decision on suspension of operation of its Embassy in Ulaanbaatar between 1967 and 1969.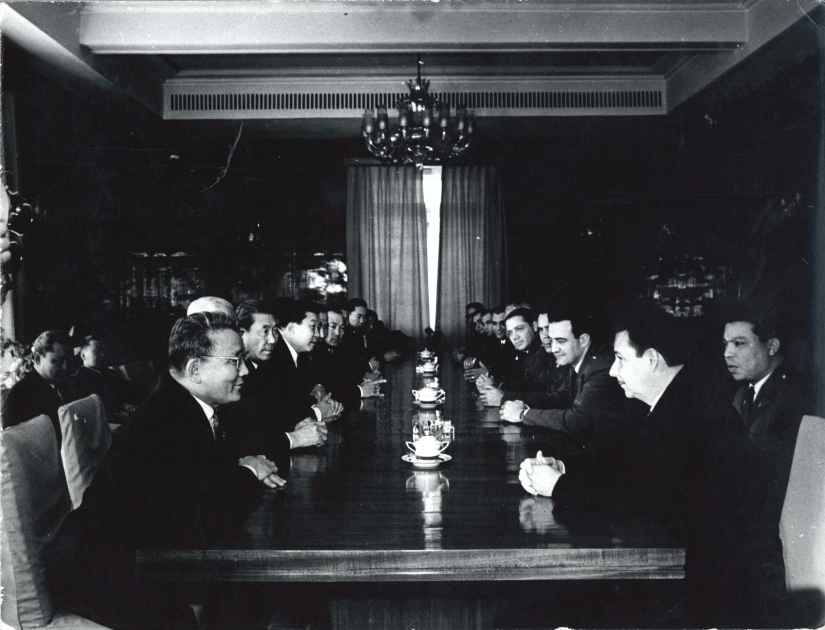 Heads of the state and Government Yu.Tsedenbal and R.Castro during their official talks, April 26, 1970, Ulaanbaatar city

First Secretary of the Mongolian People's Revolutionary Party, Chairman of the Council of Ministers Yu.Tsedenbal paid an official visit to Cuba in November 1972. He was welcomed by delegates headed by Cuban Revolutionary Leader Fidel Castro at Jose Marti International Airport which was decorated with slogans, "Representatives of the people of Mongolia, our brother, Welcome to Cuba" written in Mongolian and Spanish. Official talks between the sides of Mongolia and Cuba, which took place on November 15, 1972, lasted for three hours.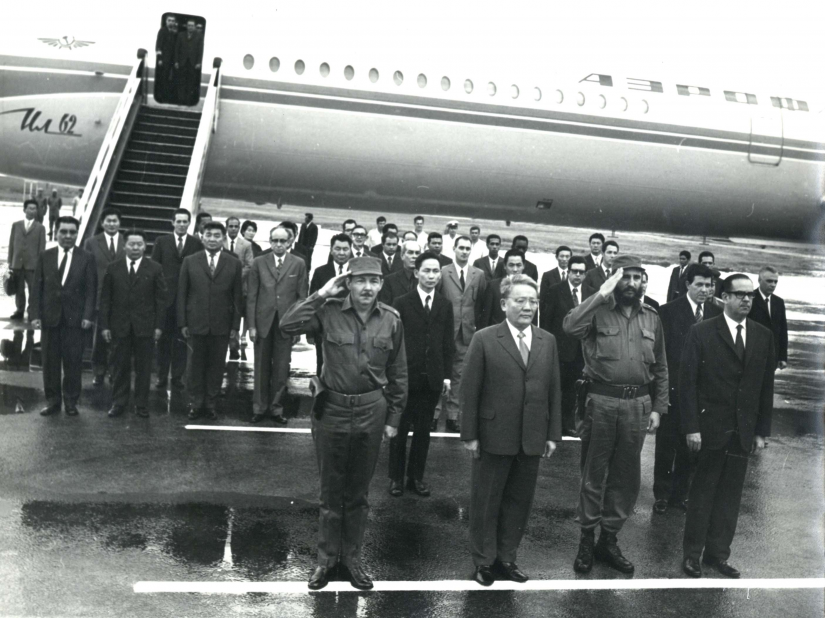 Head of state and government Yu.Tsedenbal visits Cuba. November 14, 1972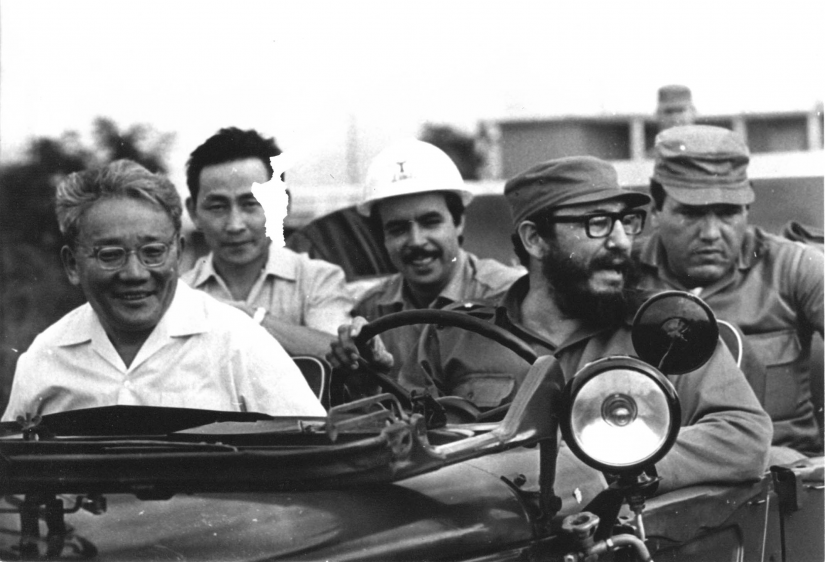 FidelCastro introducing city of Alamar, which is under construction, to Yu.Tsedenbal, driving the GAS-69 by himself, 1972

Concurrently with an activation of political relations of the two countries in 1970-1980s, bilateral cooperation has been intensively developing based on a protocol and an agreement concluded in the areas of trade, culture, education, science and technics. The visit of Mongolian delegation led by Secretary General of the MPRP, Chairman of the Council of Ministers J.Batmunkh to the Republic of Cuba in 1984 was an indication of strengthening and developing ties between the two countries and a Treaty of Friendship and Cooperation between Mongolia and Cuba was established during the visit.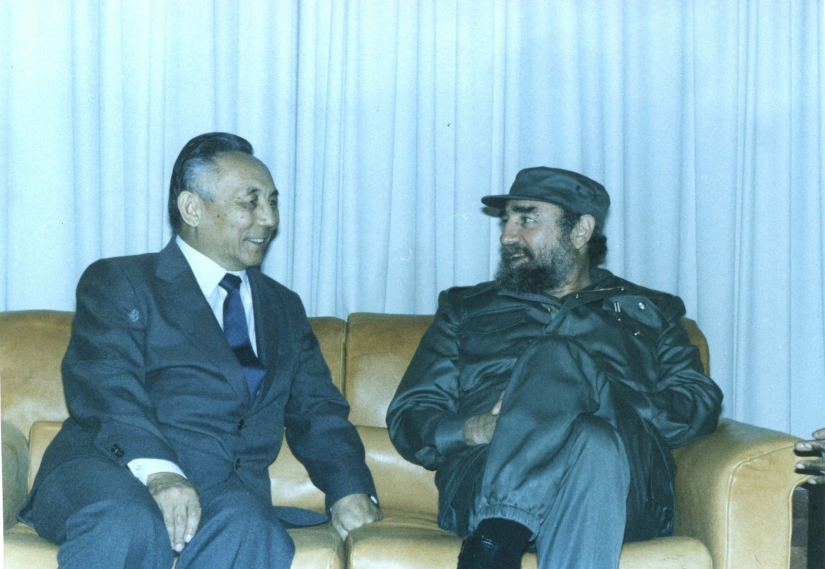 The visit of Head of State and Government J.Batmunkh to Cuba, 1984

Even though the scope of bilateral ties and cooperation has relatively grown down and been stagnant in time of Mongolia's transition to democracy and market economy at the beginning of 1990, the sides could keep their friendly relationships, which have been developed based on mutual trust and friendship. Foreign Affairs Minister of Mongolia Ts.Gombosuren's visit to Cuba in 1995 affirmed the country's intent to strengthen and develop its existing relations with Cuba and it was significant to revive cooperation. And the bilateral relations have stabilized since 2000 with the increased frequency of reciprocal visits. Particularly, Envoy of Chairman of the State Council and the Council of Ministers of Cuba Fidel Castro A.Velasco and Deputy Minister of Foreign Affairs of Cuba G.Menchero paid visits to Mongolia in 2000 and 2001 as well as Mongolia's Deputy Foreign Minister Ts.Tsolmon and Foreign Minister L.Purevsuren visited Cuba in 2006 and 2015 respectively. Mongolia-Cuba Intergovernmental Commission, which became a main mechanism of bilateral ties, was founded in 1998, holding its first meeting in Ulaanbaatar city. Delegates led by Minister of Health N.Udval attended the second meeting of the joint commission that took place in Havana in 2001, where the sides signed an Agreement on Promotion and Mutual Protection of Investments and an Agreement on Economic, Scientific and Technical Cooperation. Cuban delegation headed by Deputy Minister of Foreign Investment and Economic Cooperation Loretta Blanco came to participate in the third meeting of the joint commission that took place in 2004 in Ulaanbaatar and it was reflected in the protocol of the meeting to partner in the spheres of agriculture, biotechnology, health, education, culture, environment, physical education and sports between 2004 and 2007. The fourth meeting of the Intergovernmental Joint Commission convened in Havana in 2007 and Mongolian representatives led by Deputy Minister of Education, Culture and Science S.Tumur-Ochir took part.

Due to the level of bilateral relations and financial situation, it was resolved to hold meetings between the Ministries of Foreign Affairs of the two countries instead of Intergovernmental Joint Commission. So, political consultative meetings between the Ministries of Foreign Affairs of the two countries were held in Ulaanbaatar city in 2010, 2014 and in Havana city in 2019.

At the invitation of Chairman of the State Council and the Council of Ministers of Cuba Raul Castro, President of Mongolia Ts.Elbegdorj paid an official visit to Cuba on September 15-18, 2016. This visit was special as the first ever visit to the Republic of Cuba made at the Presidential level, it was also an indication of Mongolia's intent for advancing long-standing relations and cooperation with Cuba to a new level and strengthening and developing it in the future.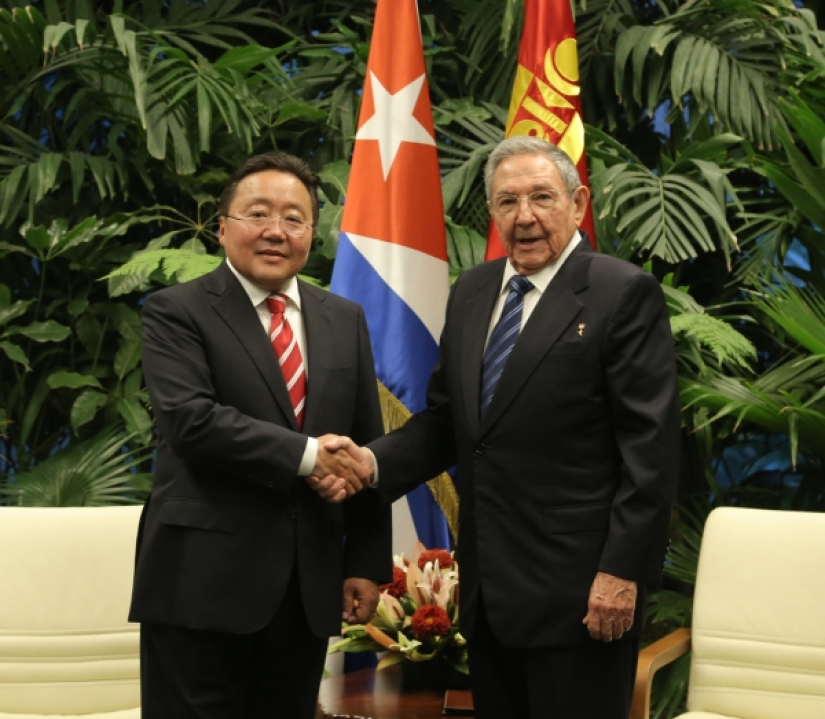 President Ts.Elbegdorj along with Cuban Leader Raul Castro, Havana city, 2016
Cooperation between the highest legislative bodies takes up an important position in bilateral ties and Parliamentary Friendship Groups have been founded and running their operations. Mongolian high-level officials headed by Speaker of the State Great Khural B.Enebish and Deputy Speaker D.Lundeejantsan did a working visit to Cuba in 2001 at the invitation of the National Assembly of the Republic of Cuba, where the sides also concluded inter-parliamentary cooperation agreements. Currently, Member of Parliament B.Bat-Erdene is working as a head of Mongolia-Cuba Parliamentary Friendship Group. Multilateral cooperation takes up great place in Mongolia-Cuba relations and the parties have been actively working together within multifaceted mechanisms including the UN, the Non-Aligned Movement and the Group of 77, mutually backing up each other. Delegation headed by President of Mongolia N.Enkhbayar participated in the 14th Summit Conference of Heads of State and Governments of Non-Aligned countries that was organized in 2006 in Havana. The Mongolian-Cuban Friendship Association, which founded in 1962, plays pivotal role in strengthening friendship of the people of the two countries. The Khamba Lama Ch.Dambajav is working as Head of the Association from the side of Mongolia now. Professor at the University of Havana, historical researcher Pividal Padron, who visited Mongolia in 1962, wrote and published an article about Mongolia and initiated to establish the friendship association. Furthermore, poet, laureate of Lenin and Head of the National Union of Writers and Artists of Cuba Nicolas Guillen was elected as a Head of Cuba-Mongolia Friendship Association and he visited Mongolia in 1969 at the invitation of Director of the Mongolian Writers' Union S.Udval. School No. 52 named after Cuban revolutionist Hose Marti in the capital city and a kindergarten "Morning of the Gobi" (Goviin Ugluu) in Havana city symbolize bilateral ties. Ulaanbaatar and Havana cities built brotherhood relations in 2006.
Bilateral Cooperation:

Bilateral cooperation has been expanding and developing in health, biotechnology, agriculture, education, culture, sports and humanitarian sectors. Especially, health and biotechnology industries are the priority areas of the bilateral relations and Minister of Health and Social Protection of Mongolia S.Sonin paid a visit to Cuba in 2000, signing a protocol on cooperation.
In 1996 officials from Cuban state manufacturer "Labiofarm" started to conduct joint studies in Mongolia to establish a joint factory that will produce "Biorat" substance used for eliminating pest insects and rodents in pasture. Cuban delegates headed by Director of "Labiofam Asia" Ltd., Madyurys Tellez worked in Mongolia in January, 2020 on the matter of introducing this product, which is in the list of biological products to be consumed in Mongolia and held a working meeting with authorities of the Ministry of Food, Agriculture and Light Industry and the General Authority for Veterinary Services. Cuba donated 300 doses of deeply frozen semen of milk goat in 2005 and 5000 doses in 2007 to Mongolia. And as a result of successful experiment, Mongolia has over 1000 milk goats so far.
Specific works also have been carried out in the framework of learning from achievements and successes of Cuban medicine and biotechnology and training specialists. More specifically, delegates led by Director General of the National Center for Genetic Engineering and Biotechnology of Cuba Eulogio Pimentel worked in Mongolia in 2017 and established a cooperation document with the State Central First Hospital. On the same year, "Em Impex Concern" of Mongolia and the National Center for Genetic Engineering and Biotechnology of Cuba as well as "Intermed" Hospital of Mongolia and Cuban Medical Service Center concluded Memorandums of Cooperation respectively. As of current, four specialists from Cuba have been working under labor contract at "Intermed" hospital. Some Mongolian pharmaceutical companies including "Em Impex Concern" and "Monfarm" have been selling medicines and substances such as Heberprot-P, which is used in treatment of chronic diabetic foot ulcer, Interferon, anti-hepatitis B and C viruses (HBV) drug and Vidatox, anti-cancer drug with official rights.

Trade and economic cooperation between Mongolia and Cuba has tendency to be expanded in recent years. Mongolian entities such as Monfresh, UFC Group and Extra Energy Group have partaken in annual Havana International Trade Fair. As the two countries are geographically remoted, Mongolia is importing medicinal products, leaf tobacco and wine from Cuba at a low amount. With amendments made in 2019 to its Constitution, the Government of Cuba is pursuing policies to promote private properties, to be open for foreign investment and to give an opportunity to foreign nationals and legal bodies to run business freely in the country. Thanks to the policy, opportunities have been opened for Mongolian businesses to build a connection with Cuban business people, cooperate with them and make investment.

There is also room for partnering in tourism. By establishing an Intergovernmental Agreement between Mongolia and Cuba on Mutual Travel Conditions of Citizens, Mongolian citizens are traveling to Cuba without visa up to 30 days. State Secretary of Environment and Tourism Ts.Tsengel attended Havana International Tourism Expo held in 2016. And a Memorandum of Understanding between the Mongolian Ministry of Environment and Tourism and the Cuban Ministry of Science, Technology and Environment on Cooperation in Environmental Protection was established in 2019.
The Cuban Government began granting scholarships to Mongolian students from 1963 and more than 120 Mongolian students have studied and graduated in Cuba so far. Most of the students acquired higher education in medical science, becoming leading physicians and specialists in the sector. Furthermore, with establishment of Agreement on Mutual Acknowledgement of Tertiary Education Certification and Degrees between the Governments of Mongolia and Cuba in 2017, students and youth of the two countries have an opportunity to mutually study in the countries. The National University of Mongolia and the University of Havana concluded a Memorandum of Cooperation in 2016 and Director of the Institute of History and Archaeology of the Mongolian Academy of Sciences S.Chuluun gave a lecture to professors and students of the University of Havana in 2018 under the topic "Mongolian Archaeology: The Present and the Future." Additionally, masterpieces of Mongolian literature have been translated and published in Spanish language, enabling Cuban readers to read them.
Mongolia and Cuba are almost antipodes, nevertheless, classic art and music bring people of the two countries close. Founder of ballet art in Cuba, renowned ballet dancer Alicia Alonso presented her tour concert performed in Asian countries with composition of 59 artists in Mongolia in 1965. State Honored Artist, Cultural Envoy of Mongolia D.Altankhuyag participated in the International Havana Ballet Festival named after Alicia Alonso in 2016 and together with State Honored Artist O.Anujin in 2018. The Mongolian Ballet Development Foundation invited Cuban dancer Jeanette Mancha in Mongolia in December 2016 to take part in "Nutcracker Ballet" Art Festival while Mongolian conductor B.Lkhagvasuren led the National Symphony Orchestra of Cuba, presenting masterpieces of the world and Mongolian renowned music composers to the Cuban audiences.
Cuban renowned ballet dancer Alicia Alonso during the concert in Mongolia, 1965

The two countries have abundant cooperation experience in sports field. Athletes of the two countries have been reciprocally sharing their practices in sports events such as box and judo and Cuban coaches have made huge contribution in training of Mongolian athletes. Boxers of the two countries have been identically competing with their speed and skills on the international stages from the 1960s until today. Mongolian boxers initially participated in Cordova Cardin International Boxing Tournament in Havana in 1972 and brought five medals at home. Once Cuban leader Fidel Castro watched final fight between bronze medalist of Seoul Olympics, State Honored Athlete N.Enkhbat and two-times Olympics and world champion, renowned athlete of Cuba Angel Herrera at the Friendship Games that took place in Havana in 1984.
Furthermore, many fascinating fights between the two countries have been imprinted on sports fans' mind, including fight between International Master Dugersuren and Cuban athlete, world champion Luis Philippe Martinez during the "International" tournament took place in Ulaanbaatar at the end of 1970s, fight between Asian champion G.Batbileg and Cuban athlete Angel Herrera during the Moscow Olympics in 1980, fight between State Honored Athlete R.Otgonbayar and Cuban famous boxer, two-times world champion Adolfo Horta during the final fight of the World Championship held in Munich in 1982 and another fight between State Honored Athlete E.Badar-Uugan and Cuban famous boxer Yankel Leon Alarcon made for the Olympic Champion.
Cuban famous athlete Angel Herrera recalled his fight with Asian champion G.Batbileg made during the Moscow Olympics in 1980 that "I have never fallen with hard punches in any tournaments in general including continental and world championships and the Pan-American Championship. Whereas, I have defeated my rivals with heavy punches at numerous times. However, there were only two occasions when I experienced heavy punches on myself and fallen down. The first one was a Mongolian who punched me at the Olympic stage and the next one was boxer Samuel Berfud from the city of Santiago de Cuba…Mongolian boxers are truly powerful." He fought in amateurs boxing tournaments 267 times and earned 255 victories.

A cooperation agreement was established in 2014 between Physical Culture and Sports Authority of Mongolia and the Cuban National Institute of Sport, Physical Education and Recreation and authorities of the organizations mutually paid visits and are closely working together in the sports field. Athletes of Mongolian national boxing team have made joint preparation in Havana ahead of Rio 2016 Summer Olympic Games together with athletes of the Cuban national team.
The two countries attach high significance to the historical path crossed together since the establishment of diplomatic ties, friendship of people of the two countries and win-win cooperation and we have a tradition to celebarete anniversaries of the diplomatic relations.
On the occasion of the 60th diplomatic relations between Mongolia and Cuba, which falls in 2020, the Ministry of Foreign Affairs of Mongolia, the Governor's Office of the Capital City in partnership with the Association of Mongolian Graduates in Cuba established "Friendship Garden" in the National Garden Park in Ulaanbaatar and planted 60 trees, symbolizing the jubilee. Foreign Affairs Minister D.Tsogtbaatar took part in the tree-planting event and delivered remarks.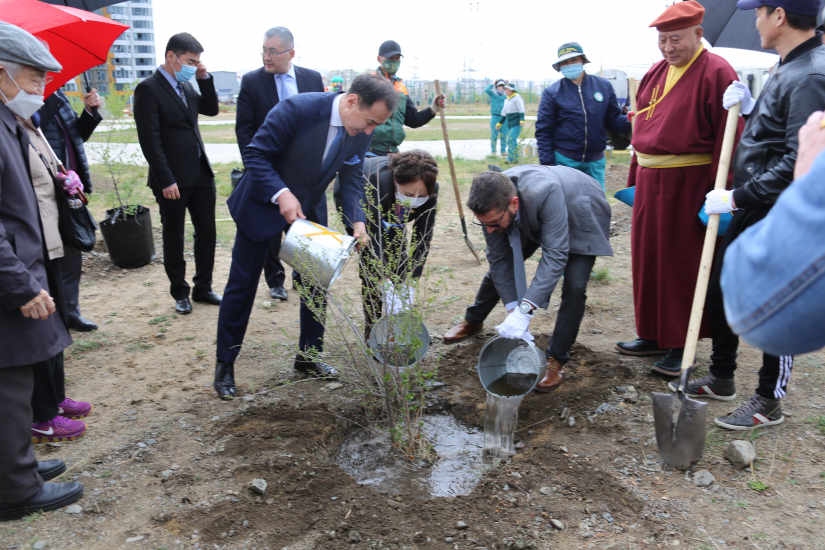 At the launching of the establishment of "Friendship Garden", Ulaanbaatar city, 2020
The Governments and people of the two countries are celebrating the 60th jubilee of the diplomatic relations with an intent for further strengthening historical relations between Mongolia and Cuba, which are located in the hearts of the two different continents as well as deepening the scope of cooperation in various sectors including health, biotechnology, agriculture, trade, investment, education, culture, sports and humanitarian and multilateral cooperation based on previously gained experiences and achieved successes.