Prime Minister thanks women working on the frontline during the pandemic
Society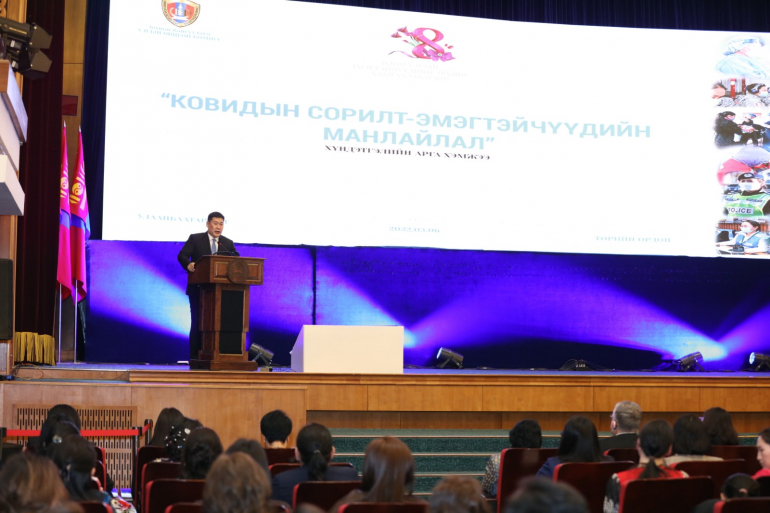 Ulaanbaatar /MONTSAME/ On March 6, Prime Minister of Mongolia L.Oyun-Erdene addressed the 'COVID-19 challenges-Women's leadership' event, expressing gratitude to women who have taken part in the fight against the pandemic and had leading roles in recovering the economy.
Prime Minister L.Oyun-Erdene said, "I would like to emphasize that women made up 62 percent or 101 thousand of all employees in the public service who worked around the clock during the pandemic. You successfully protected over 40 thousand people from risk by vaccinating over 90 percent of the target population with full doses, 53 percent with the third dose, and more than 100 thousand people with the fourth dose."
"Your contributions paved the way for recovering the country's economy that contracted 5.3 percent due to lockdowns by saving over 200 thousand jobs, and bringing back the normalcy with the reopening of schools and businesses," added the PM, expressing his profound gratitude to women who protected the health and lives of citizens and implemented the decisions of the government and the State Emergency Commission.
The event initiated by Deputy Prime Minister S.Amarsaikhan was attended by over 800 people including healthcare, emergency and law enforcement employees. D.Tsolmontuya, an officer of the State Emergency Commission, during the event, said, "We overcame the pandemic through the shared efforts of our colleagues. We worked around the clock for two years to honor the oaths that we took."
The Government has decided to involve all citizens in medical checkups from May 1 as part of the New Revival Policy. The Prime Minister noted that post COVID-19 treatment is a large part of this effort for public health.