French doctors awarded Friendship medal
Society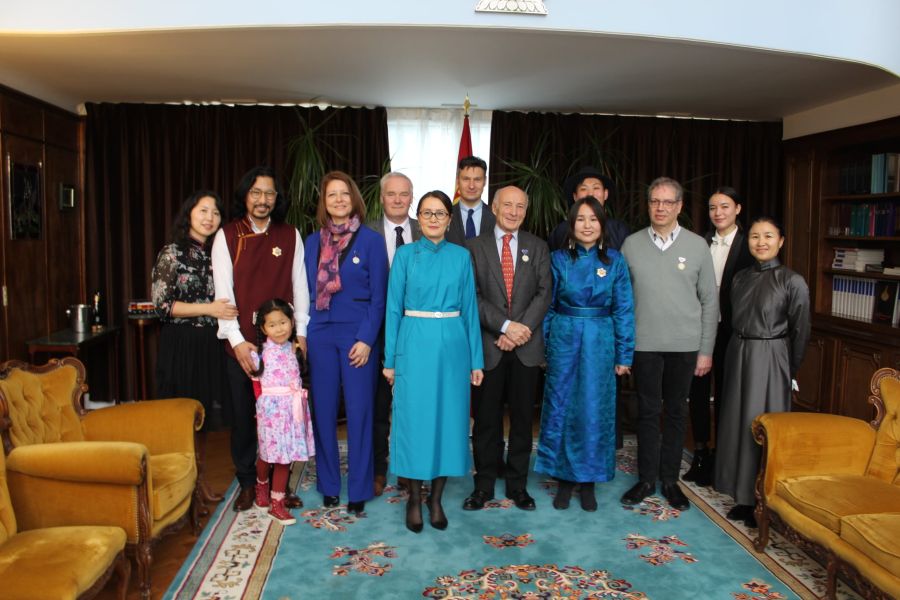 Ulaanbaatar /MONTSAME/ Doctors of the Orléans Regional Hospital Center of France Jean-François Viala, Bertrand Muckensturm, Laurent Bret, and Sabine Reynaud have been awarded the Medal of Friendship of Mongolia by decree of President of Mongolia U.Khurelsukh. Ambassador of Mongolia to France U.Nyamkhuu presented the medal on February 1 at the Mongolian Embassy in France.
The health professionals have been partnering with the National Traumatology and Orthopedics Research Center of Mongolia since 2000, visiting Mongolia every year to give diagnoses and providing support in upskilling doctors and nurses in France.
Moreover, by presidential decree, Order of the Polar Star was awarded to translator/interpreter R.Munkhzul in recognition of her contributions to translating masterpieces of Mongolian literature and works by writer G.Ayurzana and L.Ulziitugs into French and introducing French literature to Mongolian readers and head of 'Association of Eternal Mongolians' NGO B.Erdenkhuyag for his contributions to promoting Mongolian culture, folk arts, traditions, handicrafts and products in not only France, but many other countries in Europe.
Ambassador of France to Mongolia Sébastien Surun attended the award ceremony. He expressed appreciation of the Mongolian governemnt's recognition of the efforts by the awardees, expressing his commitment to expand cooperation.
The French physicians who were awarded the Friendship Medal expressed their gratitude to the President of Mongolia and their Mongolian colleagues.